January 21, 2021
After 35 years, ownership of beloved Austin nursery Barton Springs Nursery changed hands on January 1, 2021. I've been buying plants and pots from BSN for 20 years (and blogging about it since 2007), and it feels in many ways like a second gardening home to me. So when I heard about the sale, I was momentarily stunned that founding owners Bernardine and Conrad Bering had retired from the nursery biz, and then relieved and thrilled to hear who bought the place. Not, heaven forbid, condo developers, but two plant lovers who adore the nursery and have been closely connected with it for years: horticulturist Willy Glen, manager at BSN for the past 6 years, and designer Amy Hovis, owner of Eden Garden Design, which occupies one of the commercial spaces on the property.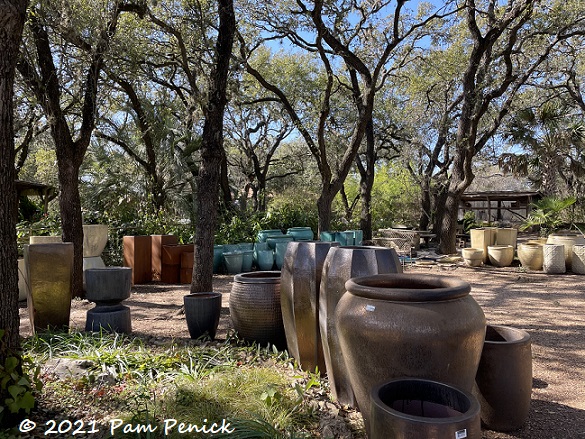 Curious to know more about Amy and Willy's vision for the nursery, I talked with them via phone last week. They have big plans to add community and learning spaces, bring in more exciting plants, and spruce up the grounds, which you can read about in the following interview (lightly edited for length).
Conversation with Amy Hovis and Willy Glenn
Pam: How did you end up buying Barton Springs Nursery? Did you always want to be nursery owners?
Willy: When I first interviewed for this job [nursery manager], I had already made up my mind that what I wanted to do with my life was be a nursery owner, so I mentioned that to Bernardine. When they decided to sell, she asked me if I was still interested. I got the ball rolling, and Amy was interested too. For me it was a culmination of horticulture school, working for John Dromgoole [owner of The Natural Gardener], working for Malcom Beck [the late founder of Garden-Ville], always with the goal of being a nurseryman at the end of it all. It's still surreal and a dream come true to think that all that hard work and all those years culminated in this.
Amy: I had a dream of designing a nursery, and I was always in love with BSN. When I got my office here, I thought that was my dream come true, to work at Barton Springs Nursery. I saw so much potential in the nursery and just wanted to design the grounds and put some work into that. So when Bernardine approached me, I was pretty excited for the opportunity.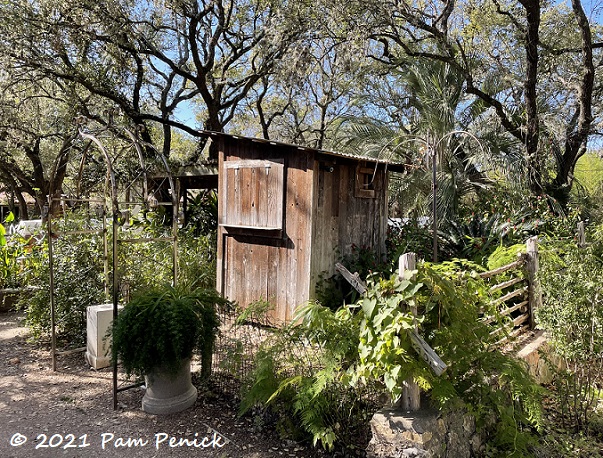 Pam: You shared a photo on Instagram of Bernardine and Conrad as young nursery owners. What do you know about the history of BSN?
Amy: We have found a number of amazing photos of this place from 35 years ago. My plan is to do a historical photo tour of what Bernardine and Conrad created. They operated BSN for 35 years. The nursery has been here on Bee Cave Road [in Westlake] since 1991. The original location — and the reason it's called Barton Springs Nursery — was where Chuy's on Barton Springs Road is now.
Willy: It's a daily occurrence that someone comes in who remembers Conrad from the old location and says, "I've been shopping with y'all for 30 years." The second part of that is, "I remember when this place was out in the boonies." Some of those old photos show the house [now the gift shop] sitting in a sea of grass. It's kind of unfathomable considering how much has grown up around it.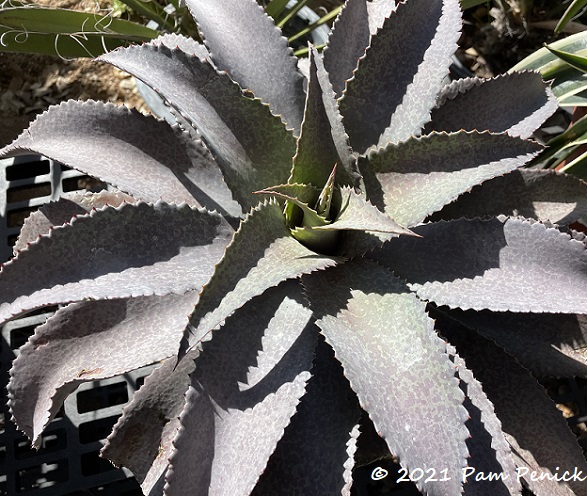 Pam: How do you see BSN fitting into what is now a busy, upscale neighborhood?
Amy: The thing that's important to us is keeping the spirit of what it is. We know how to do that with the philosophy of the place. But in terms of what the space looks like, it is a tricky thing when we're trying to keep this great vibe while trying to bring it up to the next level. That is definitely our work ahead of us. What we're really wanting to focus on is the educational component. Looking back at what they were doing in the beginning, they were doing garden tours, they were doing lecture series, they were doing community educational events. So we feel like if we keep the spirit of that going, and put a lot of effort into that, it will become this community center in Westlake.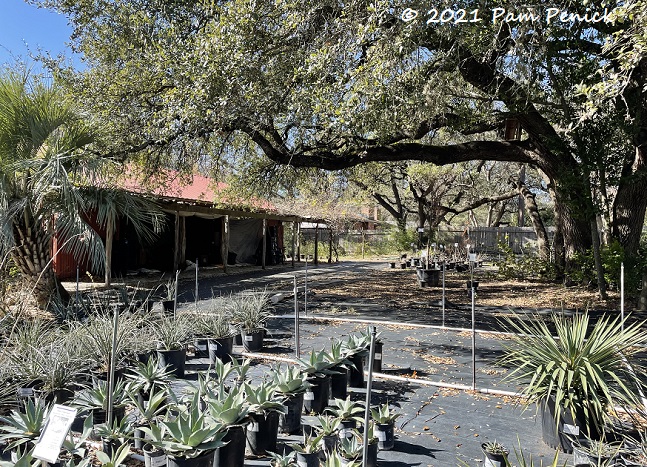 Pam: How big is the nursery?
Amy: It's 4 acres. There are 8 greenhouses in the back. We're excited to show the public what's going on back there because it's really amazing.
Pam: What do you see as BSN's niche in Austin?
Willy: Our niche will always be that we have a great plant selection because we're nimble. We propagate plants here on-site. We'll be bringing in different natives, different adapted plants than you'll be able to find in box stores or even independent garden centers. We're going to keep the gardener front and center. We're going to always have plants that are unique and appropriate for the area. And we're going to try to inspire folks. This huge, beautiful lot filled with native oaks and other plants — it's a good place for inspiration and motivation and getting some fresh air and then trying to duplicate that at home.
Gardening has changed so much. You look at people now with their indoor jungles, and this resurgence in pocket prairies and lawn reduction, and all these things that have an ecological factor. We're keeping that as our primary focus, maintaining the character of being uniquely Austin and having operations that benefit the local ecology and community. We have the solid foundation that Conrad and Bernardine made so long ago, and that stuff comes first. We also want to make sure we're being efficient, making sure people aren't waiting in line very long, and making every customer feel welcome, helped, educated, and inspired.
Amy: We want people to come here and get inspired. We want people to feel relaxed, and if they want to hang out here we'd love to have them. If they're in a hurry we want to make it easy for them to get what they want and get on their way.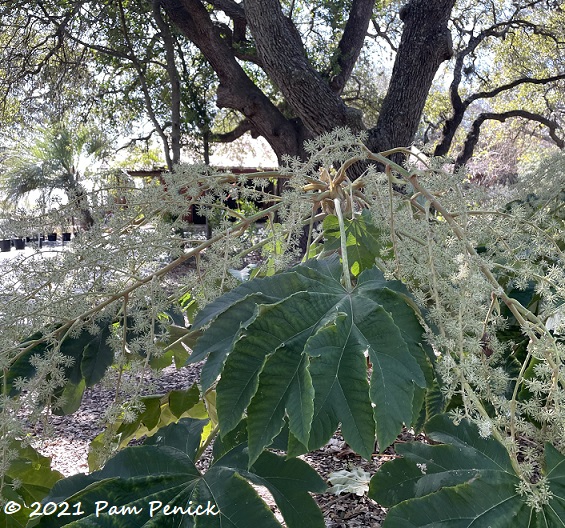 Pam: What changes do you plan to make to the grounds?
Amy: We would like to do more gardens and also have different experiences. An outdoor classroom. A place for people to meet and hang out. We'd like to clean up the grounds and do some more planting and showcase the native Texas palette in a way that excites people to want to do that too. The nursery already has so many great plantings, and we want to make sure everyone can see all that and be inspired by it.
Willy: I've always thought of the grounds as being a surrogate for a park. People need to get out after a stressful day, bring your dog on a leash, have a cup of coffee, and enjoy the grounds. There are too few green spaces in Westlake. We want to be thought of as a place you can come and enjoy that.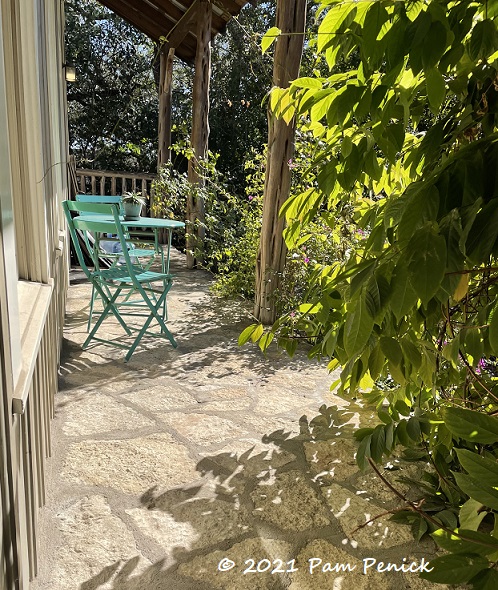 Amy: When I lived in France there were so many inspiring examples of garden spaces where people of all ages would gather. Creating that here is important to us. It's about creating a community space that we can all use in different ways together.
Willy: We also want to show people propagation. It's no surprise that nursery has a couple of different meanings. We really want to foster the sense that we're creating life here. We want to share that experience.
I welcome your comments; please scroll to the end of this post to leave one. If you're reading this in a subscription email, click here to visit Digging and find the comment box at the end of each post.
_______________________
Digging Deeper: News and Upcoming Events
Join the mailing list for Garden Spark! Hungry to learn about garden design from the experts? I'm hosting a series of talks by inspiring garden designers, landscape architects, and authors a few times a year in Austin. (While in-person talks are currently on hiatus due to the pandemic, I plan to resume again as soon as possible.) Talks are limited-attendance events that sell out quickly, so join the Garden Spark email list to be notified in advance. Simply click this link and ask to be added.
All material © 2021 by Pam Penick for Digging. Unauthorized reproduction prohibited.