April 19, 2021
Right this moment I'm looking at my woody lilies and bromeliads — vegetation like agave, yucca, nolina, sotol, hesperaloe, mangave, and dyckia. A few of these vegetation took a extreme hit whereas others sailed by the freeze. I take advantage of them primarily as focal factors or as evergreen "shrubs," and the losses had a big effect, extra so as a result of such vegetation are usually slow-growing and costly. Many I develop in containers, to offer sharp drainage or to extend their influence, and sadly that made them extra susceptible to excessive low temperatures. Smaller vegetation in containers that I used to be in a position to carry indoors through the freeze are omitted from the listing under.
However first, the backstory.
Texas gardeners are feverishly evaluating notes about plant survivors and croakers after February's Massive Freeze. I'm doing the identical and documenting how each plant in my backyard fared. Please see my first put up on this sequence for the introduction and for notes about my bushes.
Asterisks point out vegetation native to Texas. Vegetation that have been stunted, maimed, or killed by the freeze are in daring, for simpler looking out.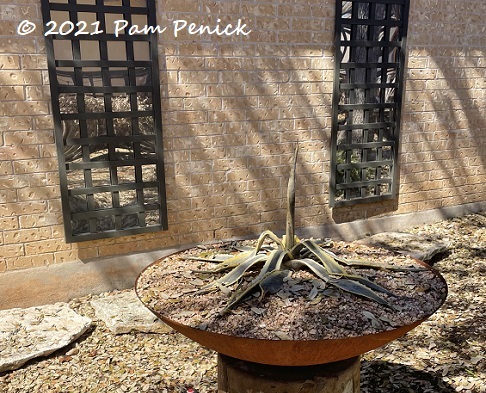 Woody Lilies & Bromeliads
Agave americana 'Opal' – Variegated American agave 'Opal': Killed in an elevated container. I've already changed this one.
Agave bracteosa – Squid agave: It is a sometimes very winter-hardy agave, however not at these temperatures. I've 7 in varied containers. Three have been killed and three others survived with important injury. One (in opposition to the home) survived with just about no injury. After a few weeks I used a serrated bread knife to chop off the mushy or browned leaves, and the survivors ought to make a full restoration.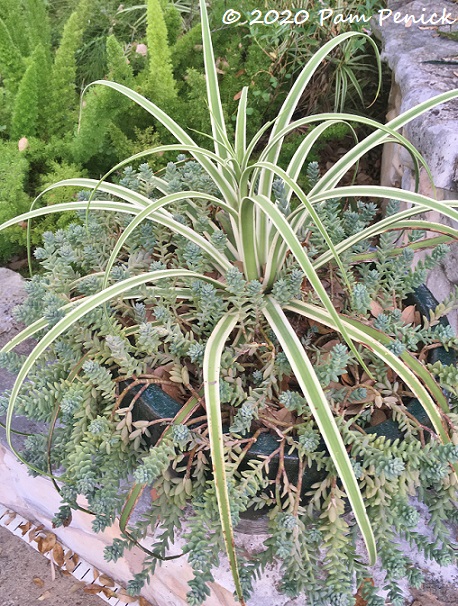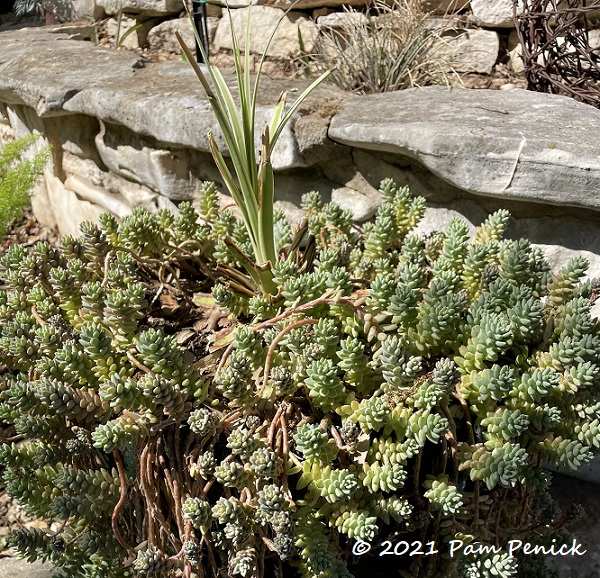 Agave bracteosa 'Monterrey Frost' – Variegated squid agave: A giant, lovely one in a pot was maimed by the freeze (see 2 images above), however it is going to survive. I've one other smaller one which I used to be in a position to carry indoors.
Agave lophantha*: Considerably broken in a container. I've lower off the mushy leaves, and it'll survive.
Agave lophantha 'Quadricolor'*: Killed in a container. I've changed it with a pup I'd introduced indoors.
Agave ovatifolia – Whale's tongue agave: Other than 'Vanzie' (see under), I've two different good-sized whale's tongue agaves in containers. One survived with no injury in a tractor-rim planter (with an open backside). The opposite one — a variegated whale's tongue — survived in a pot with a sheet thrown over it, however with injury to its decrease leaves, which I lower off. Its moonshine-yellow coloring has additionally considerably pale, however I'm hoping that may return with hotter climate.
Agave ovatifolia 'Vanzie' – Whale's tongue agave 'Vanzie': Survived in a fire-ring planter (with an open backside) fully unscathed.
Agave parryi var. truncata – Artichoke agave: Killed in a container.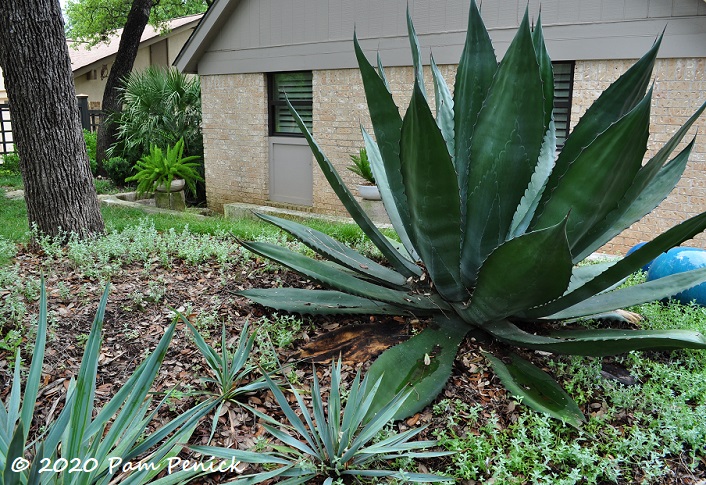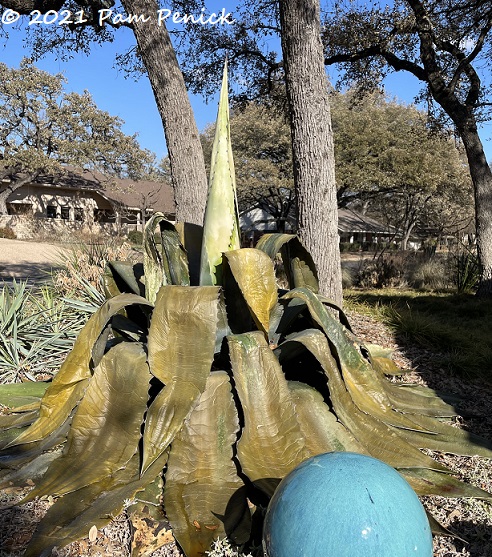 Agave salmiana var. ferox 'Inexperienced Goblet' – Inexperienced Goblet agave: Killed. I eliminated it and reluctantly changed it with a Wheeler sotol, primarily to scale back upkeep. The large 'Inexperienced Goblet' was a beautiful agave, however I needed to cage it each fall by March to maintain male deer from antlering it. It additionally produced pups, though a manageable quantity, which I needed to pull out to maintain it as a solitary specimen. Had been it not for the deer, I might have replanted one other one.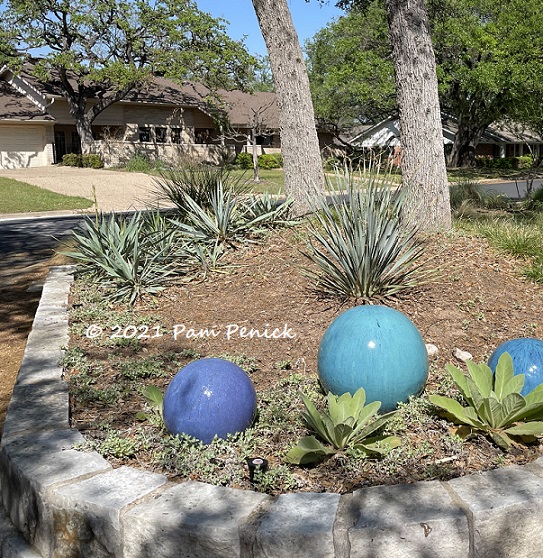 Dasylirion longissimum – Toothless sotol or Mexican grass tree: Killed, I believe. This one makes me unhappy. I had two, each in elevated planters and sometimes very winter-hardy. Each appeared to come back by the freeze OK, however day-to-day they turned increasingly tan. The large one, which has been rising in a metal pipe for 9 years, nonetheless reveals slightly inexperienced within the very heart. However I believe it's a goner. The smaller plant died, and I've already changed it.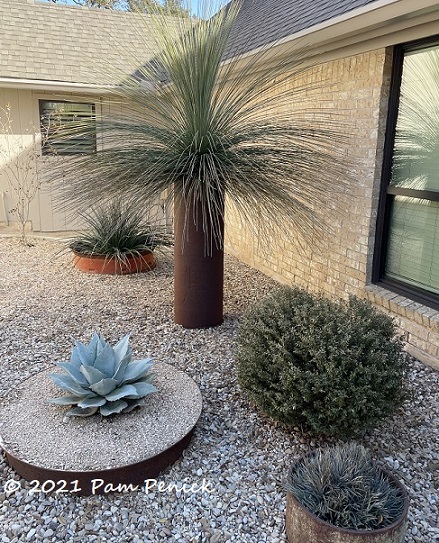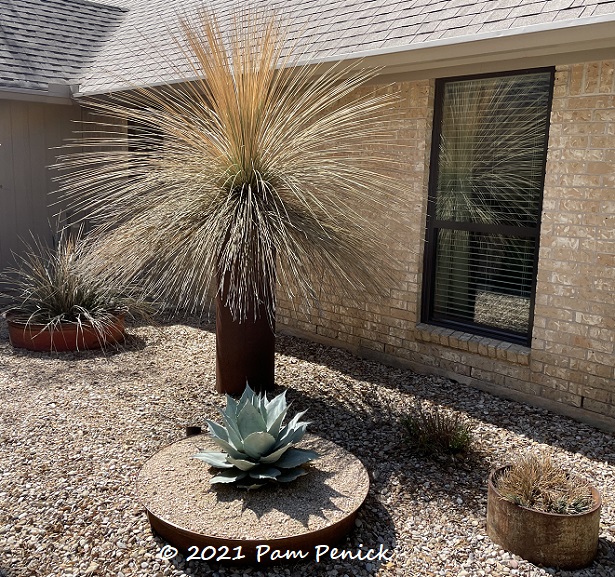 Dasylirion texana – Texas sotol*: Utterly unfazed. One is getting ready to flower (see photograph under).
Dyckia 'Burgundy Ice': All 4 vegetation (in low containers) have been killed.
Dyckia choristaminea 'Frazzle Dazzle': Two have been killed and two others are barely hanging on. I've eliminated the brown sections from the survivors and am watching to see in the event that they get well.
Hesperaloe funifera ssp. chiangii – Broad-leaf large hesperaloe: Utterly unfazed.
Hesperaloe parviflora – Crimson yucca*: About half the leaves have been partially browned, however it already despatched up a number of bloom spikes — which the deer promptly ate.
Hesperaloe parviflora 'Desert Nightfall' – Crimson yucca 'Desert Nightfall'* – I've 3 vegetation, one within the floor and a couple of in containers. The in-ground plant and one container plant suffered no injury. The third one in a container died to the roots however is coming again. I can't inform why they reacted in another way.
Hesperaloe parviflora 'Yellow'* – Utterly unfazed and now flowering. All three are rising within the floor.
Manfreda undulata 'Chocolate Chips' – 'Chocolate Chips' manfreda: One plant in a pot died. Two within the floor have been killed to the roots however are rapidly rebounding.
Mangave 'Macho Mocha': One plant in a pot died. A number of within the floor had pups that survived underneath the mom plant or have been killed to the roots however are coming again.
Mangave 'Pineapple Specific': Killed in a pot.
Nolina nelsonii – Blue nolina: Two vegetation within the floor, together with one I've had about 10 years, have been killed. San Marcos Growers declares it hardy under 0 levels, however temps of 5 F killed it in my backyard. Maybe the length of the freeze along with heavy snow made it much less in a position to tolerate excessive chilly. I haven't determined whether or not to attempt once more. That is an especially slow-growing plant that's dear at bigger sizes.
Nolina lindheimeri – Lindheimer nolina*: Utterly unfazed.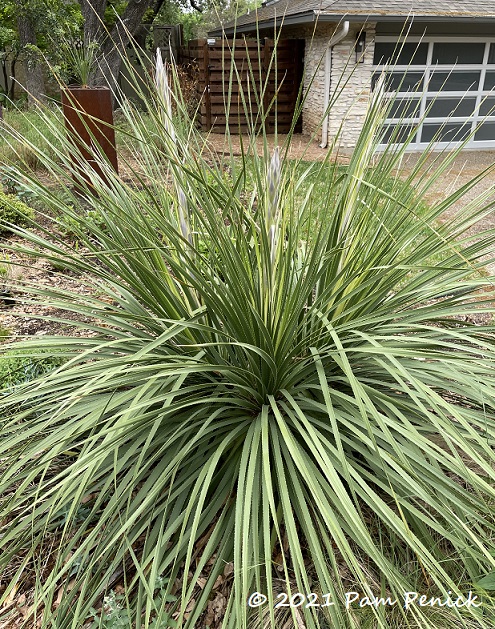 Nolina texana – Texas nolina*: Utterly unfazed, and it flowered quickly after the thaw.
Yucca filamentosa 'Brilliant Edge'*: Utterly unfazed.
Yucca filamentosa 'Coloration Guard'* – 3 new ones in pots (underneath a sheet) suffered important freeze injury, which I lower off. I'm hopeful they may get well. One different in a pot was undamaged.
Yucca pallida – Paleleaf yucca*: Utterly unfazed and despatched up flower spikes final week, which the deer ate.
Yucca recurvifolia 'Margaritaville'*: Killed to the roots however coming again.
Yucca recurvifolia – Softleaf yucca*: Minimal injury.
Yucca rostrata*: Utterly unfazed.
Yucca rostrata 'Sapphire Skies'*: Utterly unfazed.
Up subsequent are Grasses, Sedges, and Bamboos. Click on for my earlier posts about:
I welcome your feedback; please scroll to the top of this put up to depart one. Should you're studying this in a subscription electronic mail, click on right here to go to Digging and discover the remark field on the finish of every put up.
_______________________
Digging Deeper: Information and Upcoming Occasions
Be part of the mailing listing for Backyard Spark! Hungry to study backyard design from the specialists? I'm internet hosting a sequence of talks by inspiring backyard designers, panorama architects, and authors a number of occasions a 12 months in Austin. (Whereas in-person talks are at the moment on hiatus because of the pandemic, I plan to renew once more as quickly as doable.) Talks are limited-attendance occasions that promote out rapidly, so be part of the Backyard Spark electronic mail listing to be notified upfront. Merely click on this hyperlink and ask to be added.
All materials © 2021 by Pam Penick for Digging. Unauthorized copy prohibited.