August 08, 2020
Midsummer has never been my favorite season in the garden. It's hot and humid. Mosquitoes are fierce. And yet this summer, perhaps because I'm spending more time at home and in my own garden than usual, I'm also appreciating it more. Here's what's caught my eye lately on strolls around the garden.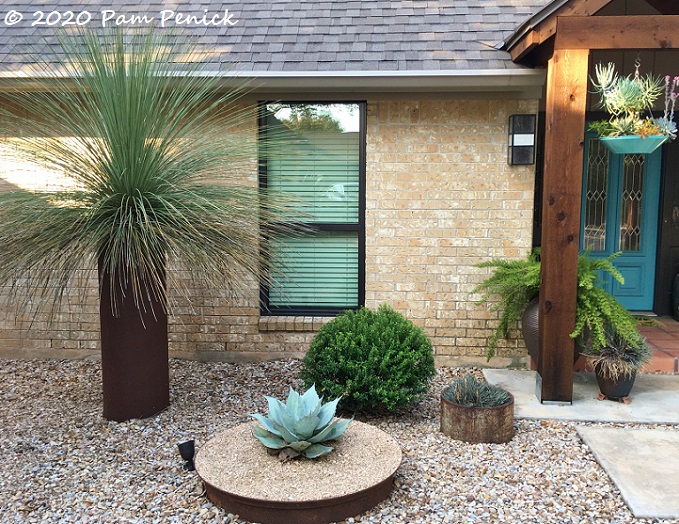 The gravel garden by the front door is looking pretty bouncy with lots of circular planters and spherical plants, like the clipped dwarf myrtle (Myrtus communis 'Nana') and toothless sotol (Dasylirion longissimum) in the steel pipe. Whale's tongue agave (Agave ovatifolia) and 'Frazzle Dazzle' dyckia grow in the shorter steel containers. These are all super-tough plants for a hot, dry location.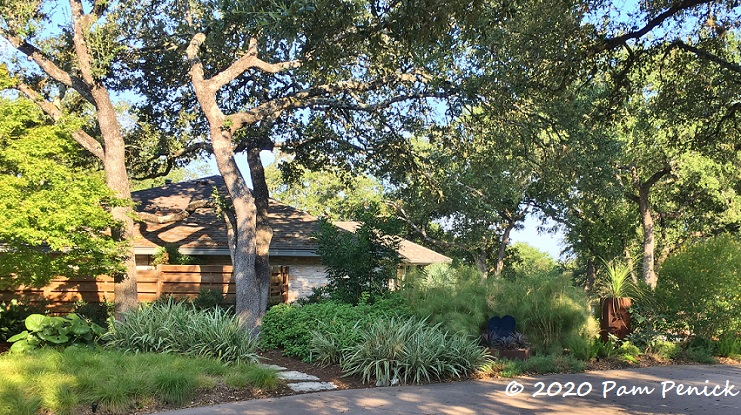 I really love how the driveway bed has filled in over the past several years. I now enjoy complete screening of the neighbors' driveway. With heavy deer pressure in my front garden, these are all very deer-resistant, plus shade-tolerant, plants.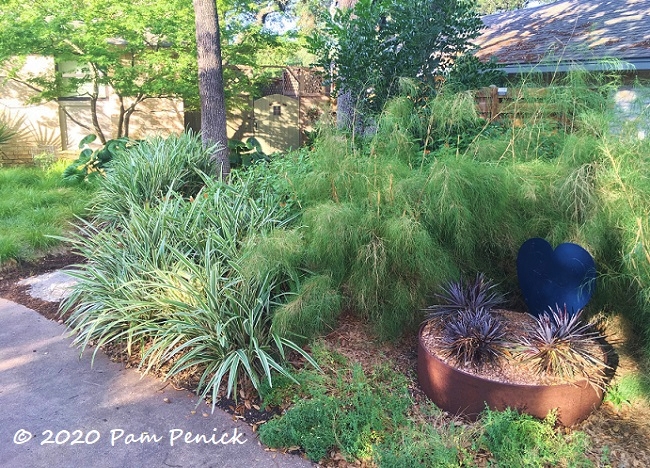 A trio of shiv-leaved 'Burgundy Ice' dyckias pair with a blue steel heart in another pipe planter, embraced by a cloud of bamboo muhly (Muhlenbergia dumosa). White skullcap (Scutellaria suffrutescens 'White') makes a foamy groundcover in front, its tiny white flowers echoing the stripes of variegated flax lily (Dianella tasmanica 'Variegata') at left.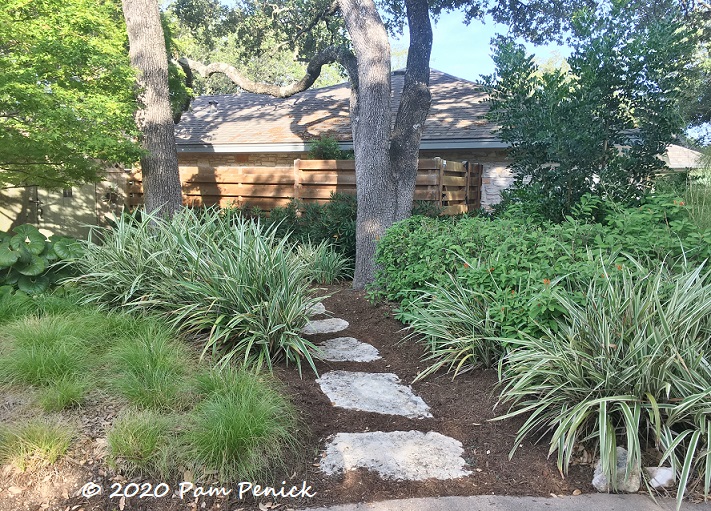 The flax lily "jumps" (I planted it this way) across a flagstone path that leads to the side gate. It's grown so big, after a couple of mild winters, that I've had to start whacking it back from the path. I have a sneaking suspicion that the deer brought chiggers into my garden because I was getting itchy bites behind my knees after walking through this area, when the dianella leaned over the path. No bites since cutting it back — yay!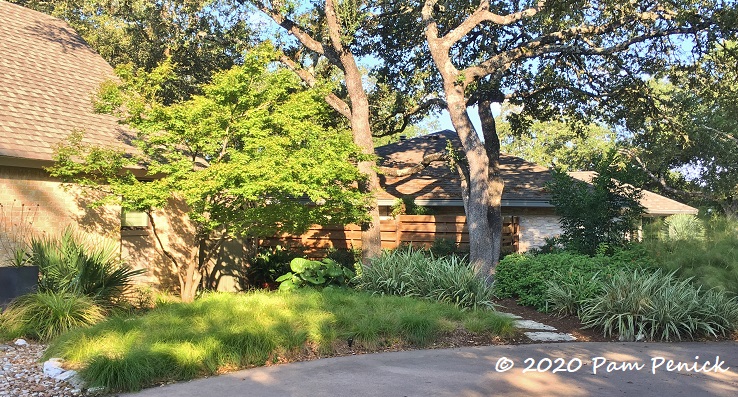 A wider view shows the sedge lawn (Carex leavenworthii) and Japanese maple in front of the house.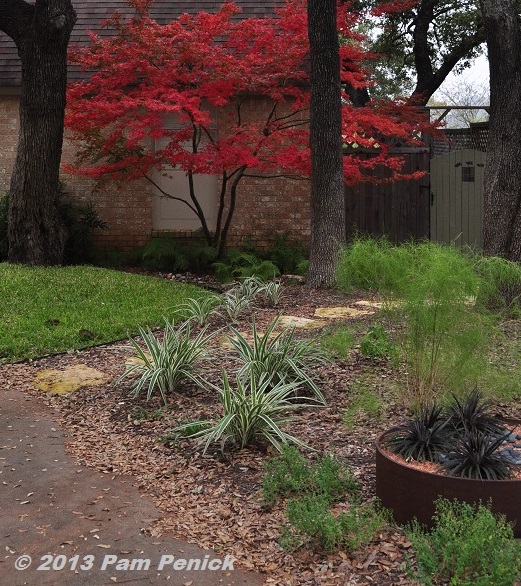 For a fun comparison, here's how this area looked in December 2013, with young dianella and bamboo muhly, and the sedge lawn had not yet replaced the St. Augustine. I like looking at old blog posts to see how much the garden has grown or changed.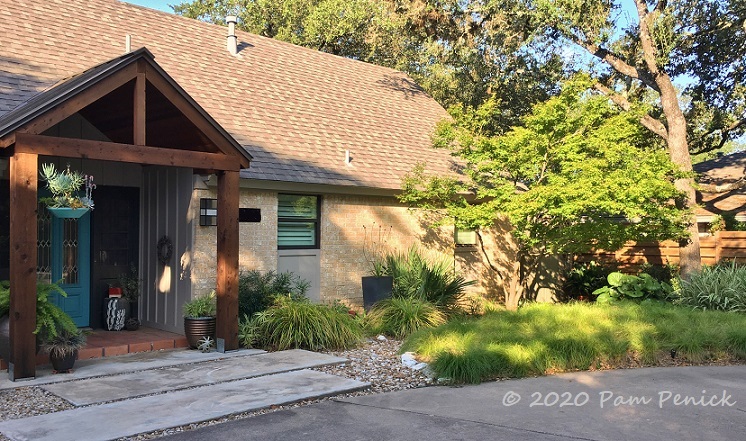 Panning left toward the front porch, sharp-eyed readers may notice something missing in the foundation bed…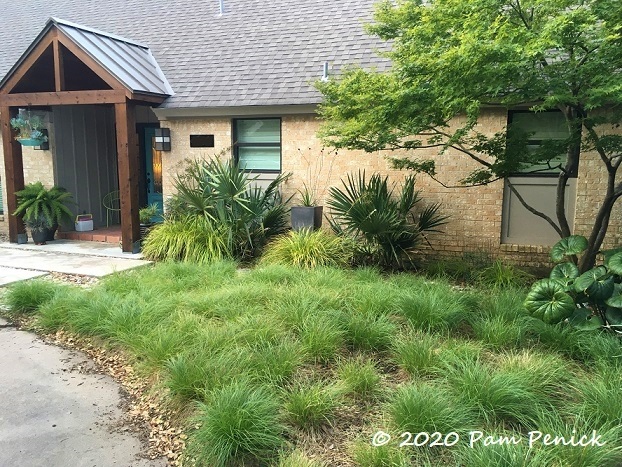 …a Texas dwarf palmetto (Sabal minor) next to the porch column. This is the before picture. A pair of palmettos grew here for a couple of years, until I realized the extra water from being under the eave was causing them to grow much faster than expected.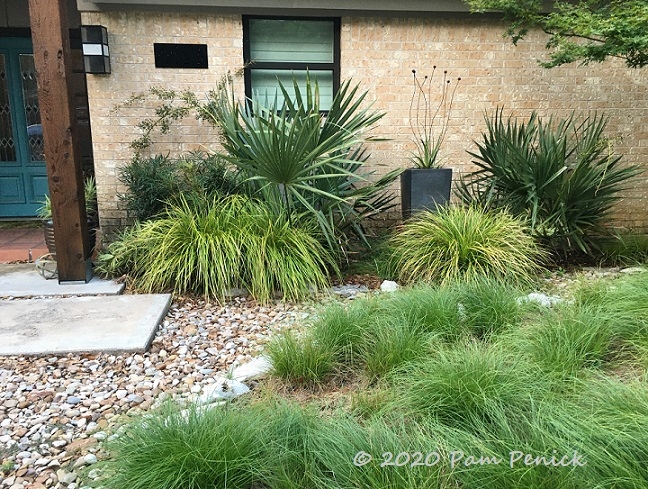 While I enjoyed seeing fronds out the window, it required regular pruning. And it was only going to get bigger. So I moved it to the back garden, where I'm trying to keep it well watered and alive until it recovers from transplant shock. In my experience, Sabal minor doesn't like being transplanted, but hopefully it'll take hold in its new spot. I've planted 'Amistad' salvia and 'Sparkler' sedge in its place. The yellow-green, grassy plants along the foundation are 'Everillo' sedge, a favorite of mine for shade or morning sun.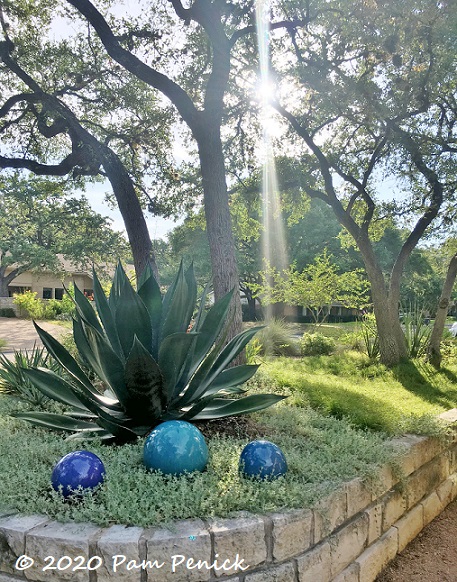 On the east side of the circular driveway, the dusty-green leaves of 'Green Goblet' agave reign over woolly stemodia (Stemodia lanata), a silvery native groundcover. That's Berkeley sedge (Carex divulsa) in the background, with ever-present live oaks filtering the morning sun.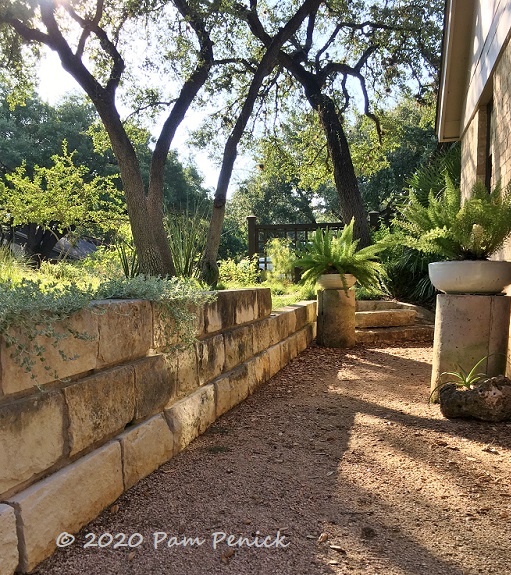 Potted and elevated foxtail ferns (Asparagus densiflorus 'Myersii') draw you along the gravel path that cuts in front of the garage.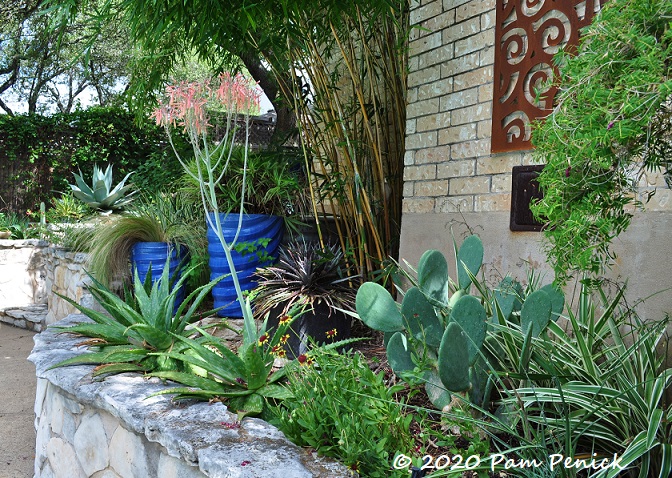 Meanwhile, in the back garden, soap aloes (Aloe maculata) have been blooming regularly all summer. I've struggled with the blazingly hot and dry space in front of the south-facing chimney wall, and last fall I added a spineless prickly pear, which I'll carefully prune to give it a good shape as it grows. An uplight is trained on it, and I anticipate good shadows when it gets a little bigger.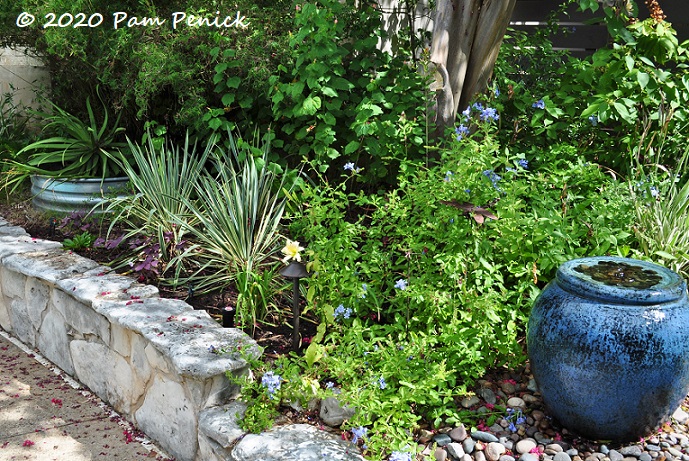 A trio of 'Bright Edge' yuccas have finally brought definition to another troublesome spot near the fountain. A number of plants have failed here over the years, but maybe I've finally found the right one. Plumbago's blue flowers echo the blue of the pot fountain.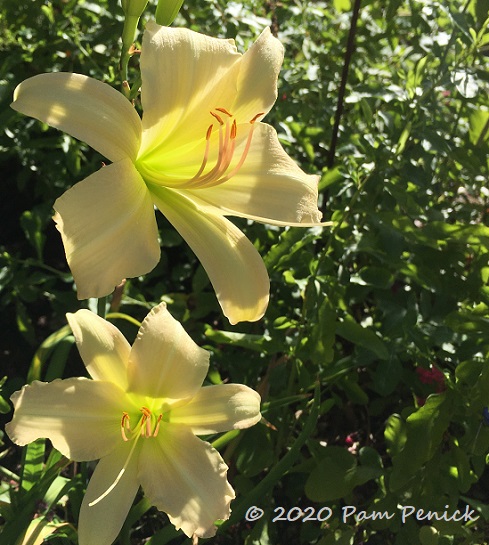 Weirdly, my daylilies started blooming in late July and early August. They normally bloom in May, but nothing this spring. And now look. 'Best of Friends', normally a peachy-pink, looks washed out in the blistering heat, but I'll take it. Hey, it's August.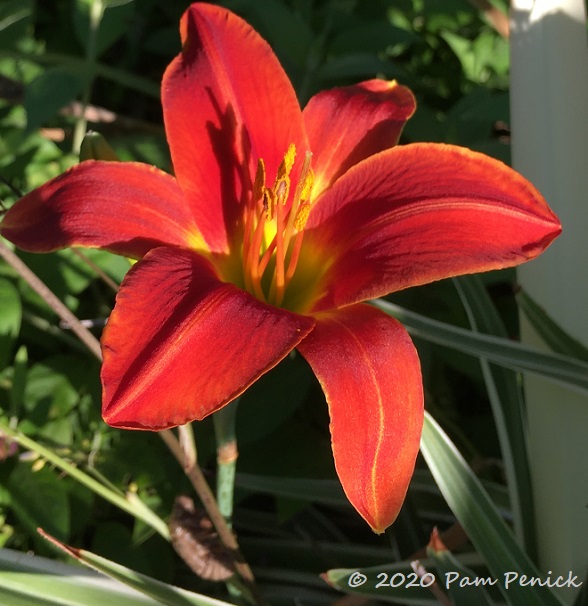 'Apple Tart' daylily's rich red coloring is holding up much better.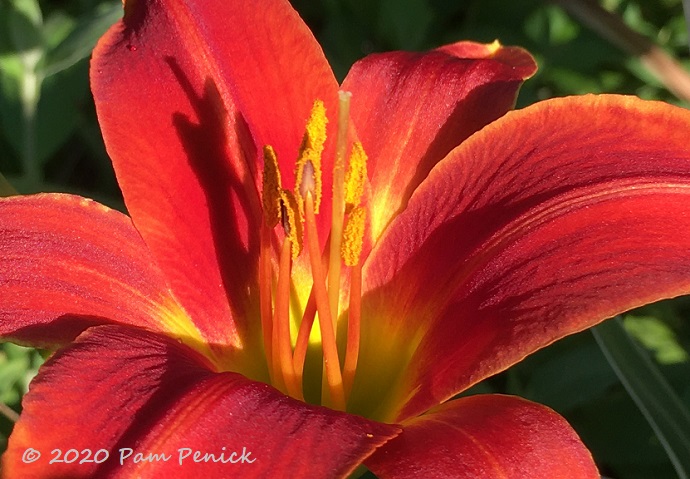 I love that hit of chartreuse in the center.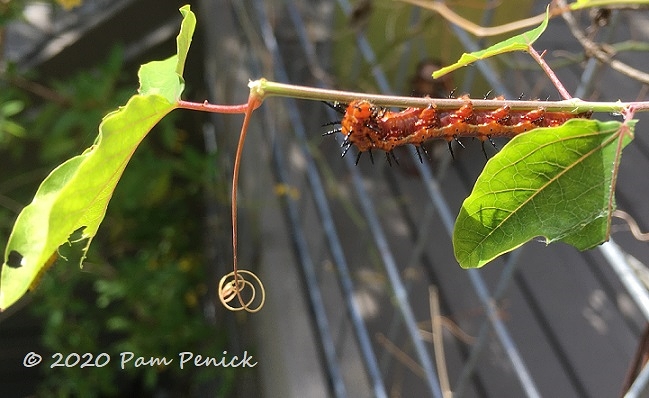 The 'Lavender Lady' passionflower on the deck rail has been denuded by caterpillars since the spring, but I do have lots of pretty Gulf fritillary butterflies to enjoy.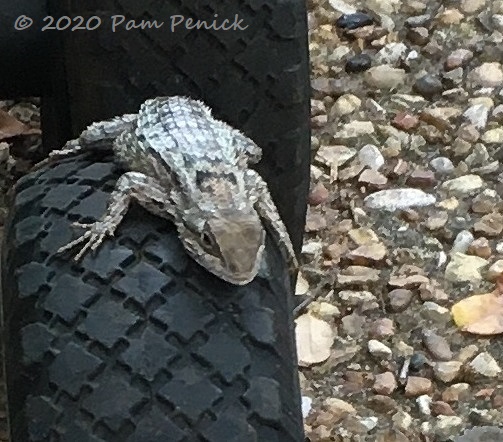 During the dog days of summer, one can feel pretty tired — but a hose-cart tire makes a good resting place for this Texas spiny lizard!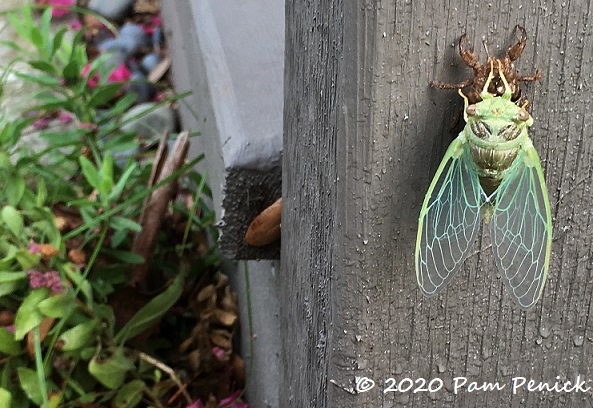 Cicadas buzz all day long, and I'm constantly finding their "shells" clinging to fence posts, trees, and deck rails. Recently I spotted this newly emerged cicada resting atop its old exoskeleton, drying out its seafoam-green wings.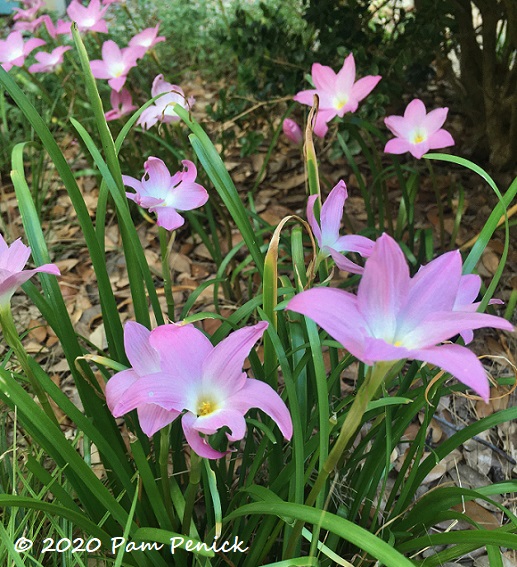 And a rain shower brought up the pink rain lilies (Zephryanthes 'Labuffarosea'), always a welcome sight — the flowers and the rain too.
I welcome your comments; please scroll to the end of this post to leave one. If you're reading this in a subscription email, click here to visit Digging and find the comment box at the end of each post.
_______________________
Digging Deeper: News and Upcoming Events
Join the mailing list for Garden Spark! Hungry to learn about garden design from the experts? I'm hosting a series of talks by inspiring garden designers, landscape architects, and authors a few times a year. Held in Austin, the talks are limited-attendance events that sell out quickly, so join the Garden Spark email list to be notified in advance. Simply click this link and ask to be added.
All material © 2020 by Pam Penick for Digging. Unauthorized reproduction prohibited.