October 16, 2020
How can it have been 9 years since I first visited Michael McDowell's front-yard prairie garden? Michael's garden lives large in my memory, alight with morning sunlight and festive fall color (click for my 2011 tour), and it inspires daily via his blog Plano Prairie Garden and his Instagram.
For my birthday a couple weekends ago, I treated myself to a covid-careful Dallas/Fort Worth garden-visiting trip. Michael's garden in Plano, a suburb of Dallas, was one I was keen to revisit. Would it hold up to my memories?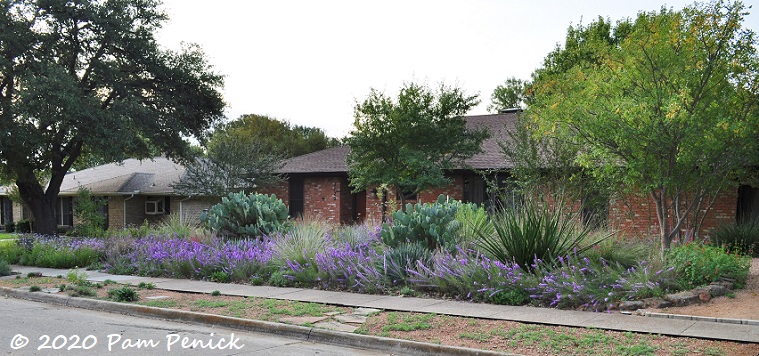 Of course it did! I mean, just look at it. Amid a sea of mown lawns, Michael's native-plant front garden beckons like an oasis in the desert. It must also look that way to pollinators, birds, and other small creatures looking for a refueling stopover or place to take shelter. The seedlings coming up in the hellstrip, by the way, are native bluebonnets, which will put on a show next April.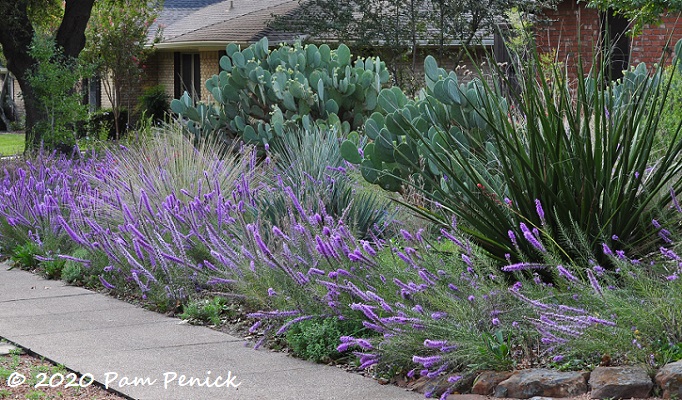 I've already written in detail about Michael's garden in my earlier post, so this one will be mostly eye candy. I caught the fall-blooming gayfeather (Liatris) in full flower, to my delight. Michael later told me it began to fade by the following weekend, as the heat returned.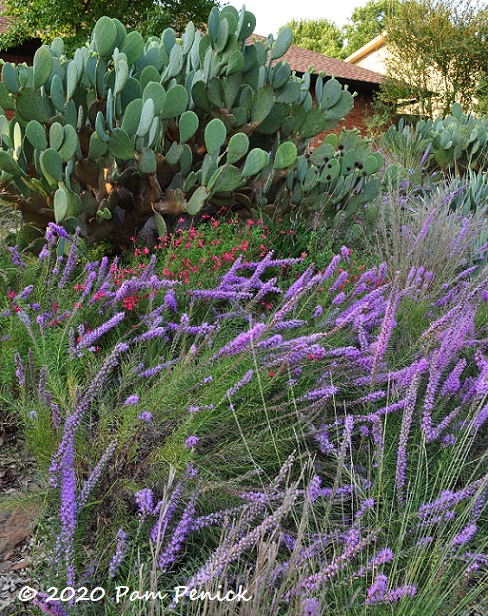 Liatris is glorious in bloom, especially juxtaposed with a hulking spineless prickly pear and complemented by the red flowers of autumn sage (Salvia greggii).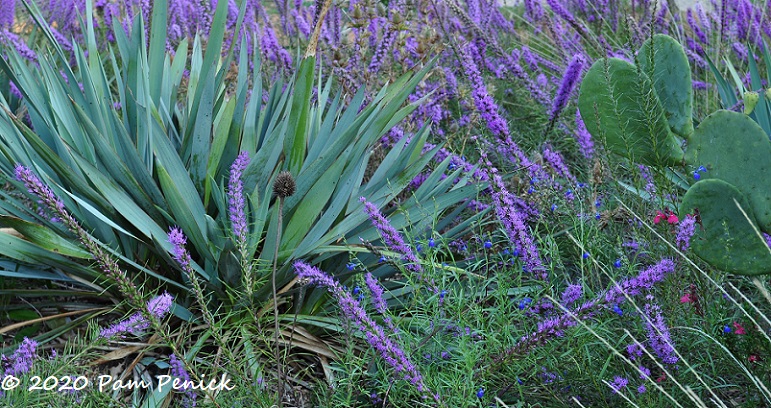 Evergreen xeric plants like prickly pear and paleleaf yucca (Yucca pallida) give Michael's garden structure and interest when the garden isn't in full flower. Update: Michael has ID'd the blue flower as Salvia reptans, a new favorite plant.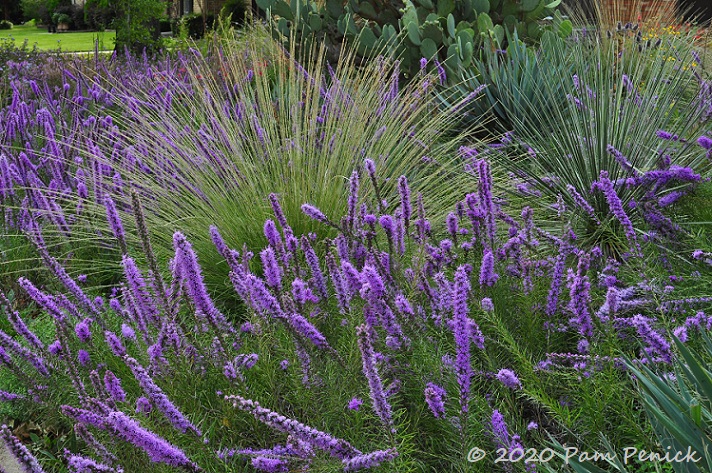 Fine-textured pine muhly (Muhlenbergia dubia) also blooms at this time of year and looks stunning with the liatris.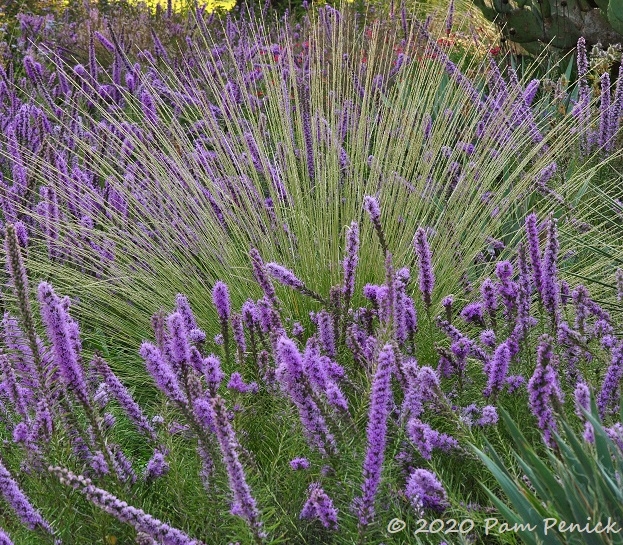 A closer look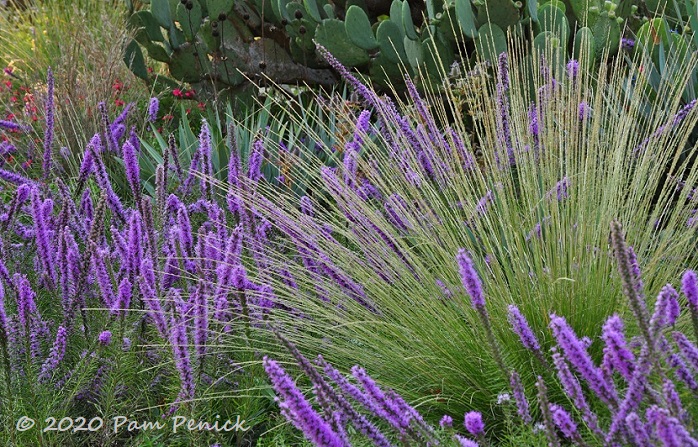 And here it is from another angle, with yucca and prickly pear added to the mix.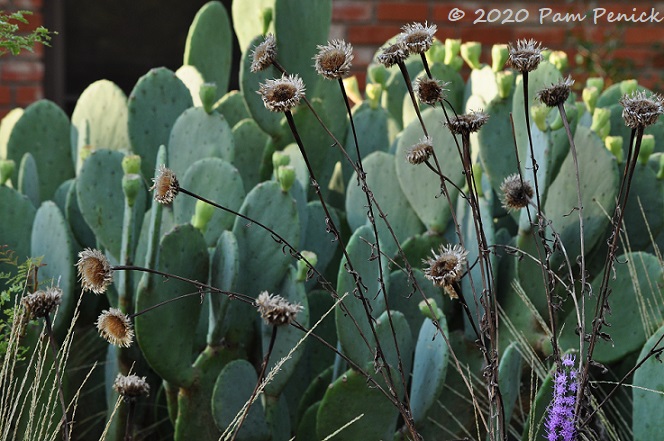 American basketflower (Centaurea americana), an excellent pollinator plant, has gone to seed.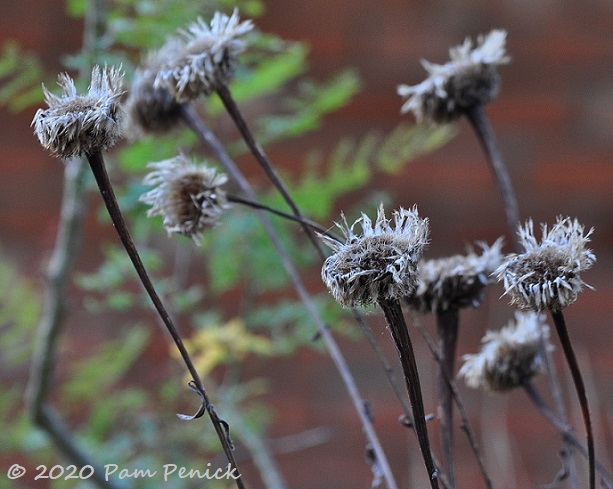 The tan-and-chocolate seedheads are pretty and feed songbirds.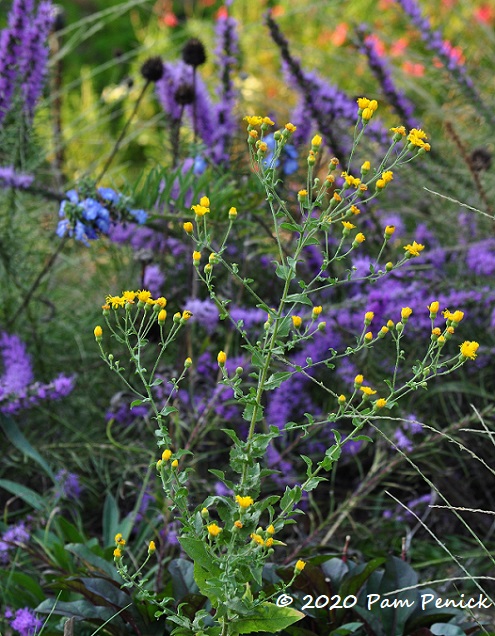 Michael tentatively identified this yellow-flowered plant as camphorweed (Heterotheca subaxillaris). It appeared in his garden as a volunteer seedling.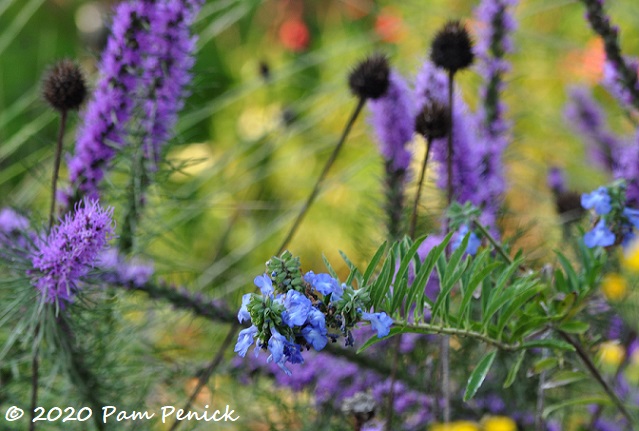 Pitcher Sage (Salvia azurea) adds sky-blue amid the purple liatris.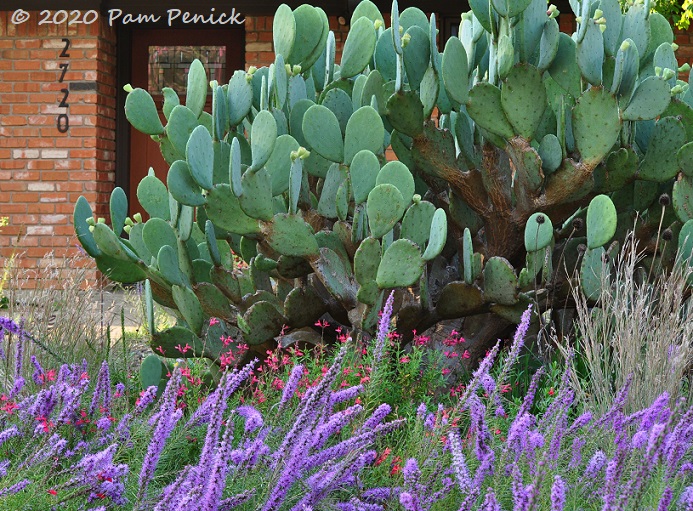 Spineless prickly pear, red autumn sage, and liatris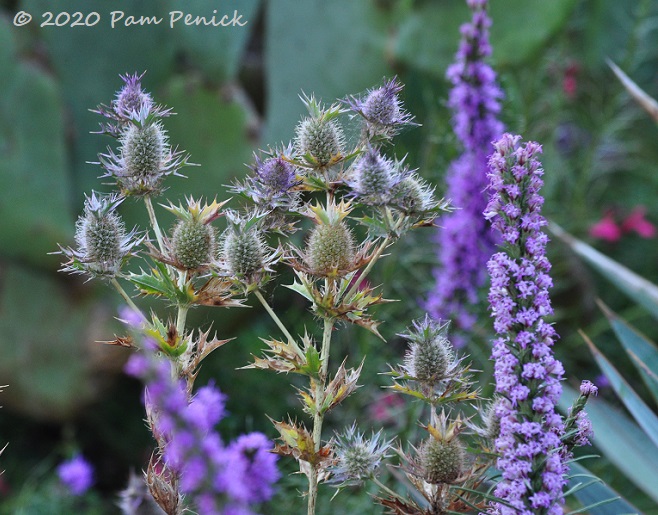 Eryngium fades from purple to tan as it goes to seed, but the spiny cones still add interesting texture to the garden.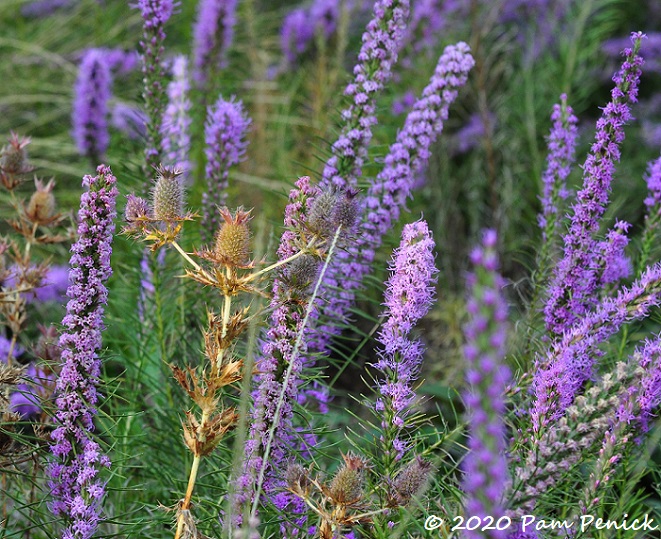 Another eryngium candelabra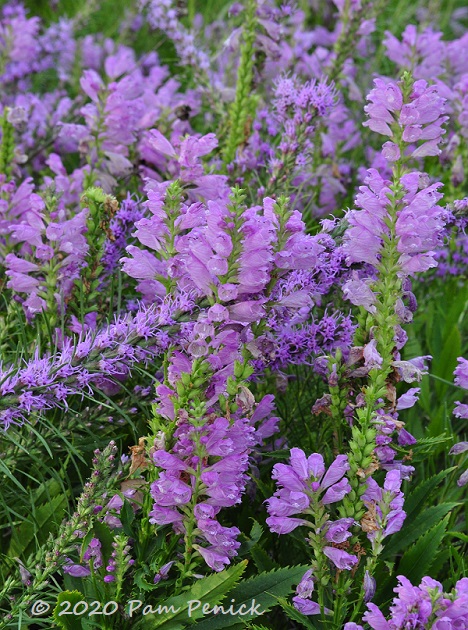 Obedient plant (Physostegia virginiana), a shade lighter than the liatris, makes for a pretty purple combo.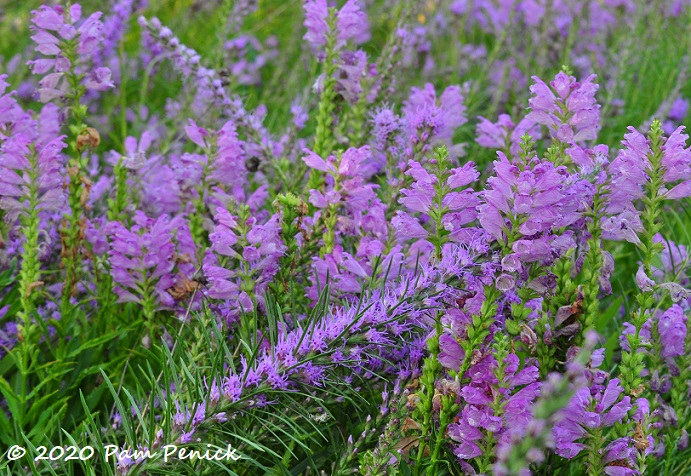 Michael showed me how obedient plant got its name: if you push an individual flower with your finger, it moves as if on a hinge and stays in its new position.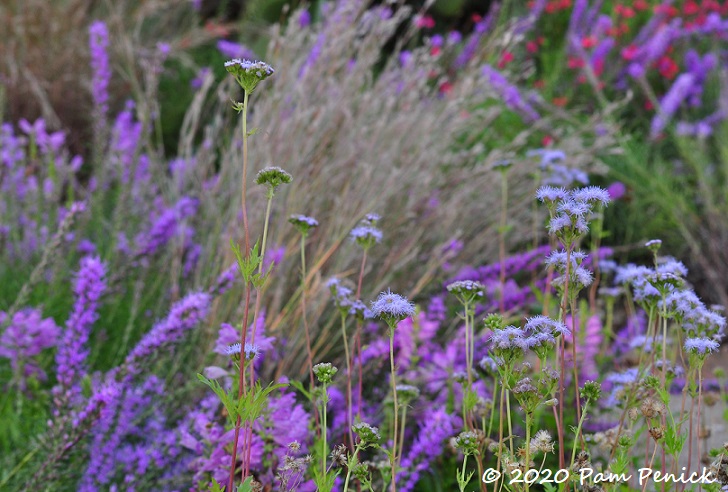 Gregg's mistflower (Conoclinium greggii) stands upright on long stems.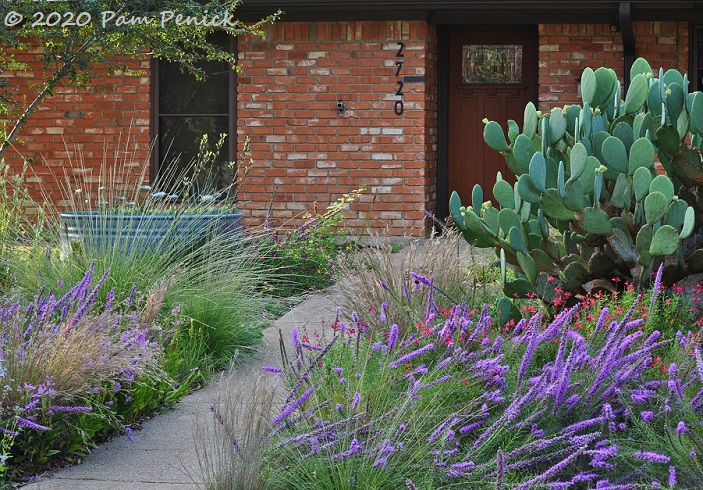 It's like taking a meadow stroll to reach the front door.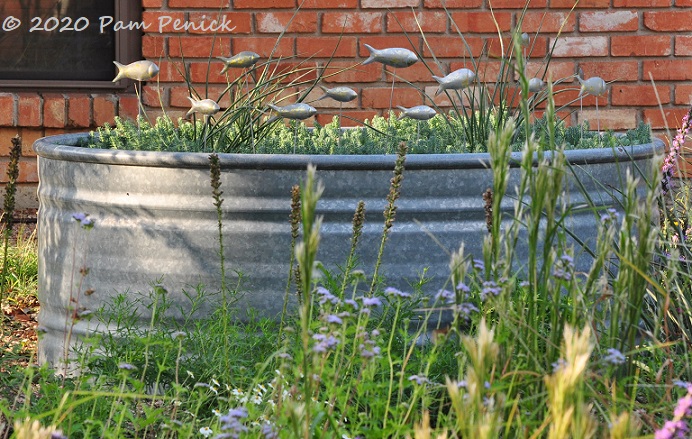 Near the front door, a stock tank that held horsetail the last time I visited has been replanted with 'Blue Spruce' sedum and small hesperaloes ('Brakelights' maybe?) and adorned with silver metal fish.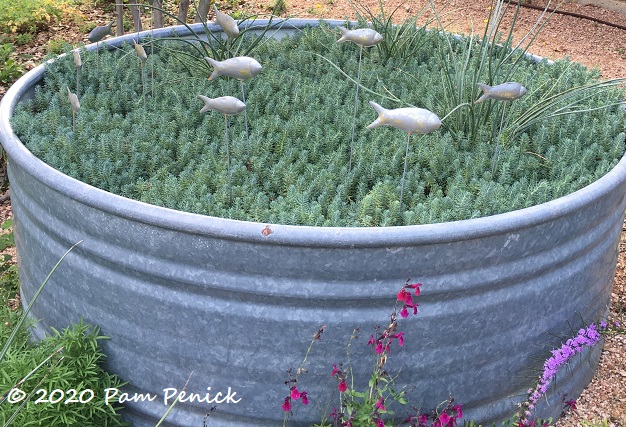 The blue-green sedum bears a strong resemblance to seaweed on the ocean floor, which the fish appear to be swimming over. So clever! Michael is good at creating surprising and water-evoking vignettes like this.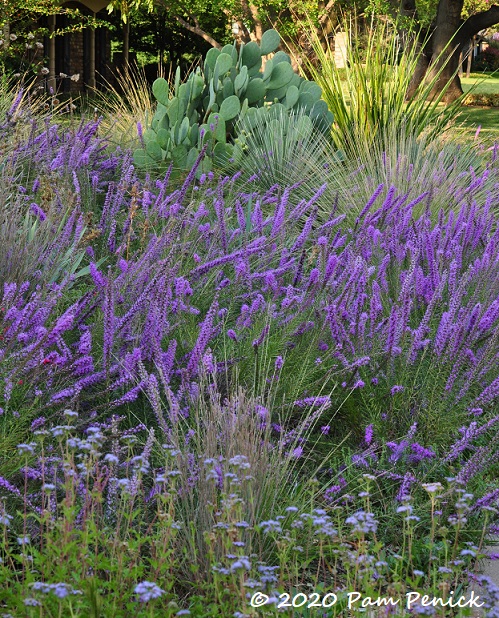 Mistflower and liatris harmonize in blue and purple.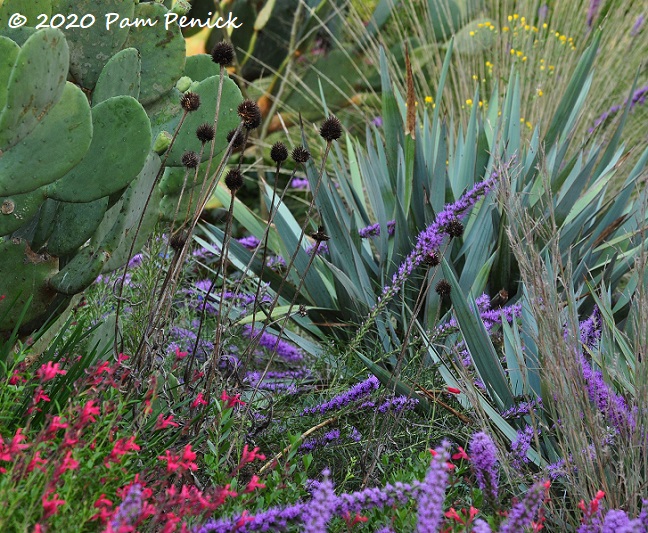 Yucca pallida and prickly pear anchor this vignette of coneflower gone to seed, red autumn sage, and liatris.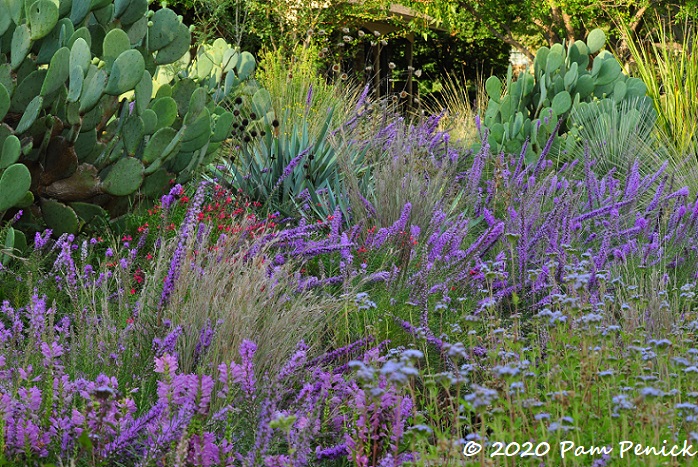 Really, there isn't a bad angle from which to shoot Michael's fall-blooming prairie garden.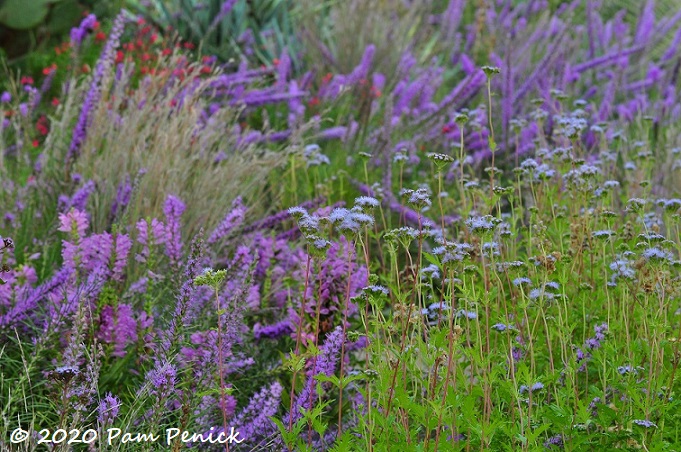 It's like Monet's garden evoked in Blackland Prairie plants!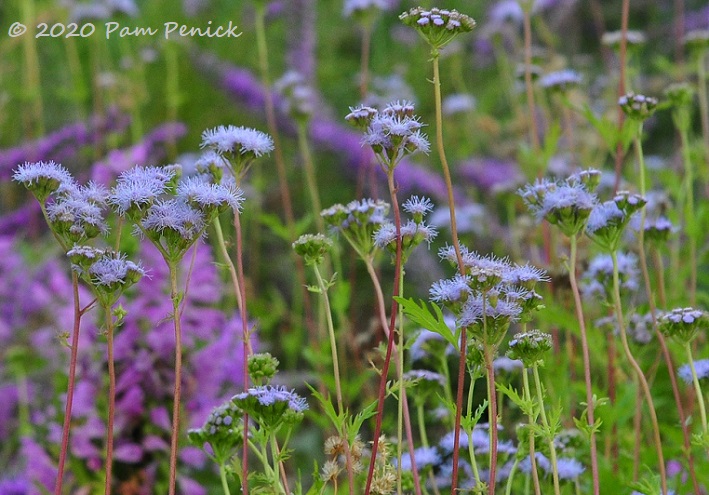 Mistflower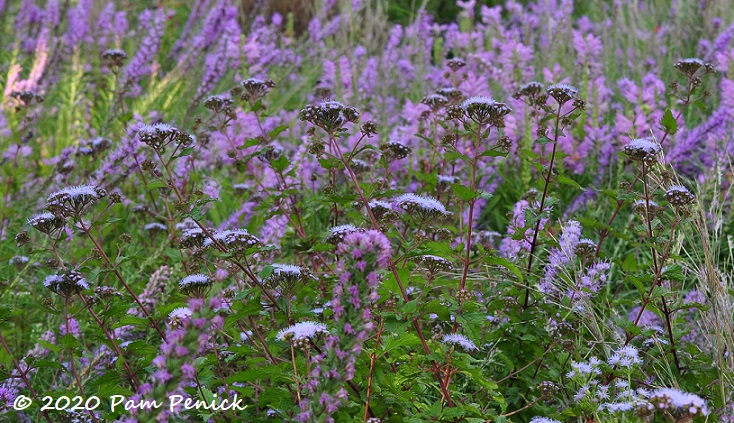 I couldn't get enough of this blue-purple combo.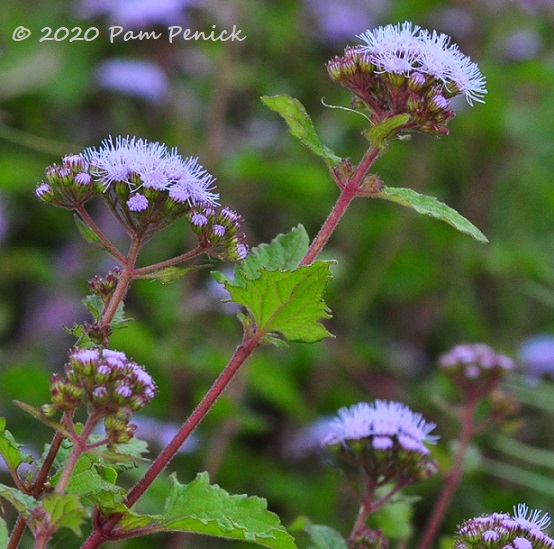 Mistflower closeup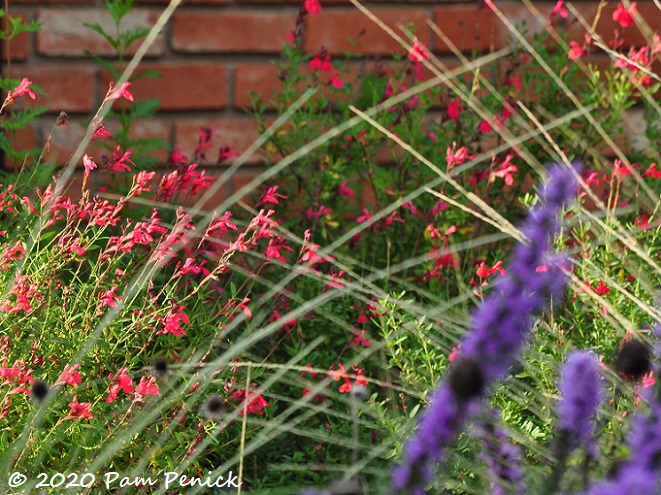 Red autumn sage looking surprisingly good with the red-orange brick of the house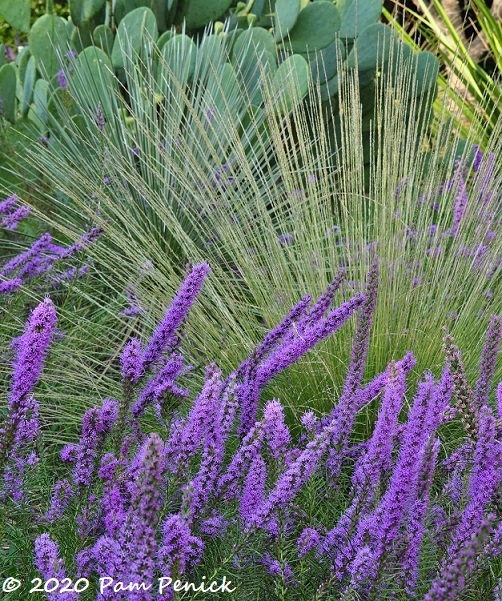 The needle-like (but soft) leaves of pine muhly set off the liatris like a diaphanous scrim.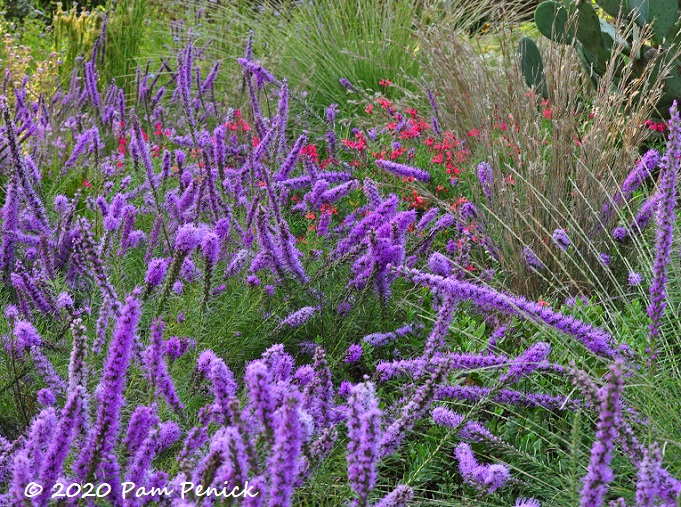 So good!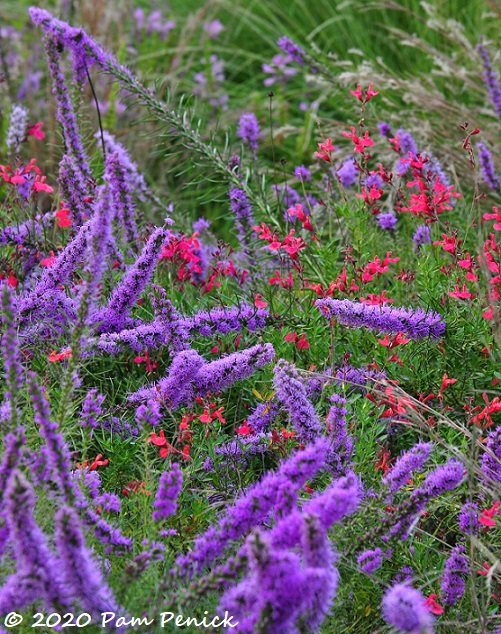 Liatris and autumn sage entangled with each other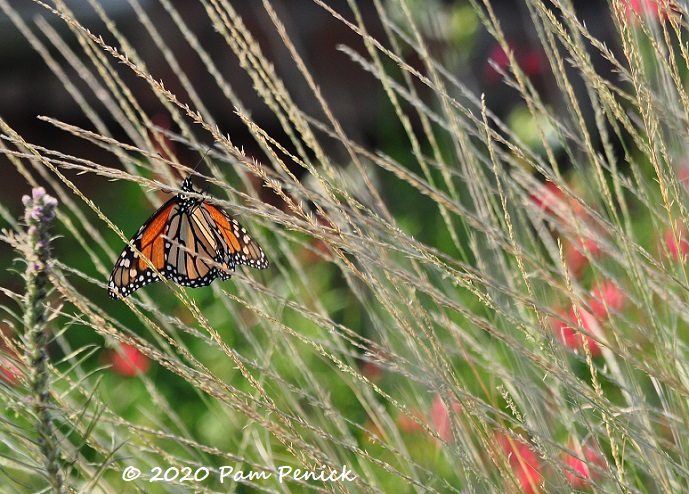 The monarchs were starting to migrate through Dallas on this early October weekend, and I spotted a few warming their wings in the morning sunshine.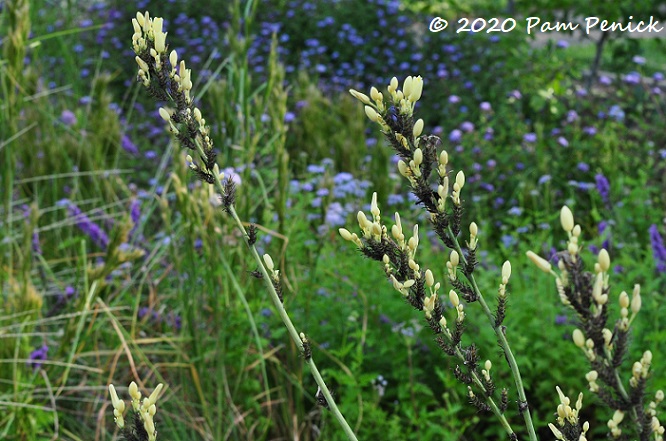 Moonshine-yellow flower wands of a yellow hesperaloe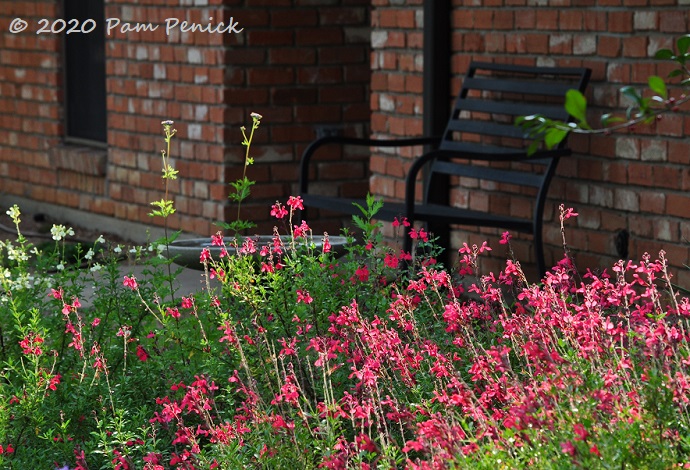 Autumn sage aglow in the early light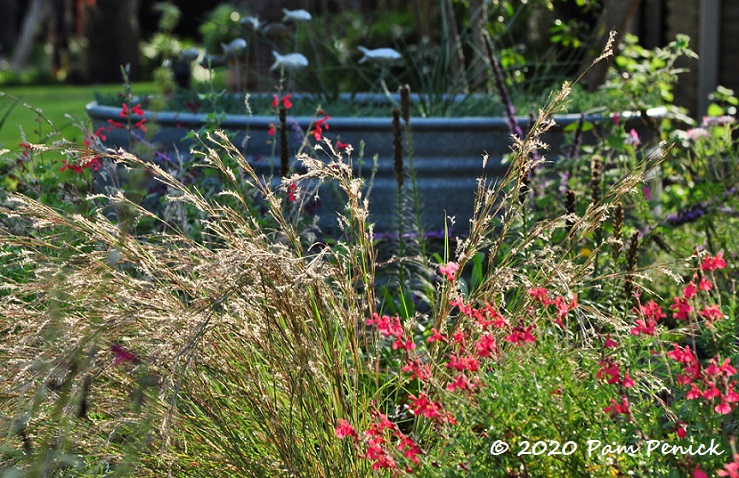 Little bluestem, I think, with autumn sage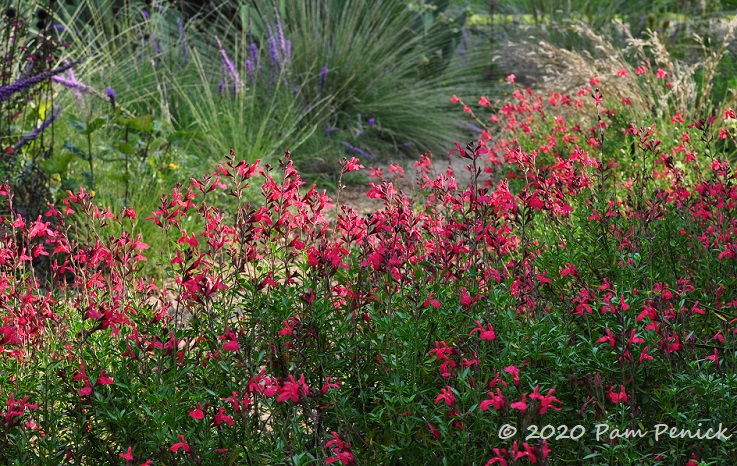 And more!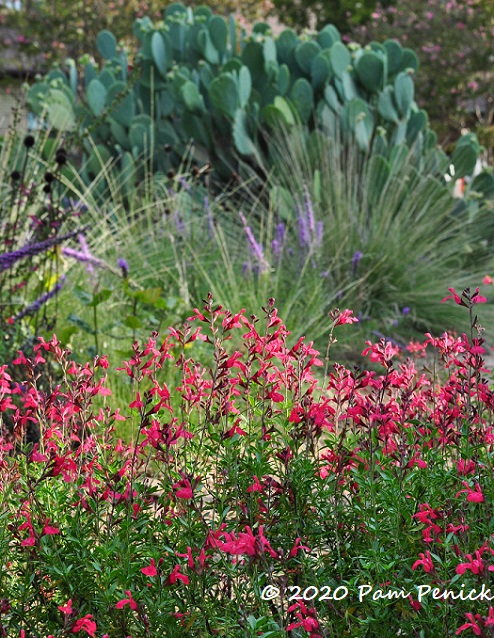 OK, one more of the autumn sage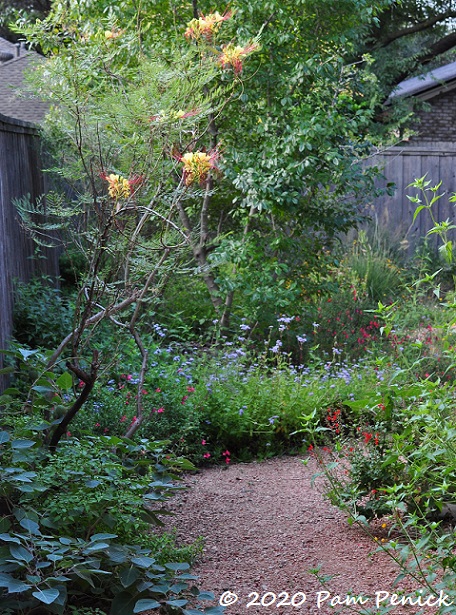 Now let's head into the side garden, where yellow Bird of Paradise (Caesalpinia gilliesii) offers a few extravagant flowers at head-height.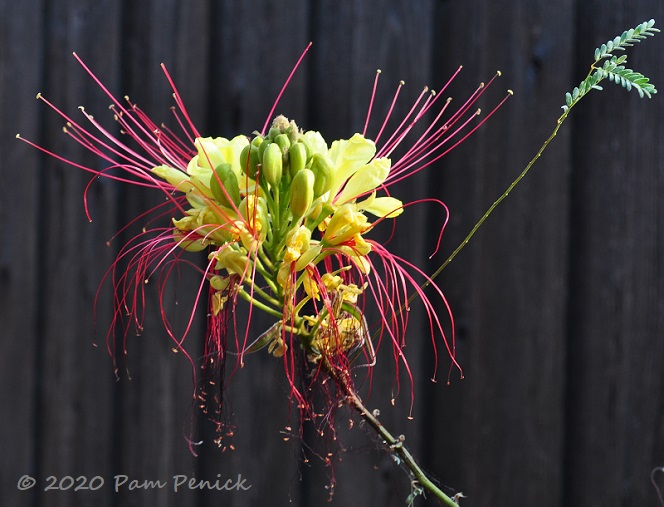 What is going on with these flowers, right? They look like something Dr. Seuss would have invented.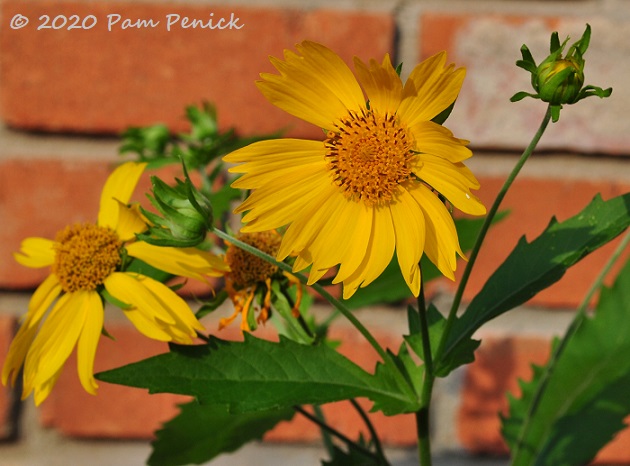 Cowpen daisies (Verbesina encelioides) glow like miniature suns against the warm brick of the house.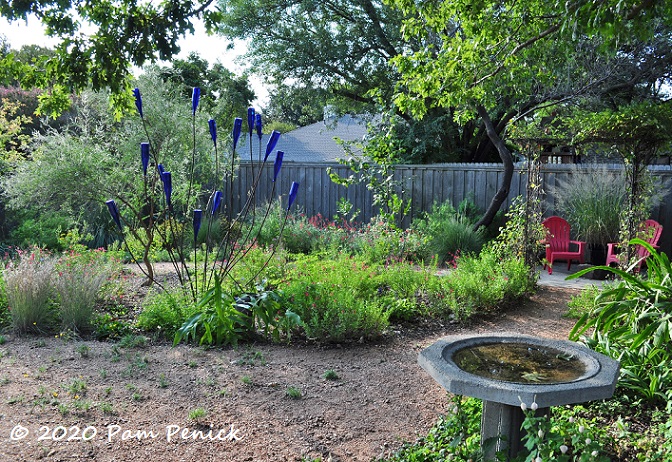 Michael's back garden is more open than the front, with broad gravel paths surrounding an island bed anchored by a bottle shrub. Over to the right, in line with the view from his back door…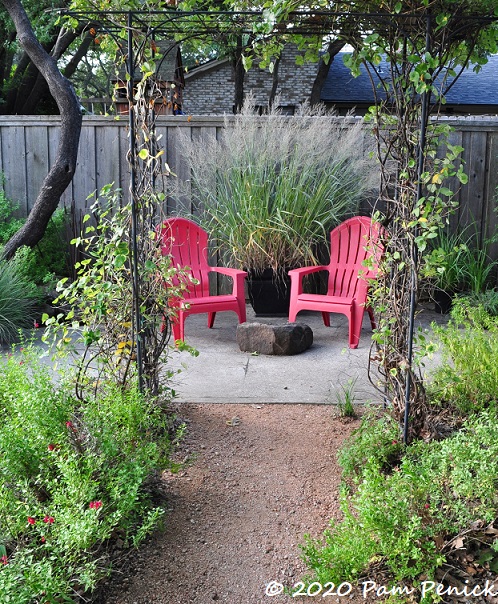 …a vine-covered arbor frames a view of two red Adirondacks and a focal-point potted 'Dallas Blues' switchgrass (Panicum virgatum).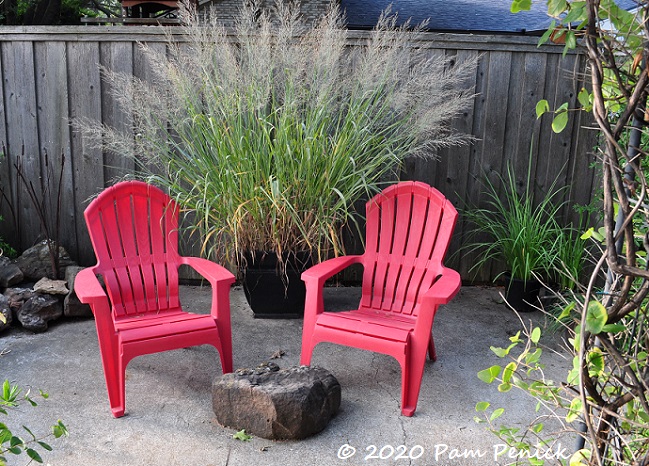 It's a simple vignette that effectively leads your eye away from the fence and the neighbor's playscape and roofline and centers it on an inviting seating area. Michael has a clever eye for re-purposing materials from his garden, like this boulder footstool.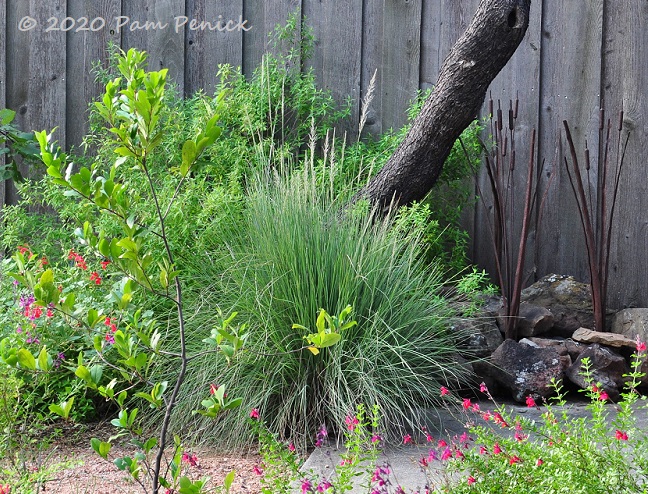 A floofy Lindheimer muhly (Muhlenbergia lindheimeri) draws the eye at left of the patio…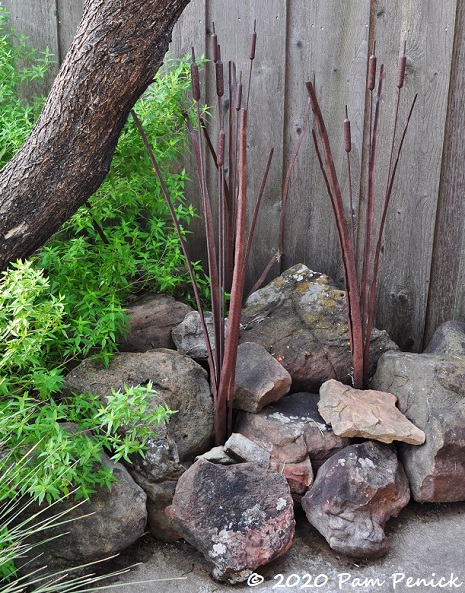 …where another of Michael's charming vignettes can be admired: a dry pond consisting of leftover small boulders and metal cattails.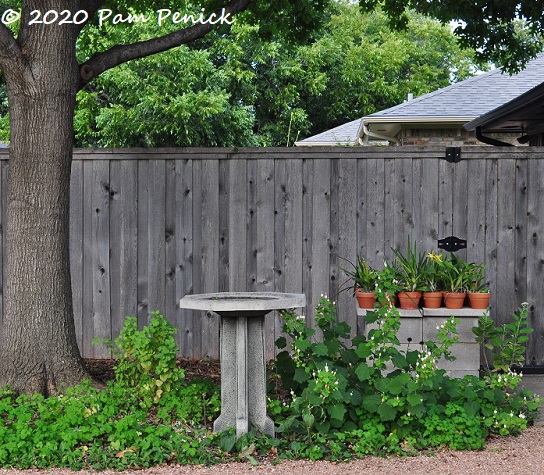 Under a shade tree, a birdbath, white Turk's cap, and an orchid table make a serene view.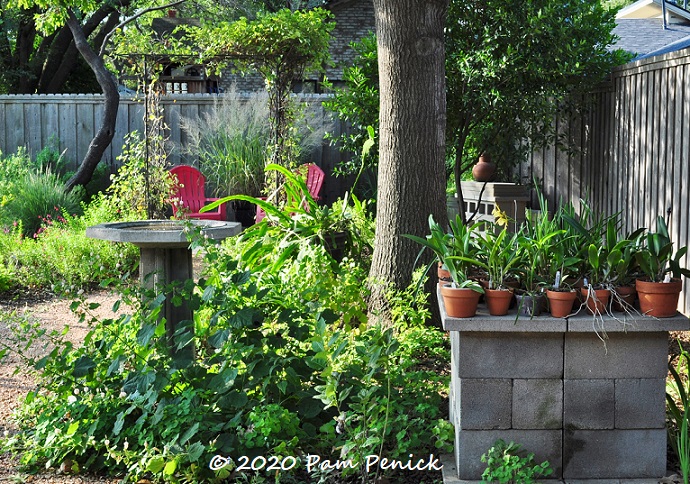 Michael built the display table from cinderblocks and concrete pavers. His orchid collection spends the summer outdoors, soaking up the heat.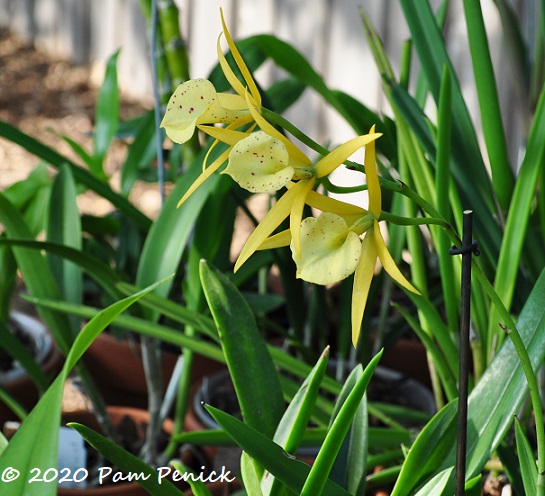 Orchid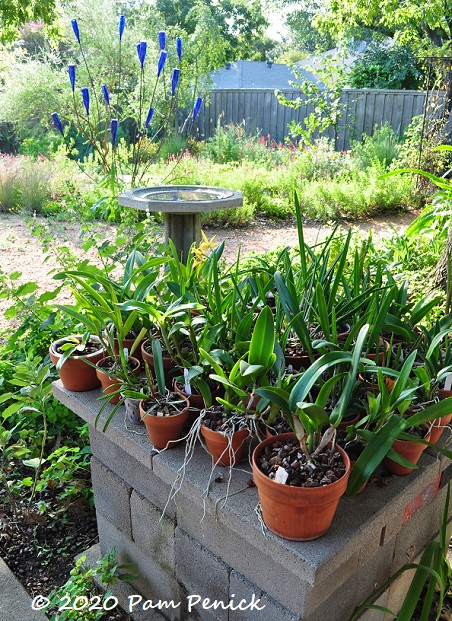 Michael has zero lawn in front or back — a true lawn-gone garden.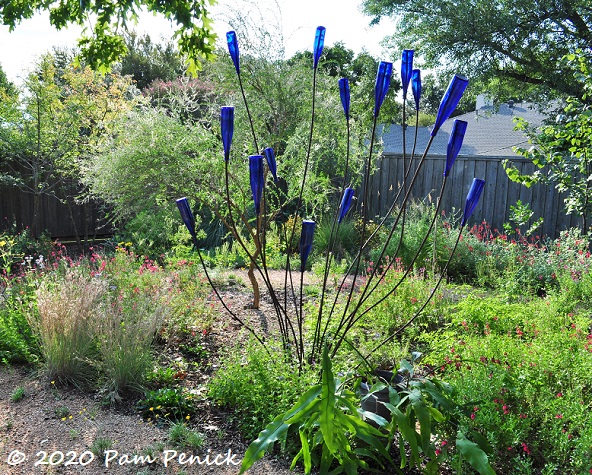 It's also incredibly water-saving, as he almost never irrigates. He mentioned that a late-summer rain this year brought his plants into fresh flower, which he enjoyed, so he's considering watering in August or September next year, if there's been no rain.
Michael's garden is a bold statement for a suburban neighborhood — or anywhere — and I admire what he's doing. His Plano prairie garden shows just how beautiful our native Texas plants are, how much a single garden can offer to imperiled pollinators and other wild creatures, and how much enjoyment we can get by planting up our yards with something besides lawn. Thanks for the visit, Michael!
More DFW garden visits coming soon. For a look back at the lakeside garden of Ruth Kinler, owner of Dallas nursery Redenta's Garden, click here.
I welcome your comments; please scroll to the end of this post to leave one. If you're reading this in a subscription email, click here to visit Digging and find the comment box at the end of each post.
_______________________
Digging Deeper: News and Upcoming Events
Join the mailing list for Garden Spark! Hungry to learn about garden design from the experts? I'm hosting a series of talks by inspiring garden designers, landscape architects, and authors a few times a year. Held in Austin, the talks are limited-attendance events that sell out quickly, so join the Garden Spark email list to be notified in advance. Simply click this link and ask to be added.
All material © 2020 by Pam Penick for Digging. Unauthorized reproduction prohibited.