March 24, 2020
After touring the Frida Kahlo Museum, we walked around Coyoacán, one of Mexico City's charming historic neighborhoods with sherbet-colored buildings, bustling plazas, green parks, a food and souvenir market, and coyotes everywhere. No, not real ones. "Coyoacán" means "place of coyotes" in the Aztec language Nahuatl.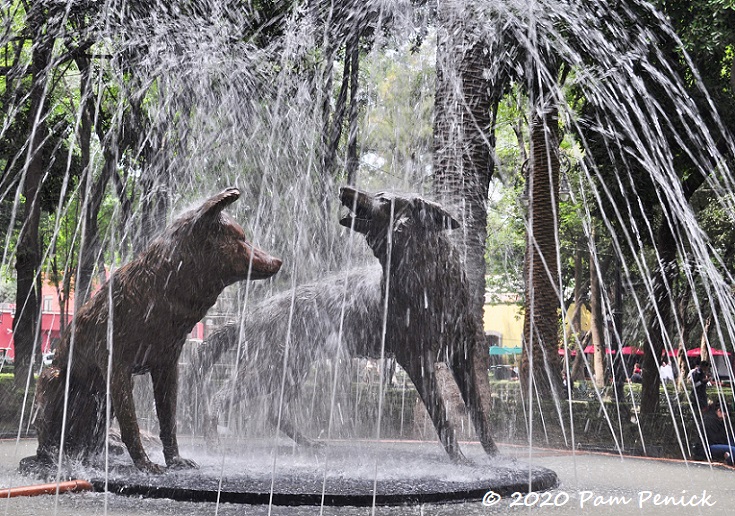 Two bronze coyotes frolic in a large fountain in Jardín Centenario, within view of a lovely patio at Los Danzantes, where we had lunch.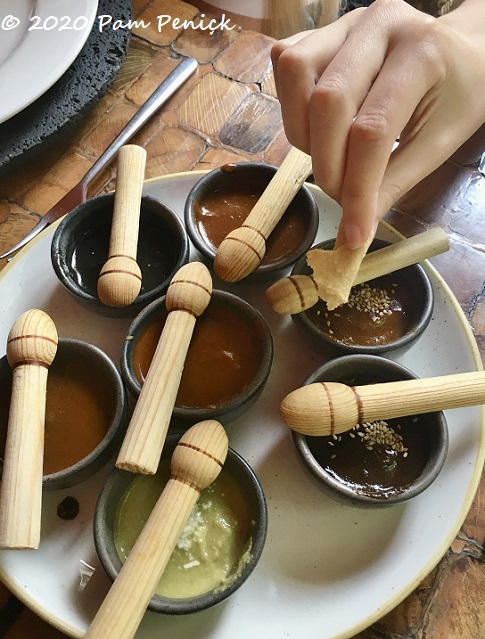 We sampled a variety of moles (pronounced MOH-lays), earthy, rich sauces made from dried chiles, herbs, fruits, tomatillos, and/or sometimes chocolate.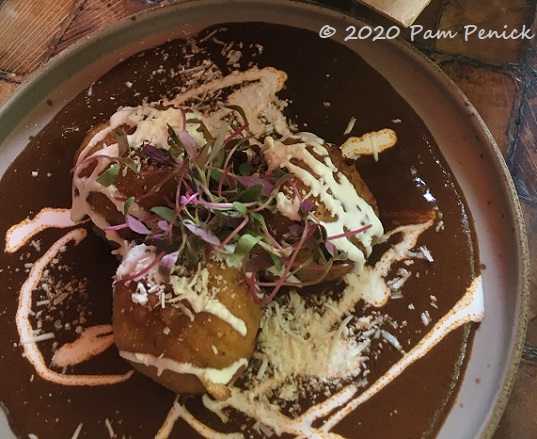 David and I tried chapulines — fried whole grasshoppers, a traditional Oaxacan snack– stuffed into plantain hush puppies. They were pretty good, and I just tried to ignore the occasional leg sticking out.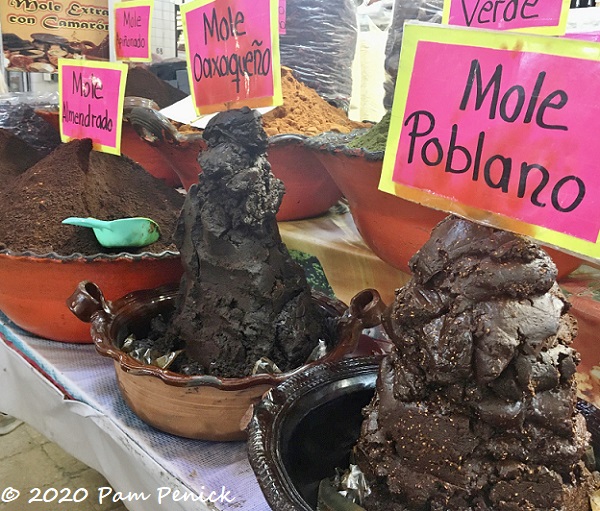 At the market we saw mole powders and pastes piled high like modeling clay.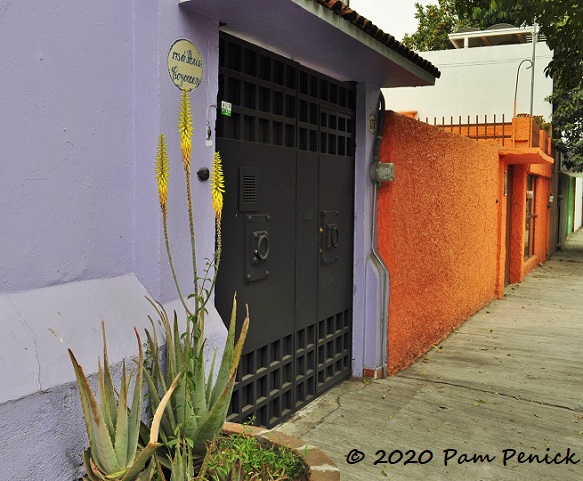 The colorful buildings of Coyoacán make a pretty backdrop for the occasional potted aloe or rambling bougainvillea.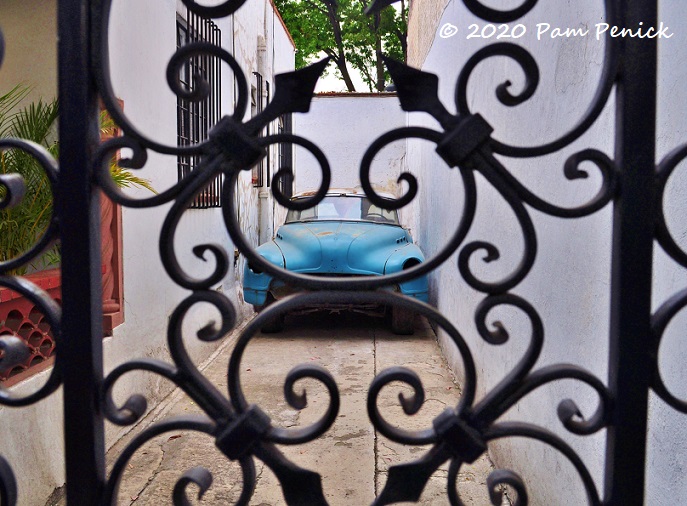 This classic car squeezed into a narrow gated driveway reminded me of the husband's daily parking ritual in the movie Roma.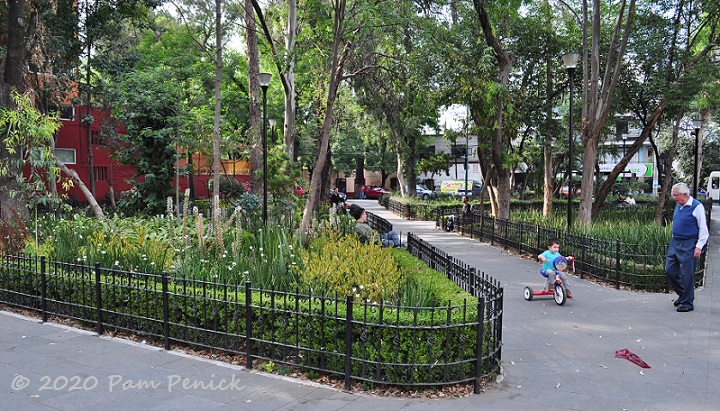 Across the street from the market, Parque Allende's neatly fenced boxwood hedges rein in an exuberance of bold and airy foliage and glowing white flowers.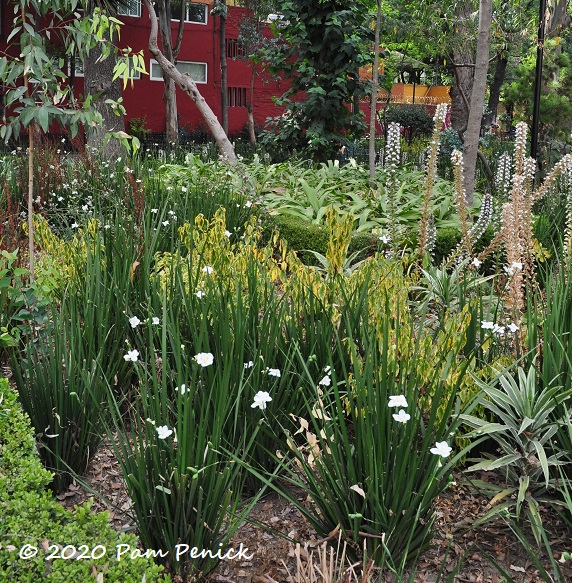 Strappy African iris, Acanthus mollis, and other plants I don't know are block-planted within the orderly hedges.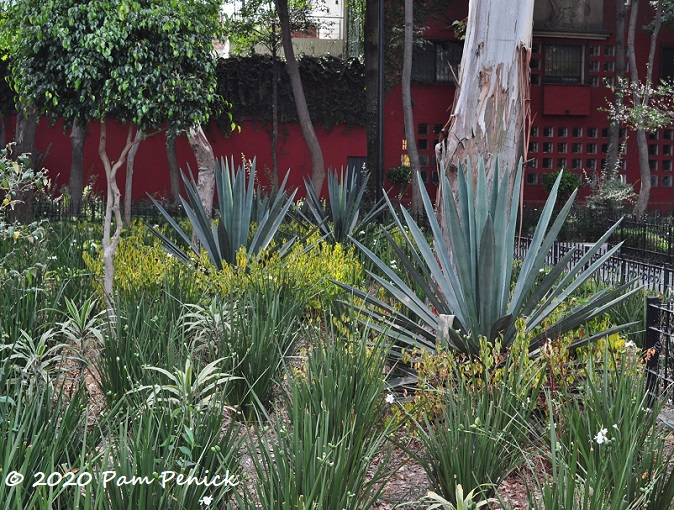 The brick-red stucco of a neighboring building makes a perfect contrast with powder-blue agaves.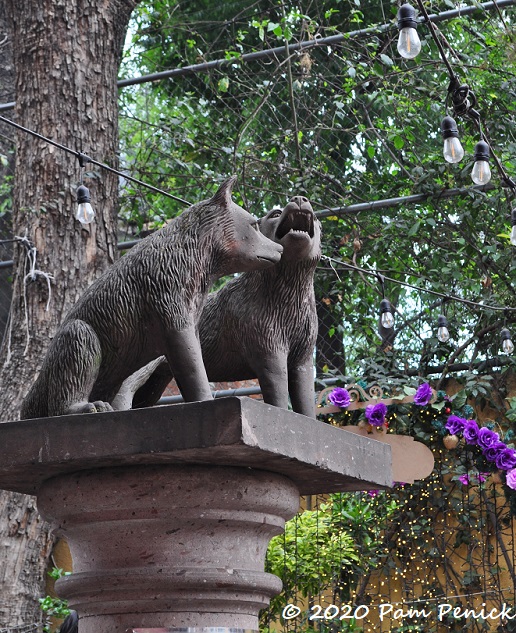 Coyoacán didn't elicit any howls of disappointment from us! We explored for a few hours and then headed back to our Airbnb in the Centro Histórico neighborhood, which I'll show in my next post.
Up next: Purple jacarandas, spiky agaves, and more in Centro Histórico, the historic center of Mexico City. For a look back at the Frida Kahlo Museum and garden, click here.
I welcome your comments; please scroll to the end of this post to leave one. If you're reading this in a subscription email, click here to visit Digging and find the comment box at the end of each post.
_______________________
Digging Deeper: News and Upcoming Events
Join the mailing list for Garden Spark! Hungry to learn about garden design from the experts? I'm hosting a series of talks by inspiring garden designers, landscape architects, and authors a few times a year. Held in Austin, the talks are limited-attendance events that sell out quickly, so join the Garden Spark email list to be notified in advance. Simply click this link and ask to be added.
All material © 2020 by Pam Penick for Digging. Unauthorized reproduction prohibited.