[ad_1]

April 07, 2020
Mexico City sprawls across 573 square miles, with a staggeringly large population of 8.85 million that makes it the biggest city in North America. You can't possibly see it all, so you have to pick one neighborhood per day and plan on a 20-to-30-minute Uber ride to get there no matter which direction you're going. On our last day in Mexico City, we visited lovely San Ángel.
El Bazaar Sábado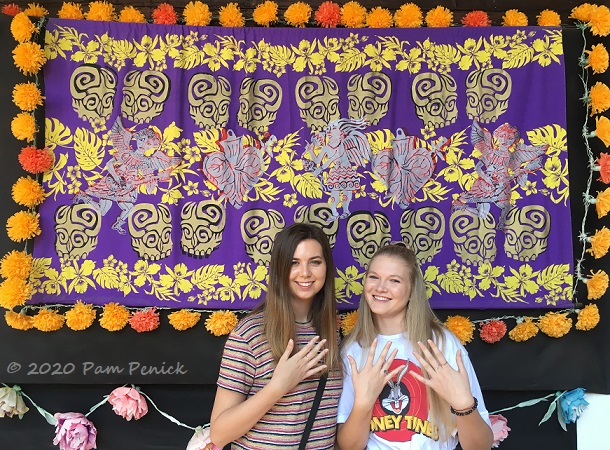 The girls and I were keen to do a little shopping at El Bazaar Sábado, the Saturday Market, where they bought some pretty rings and I got earrings.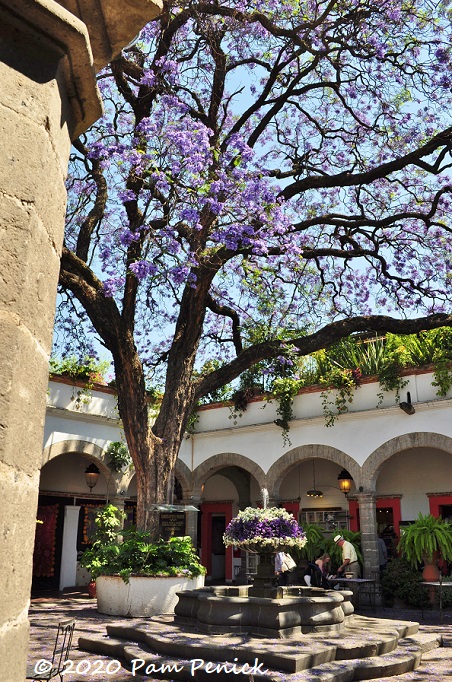 The bazaar, which features upscale handmade jewelry, pottery, and handicrafts, is housed in a rambling, 17th-century mansion with a courtyard shaded by a lovely old jacaranda tree.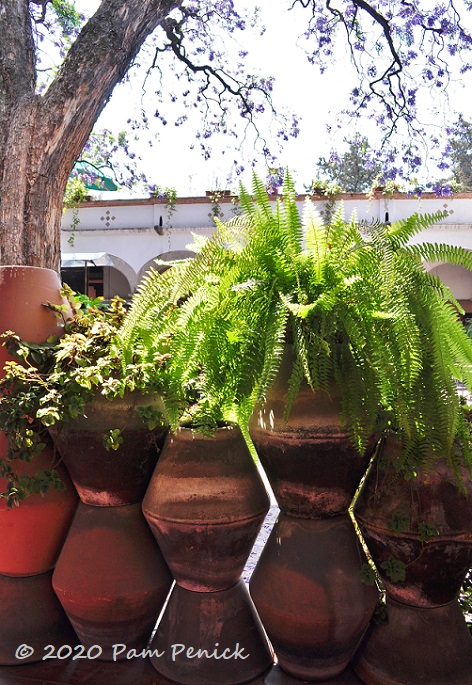 Stacked terracotta pots make a zigzagging wall along one side of the courtyard.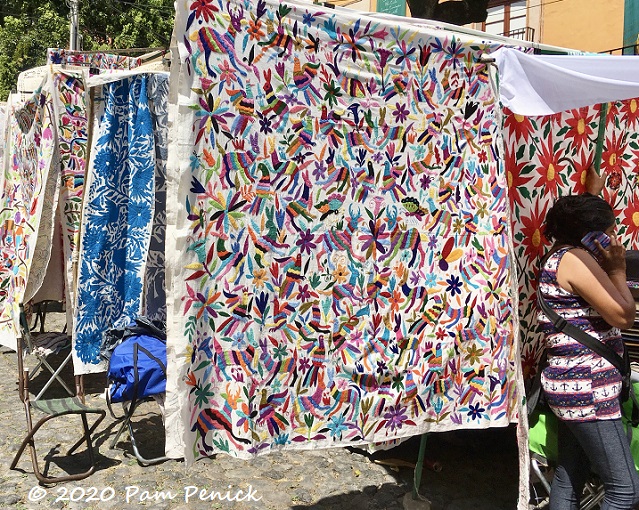 Outside, more vendors sell everything from otomi wall hangings and table runners (I should have bought one, dang it) to paintings to Oaxacan blouses.
Parroquia de San Jacinto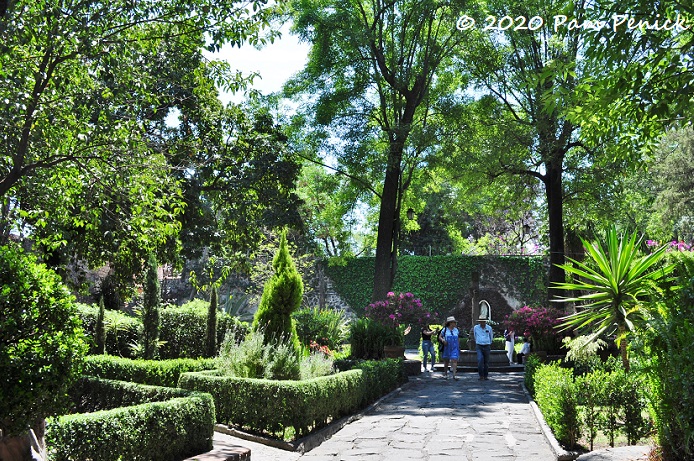 After the market we wandered nearby streets and happened upon a pretty garden inside the walls of Parroquia de San Jacinto, or Parish of San Jacinto.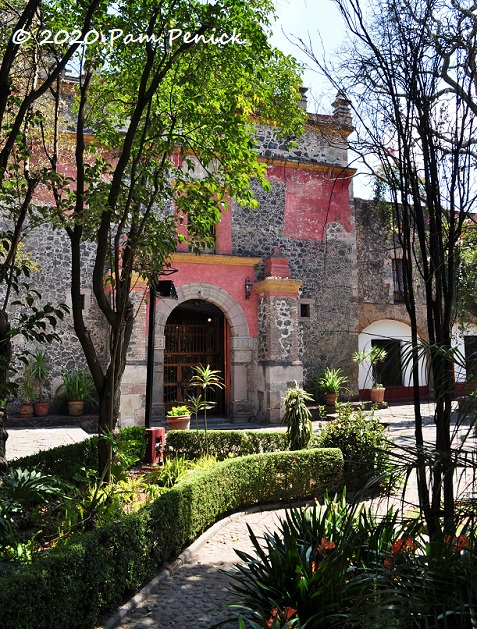 The coral-walled church was founded in 1596 and served as a monastery until the 1700s.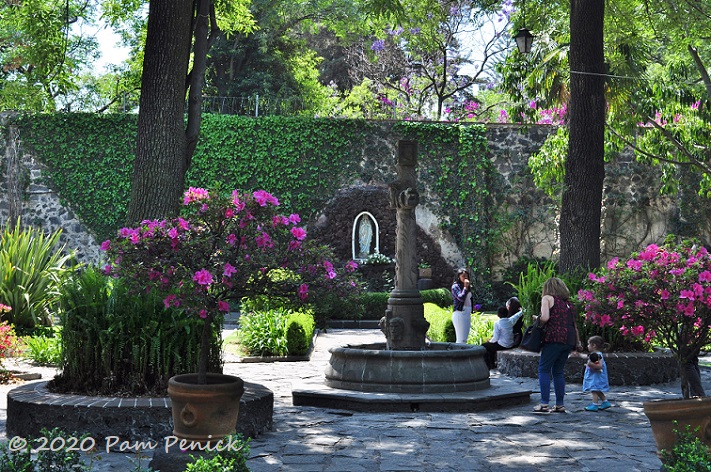 An ivy-draped wall encloses the shady garden.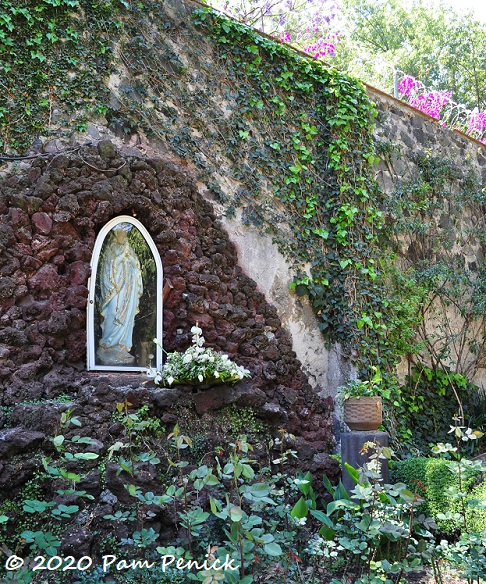 Red lava rock stacked against the wall frames a niche for a saintly figure.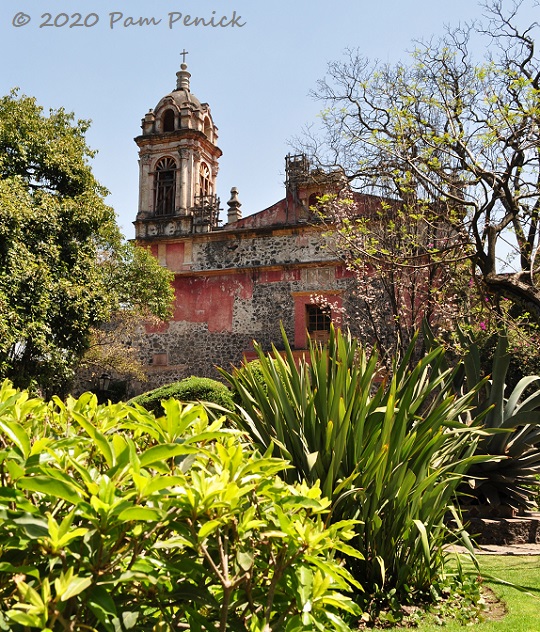 View of the church's bell tower
As we strolled the garden paths, we saw a wedding party emerge from the church, pausing at the doors for a group photo.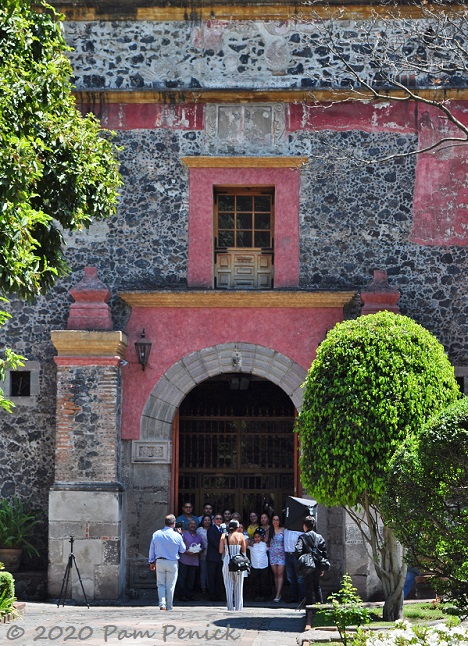 It was a perfect day for it.
As the wedding party paraded through the garden, we slipped out.
San Ángel's colorful streets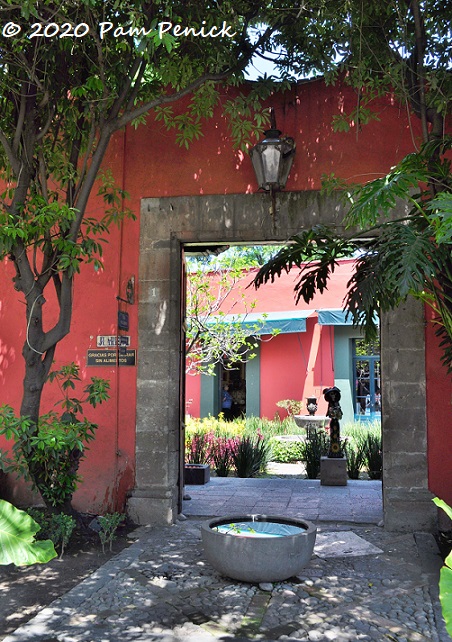 The colorful stucco buildings of San Ángel are a photographer's delight.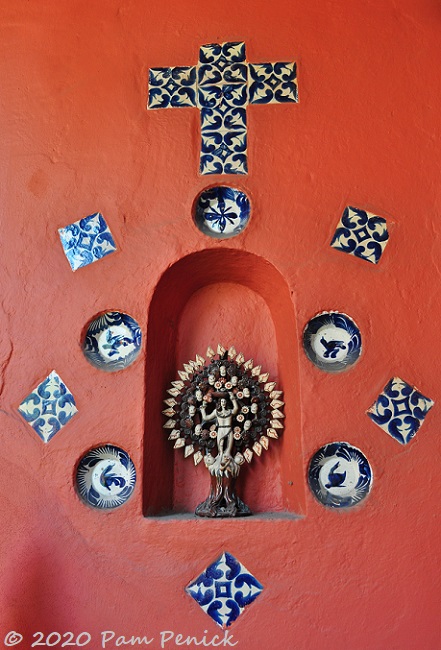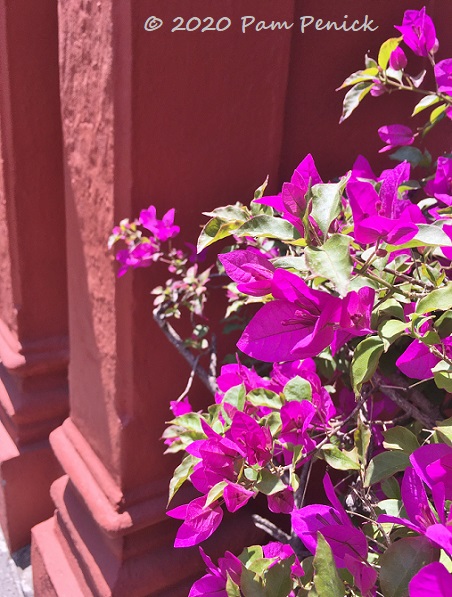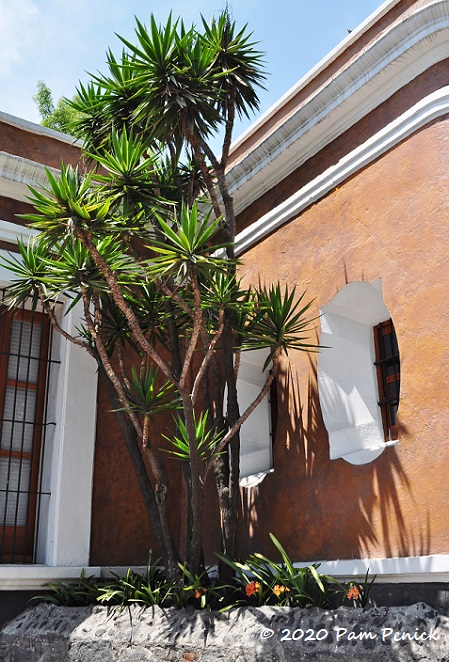 We wandered through the quiet neighborhood streets, pausing to admire dramatic yuccas…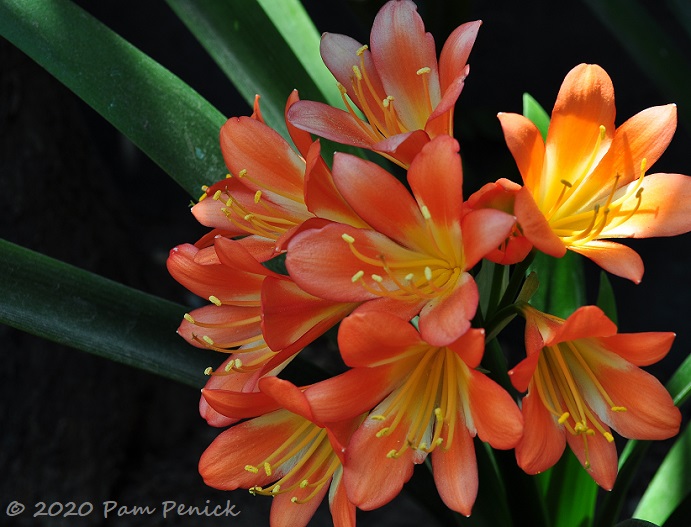 …and tangerine-flowered clivia…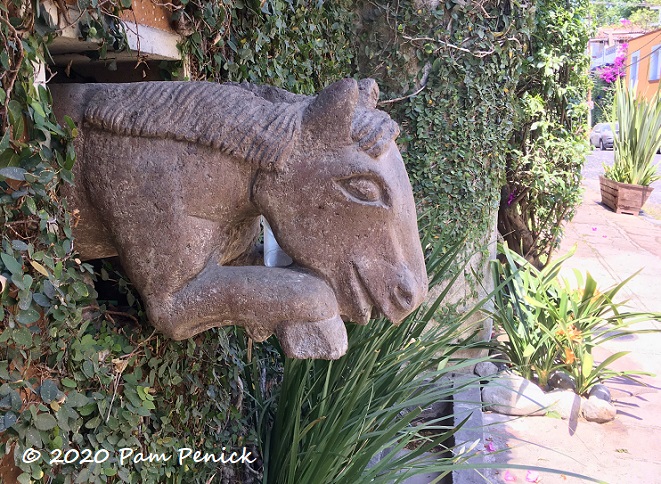 …and the occasional surprise like this stone horse, which appears to be leaping through a wall.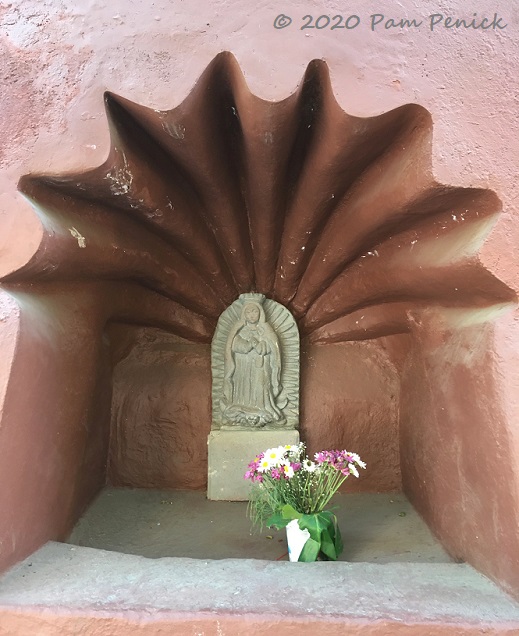 A pretty shrine adorned with a bouquet of flowers.
Lunch at San Ángel Inn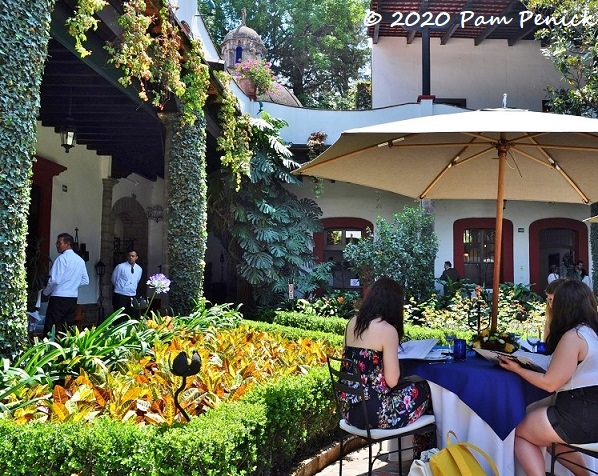 We had a lunch reservation at the elegant San Ángel Inn and were seated in the garden courtyard.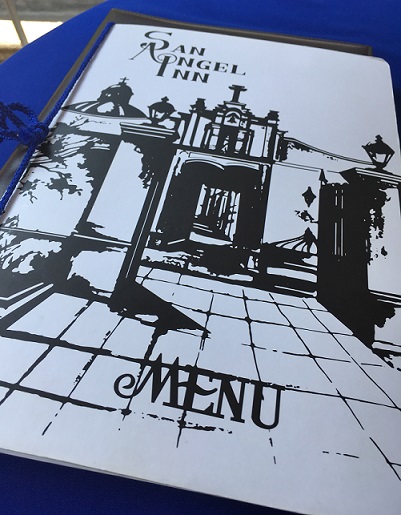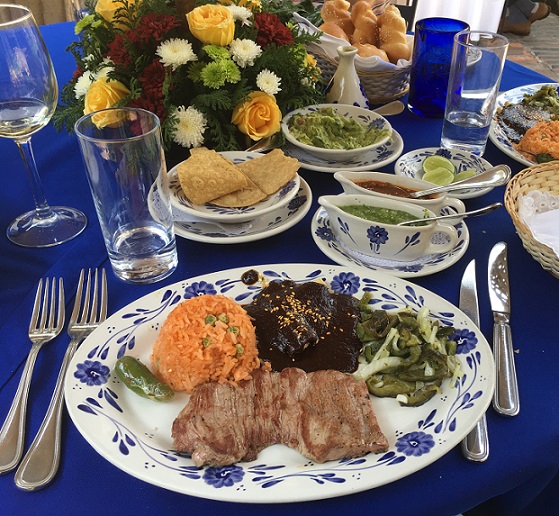 Everything was absolutely delicious.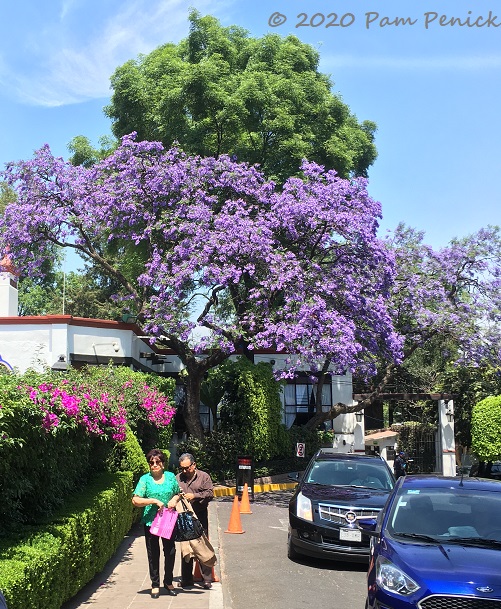 As we departed, I had to stop and take a photo of yet another gorgeous jacaranda.
Diego Rivera and Frida Kahlo House Studio Museum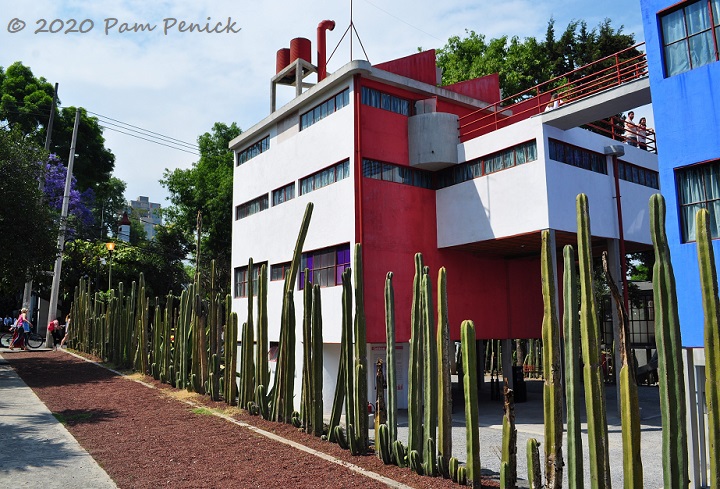 Just across the street from the San Ángel Inn is the Diego Rivera and Frida Kahlo House Studio Museum, or Museo Casa Estudio Diego Rivera y Frida Kahlo. The married artists lived and worked here in separate houses connected by a catwalk bridge.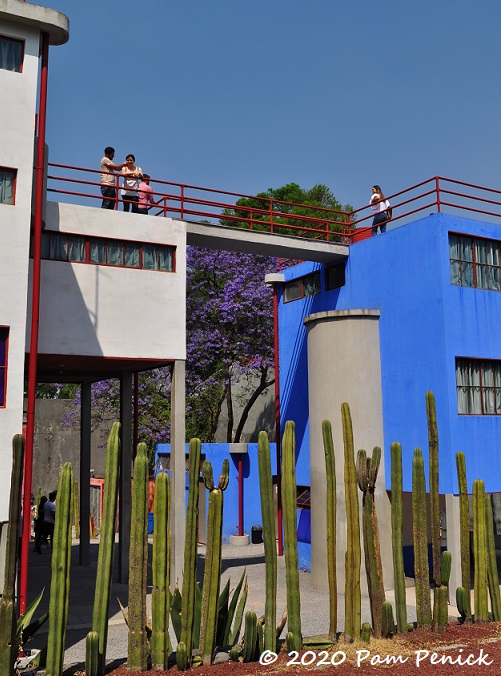 "Designed by the couple's friend, the architect and artist Juan O'Gorman, this was Kahlo and Rivera's first proper marital home. It's actually two houses joined by a bridge. They lived here from 1934 to 1939 and divorced in that year. Kahlo moved back to the Blue House [Casa Azul in Coyoacan] and when she and Rivera remarried the following year, he moved to join her there, though he kept the San Angel house as his studio."

https://www.theguardian.com/travel/2018/jun/14/frida-kahlo-coyoacan-mexico-home-diego-rivera-art-food-bars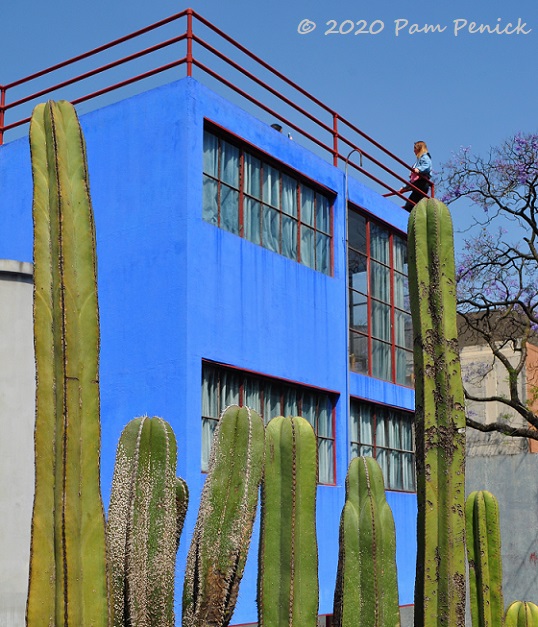 Naturally Frida's house is painted the same thrumming shade of blue as her more-famous Blue House/Casa Azul.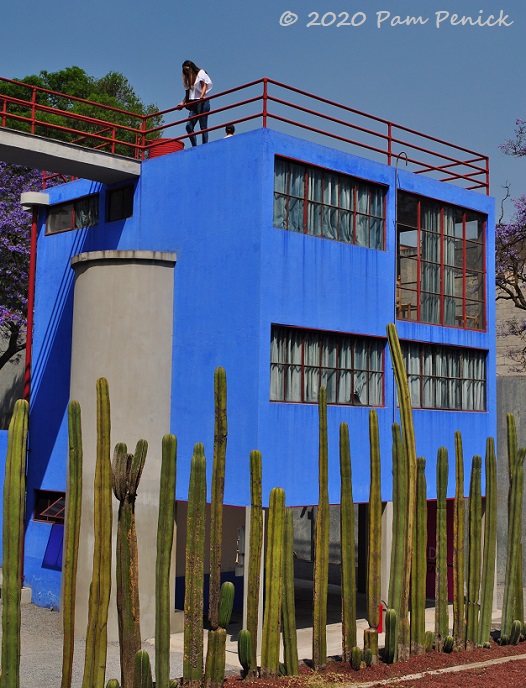 I didn't go inside but just admired the modernist structures from outside a "fence" of columnar cactus.
Art Deco park in Condesa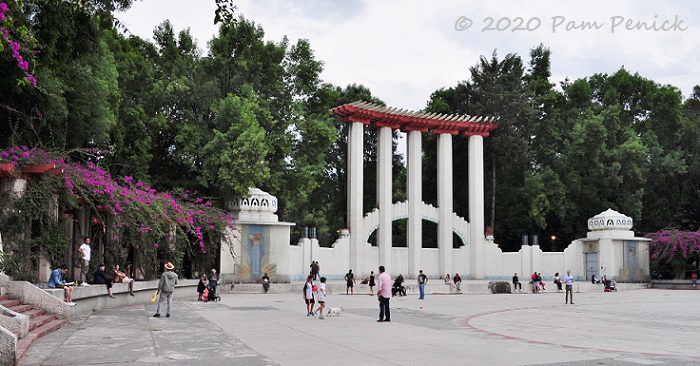 Another afternoon, we'd Ubered over to Condesa neighborhood to explore for an hour or so before twilight. We happened upon an Art Deco-era park, Parque México, where families were playing, little kids were riding bikes, and dogs were chasing balls thrown by their owners.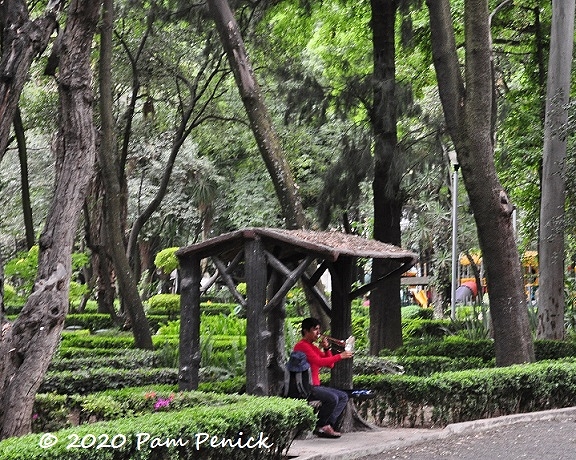 Along shady paths outlined by clipped hedges, faux bois sheltered benches offer trysting spots for kissing couples and this guy playing a trumpet.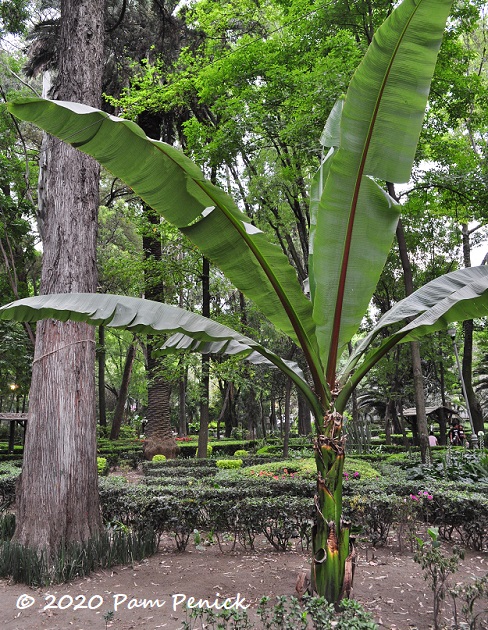 A banana's paddle-shaped leaves reach for the sunlight.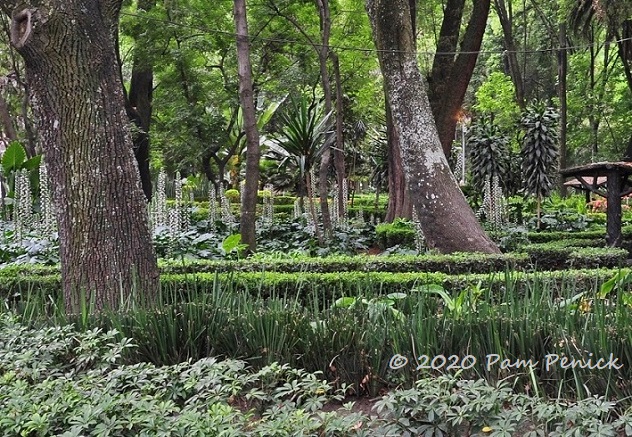 Shades of green
Via Verde highway greening
I'll close with this image snapped through an Uber's windshield: vertical gardens of succulents and other plants greening up the columns of a busy highway. Later I learned it's called Via Verde, and it's not without controversy over its effectiveness in actually improving air quality, something desperately needed in smoggy Mexico City, versus mere aesthetic appeal. I have to say, though: the aesthetic appeal is pretty appealing!
This ends my series about Mexico City. For a look back at the creative botanical garden at Bosque de Chapultepec, click here. I hope you've enjoyed the armchair travel during this anxiety-inducing time of self-quarantine. We'll get through this, and in the meantime I'm especially grateful for your online company!
I welcome your comments; please scroll to the end of this post to leave one. If you're reading this in a subscription email, click here to visit Digging and find the comment box at the end of each post.
_______________________
Digging Deeper: News and Upcoming Events
Join the mailing list for Garden Spark! Hungry to learn about garden design from the experts? I'm hosting a series of talks by inspiring garden designers, landscape architects, and authors a few times a year. Held in Austin, the talks are limited-attendance events that sell out quickly, so join the Garden Spark email list to be notified in advance. Simply click this link and ask to be added.
All material © 2020 by Pam Penick for Digging. Unauthorized reproduction prohibited.
[ad_2]

Source link