[ad_1]

September 25, 2020
During my inaugural visit to the brand-new Houston Botanic Garden last weekend, my eyes widened when I rounded a bend and saw this — a rocky garden of agave, yucca, and cactus. After all, this is Houston, city of sauna-like summers and 50 inches of annual rainfall. You just don't see agaves or xeric plants in great numbers in Houston.
Naturally I loved it, agave freak that I am.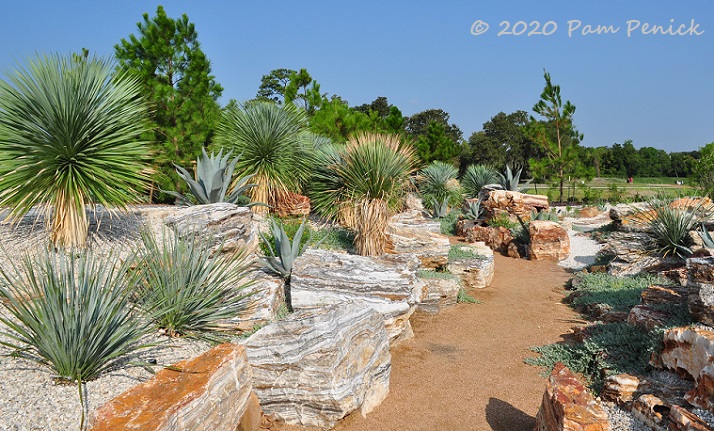 It's called Arid Valley. So what do you think? Is this the garden version of an uncanny valley? Hah, no. It looks quite authentic, actually. But as my daughter pointed out, it feels more like a canyon with those stratified rock walls. So we've renamed it Desert Canyon in our heads — sorry, HBG!
Sunset-hued Arizona onyx boulders stacked into low walls are backfilled with gravelly soil for dry-loving plants.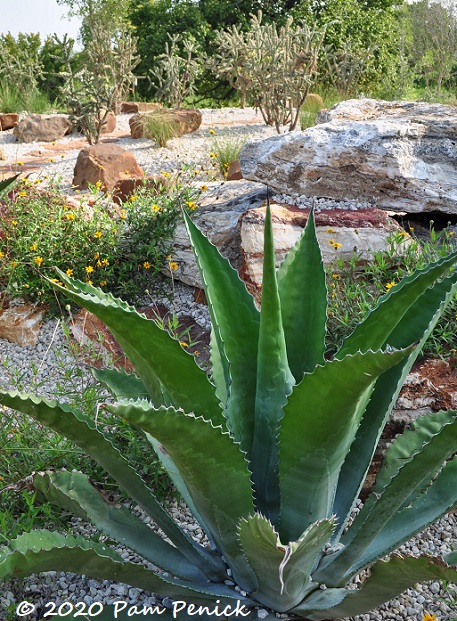 'Jaws' agave showing off its toothy leaves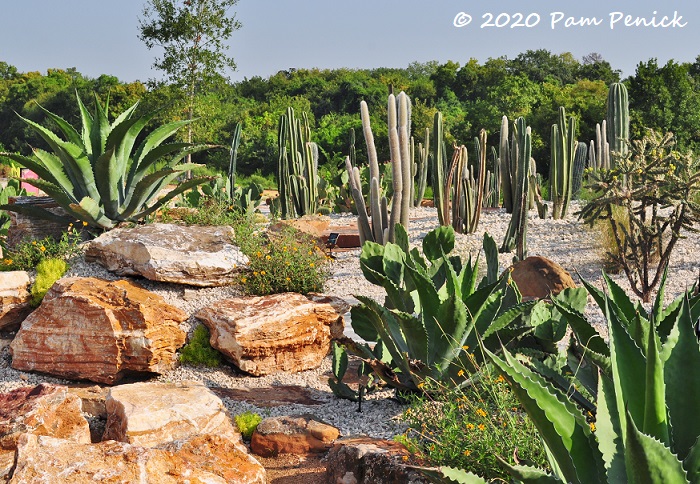 They even have torch cactus, which I never see in Austin. Houston is a hardiness zone warmer than Austin (in addition to being much rainier), which must make this possible.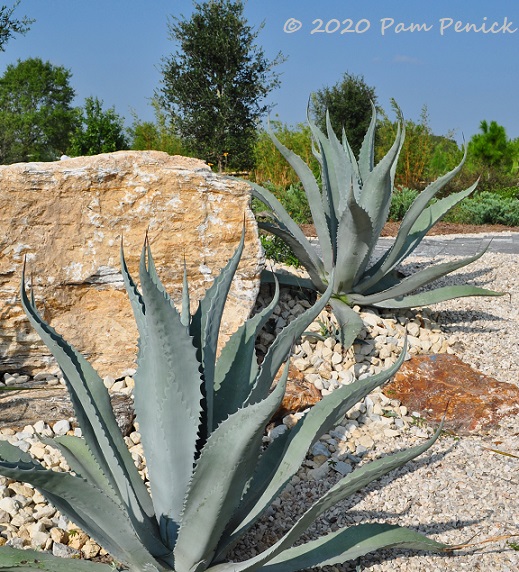 This matte blue beauty is Agave americana 'Kerbey Lane'. I've been to Austin's original Kerbey Lane Cafe many times but never knew an agave is named for it. What's the story, I wonder?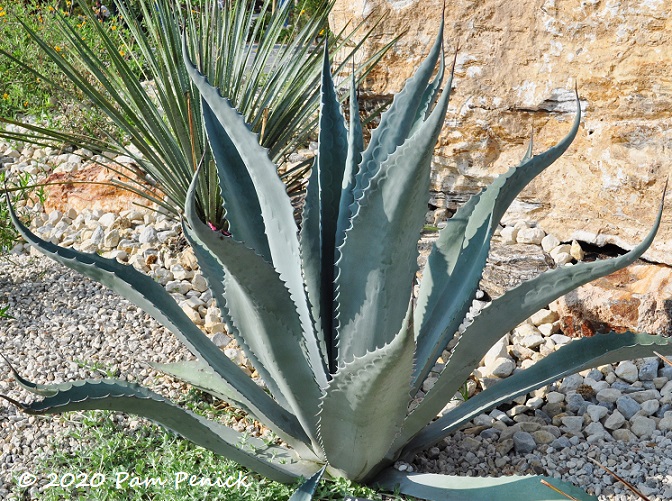 I like those sinuous leaves.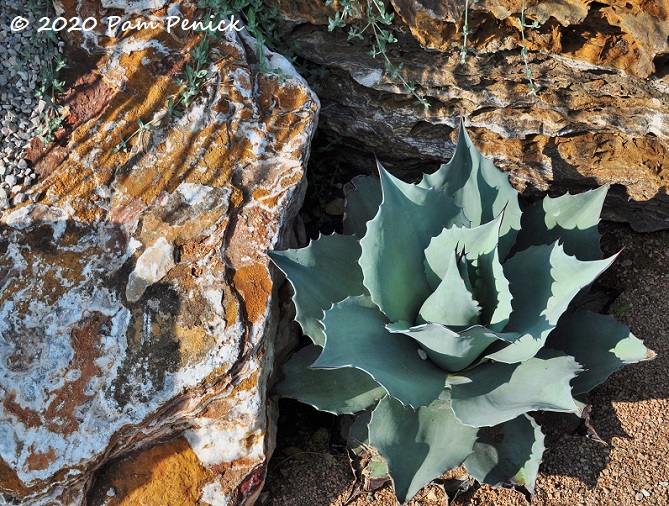 This looks like a little whale's tongue agave, maybe.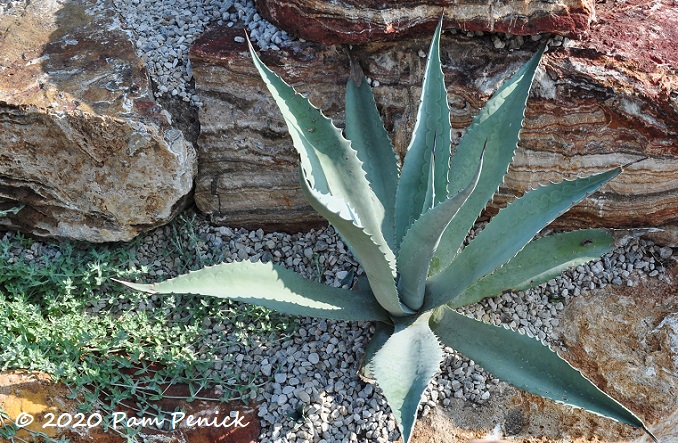 'Silver Surfer' agave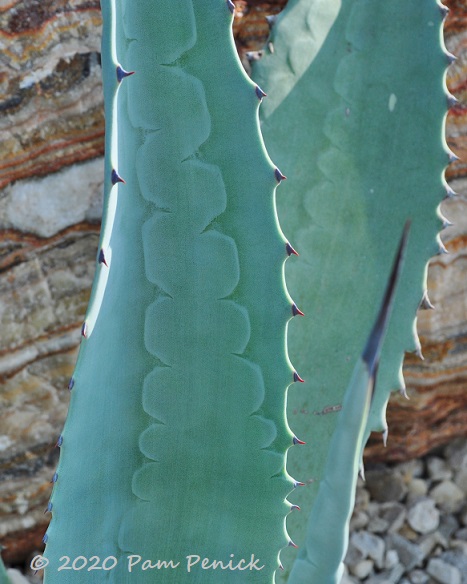 Check out these zigzagging leaf imprints, made before the leaf unfurled.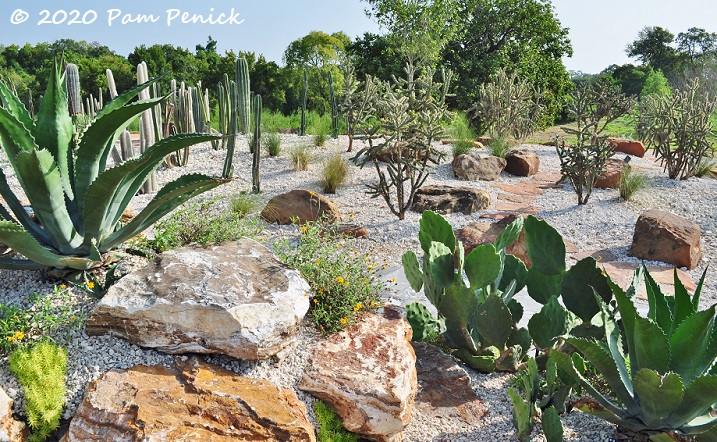 Tall cacti — cholla and wooly torch cactus — look otherworldly in a pale gravel expanse.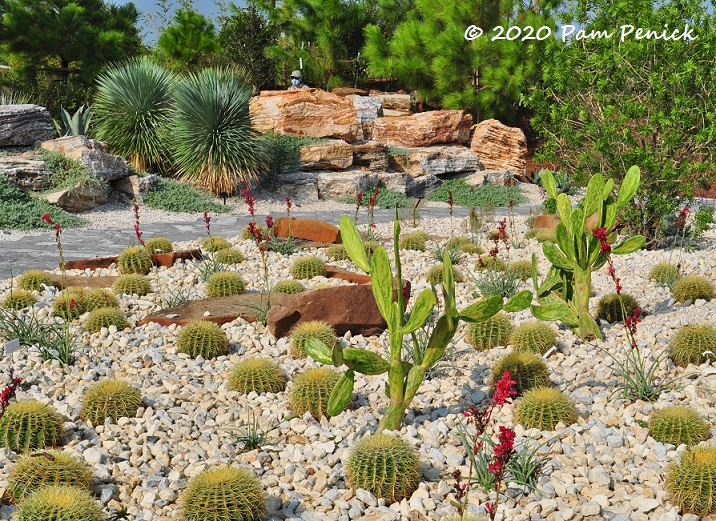 These plants are more familiar to Austin eyes: pincushion-like golden barrel cactus, 'Brakelights' hesperaloe, and a lime-green variegated prickly pear. Yucca rostrata's shimmery, spherical forms stand guard in the background.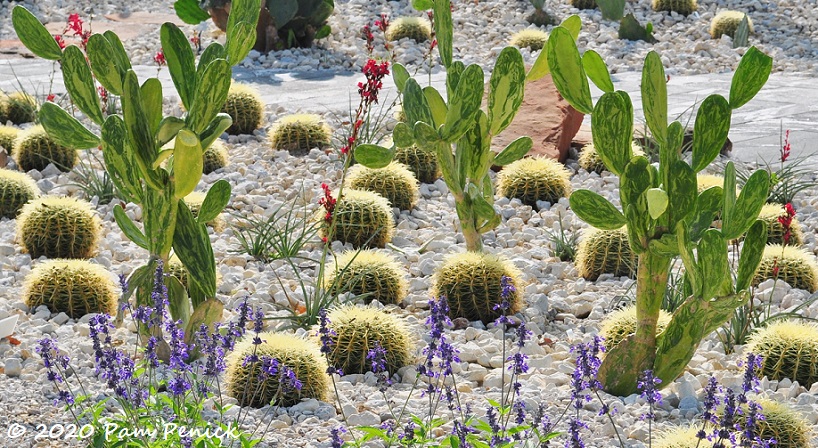 Look at that color and form!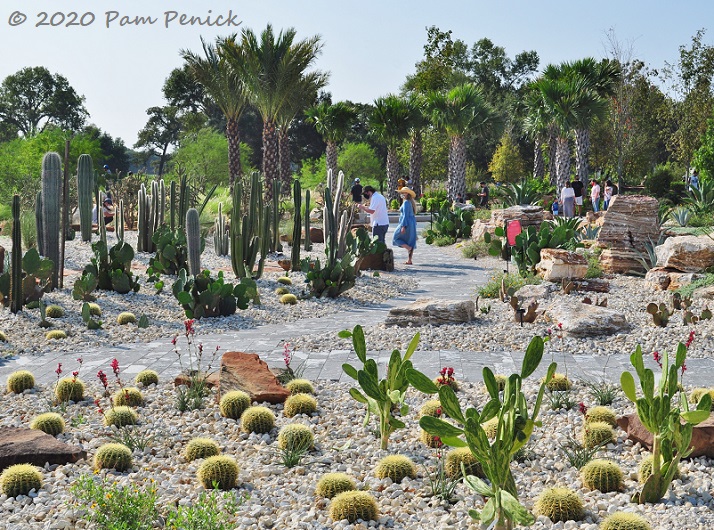 A wider view shows the palms of the savanna garden in the distance.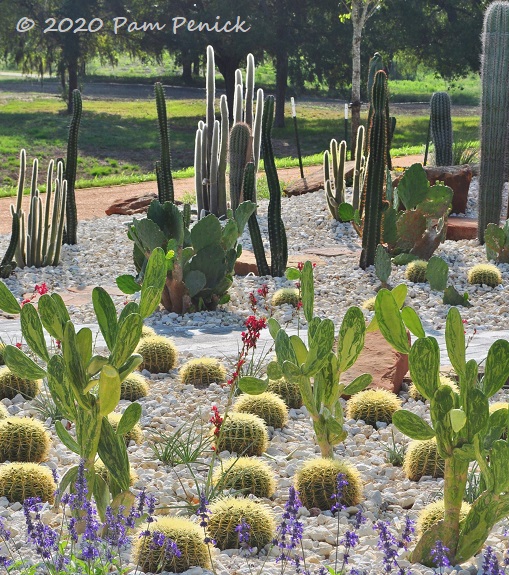 The prickly pears and golden barrels segue into the torch cactus area.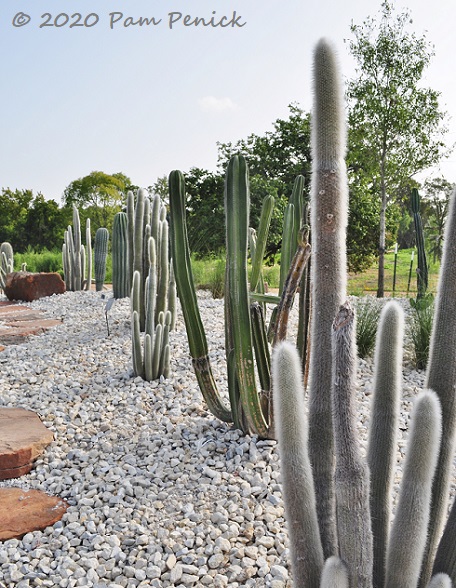 Wooly torch (Cleistocactus strausii), native to the mountains of Bolivia and Argentina, is fuzzy with white spines.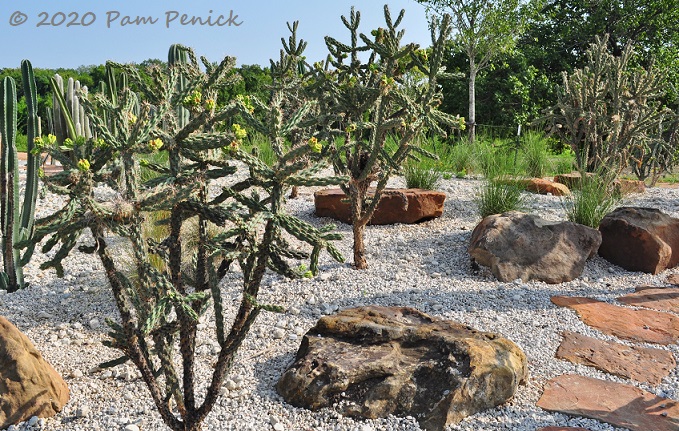 Cholla looks like a children's building toy with its segmented, tubular stems.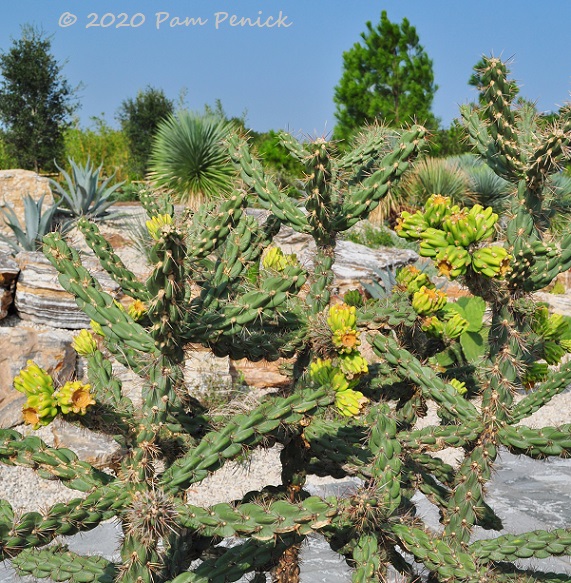 Lemon-lime cholla fruits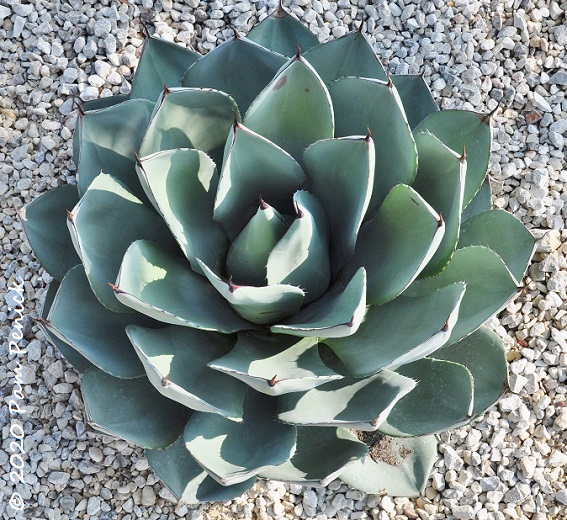 Agave symmetry gets me every time.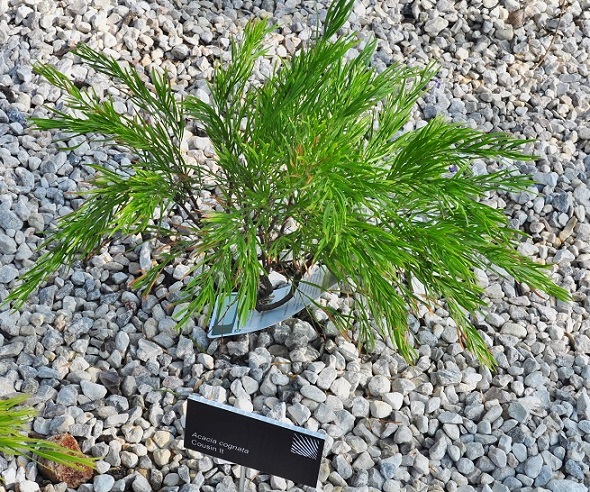 Whaaaat? A 'Cousin Itt' acacia? Will it grow in Texas? Jealous!!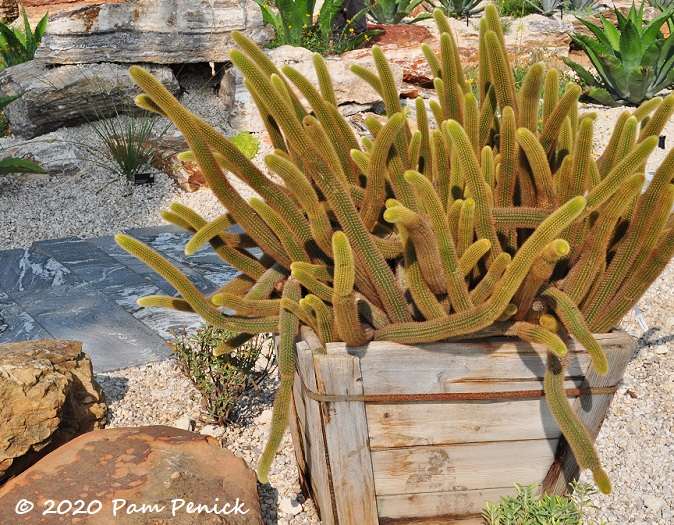 Golden rat tail cactus (Hildewintera aureispina) looks like Medusa's hairdo.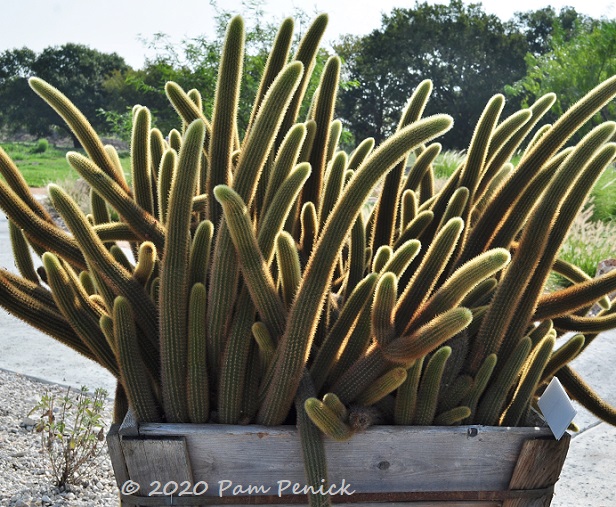 Its spines beautifully catch the light.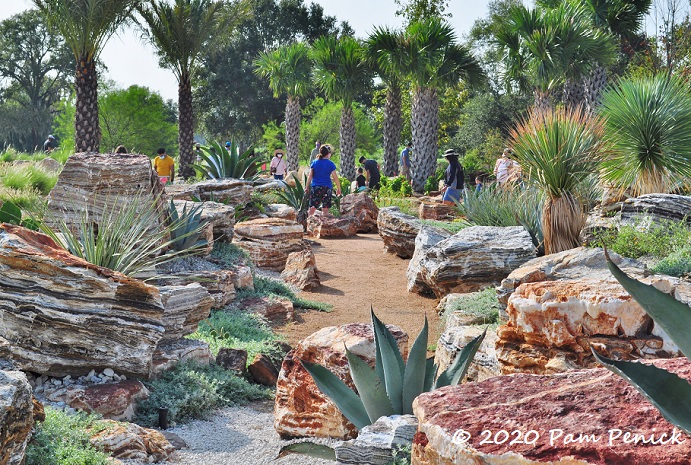 One last look at Arid Valley Desert Canyon.
Savanna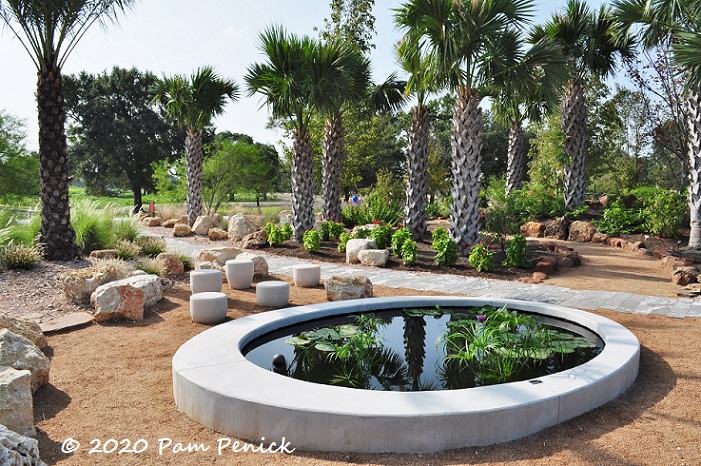 Next we explored the Savanna garden, a grassy space with an oasis of palm trees surrounding a contemporary-style oval pond.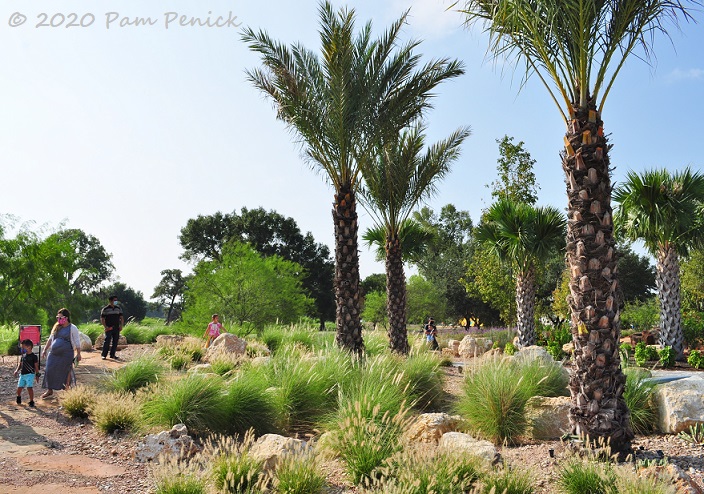 Austin has savannas too, but our grasses are smaller and the trees that edge them are typically oaks and junipers.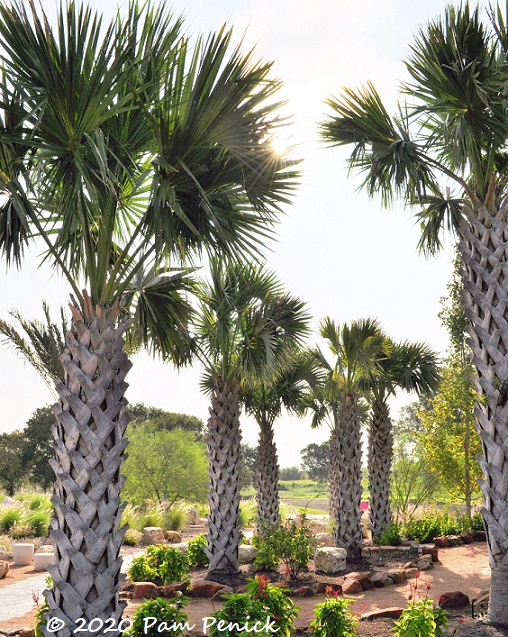 What place does this evoke for you? Northern Africa?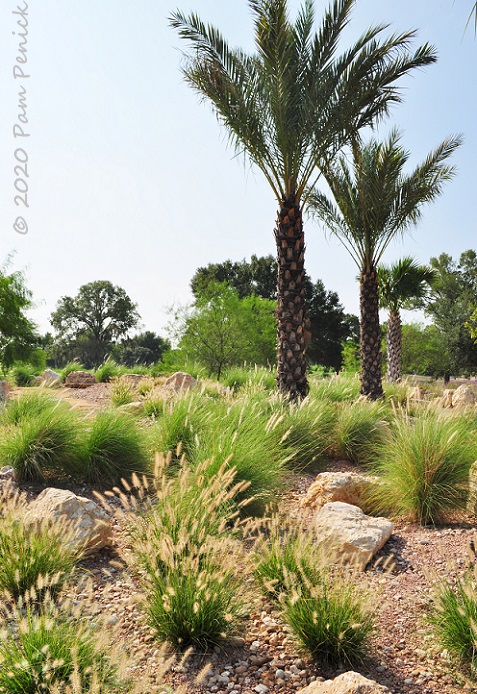 The grasses were in bloom and catching the light.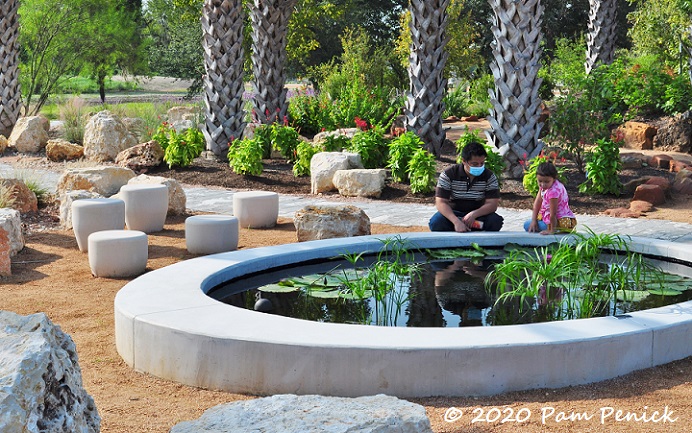 Marshmallow stools offer seating near the pond, but the raised edge is clearly the best spot.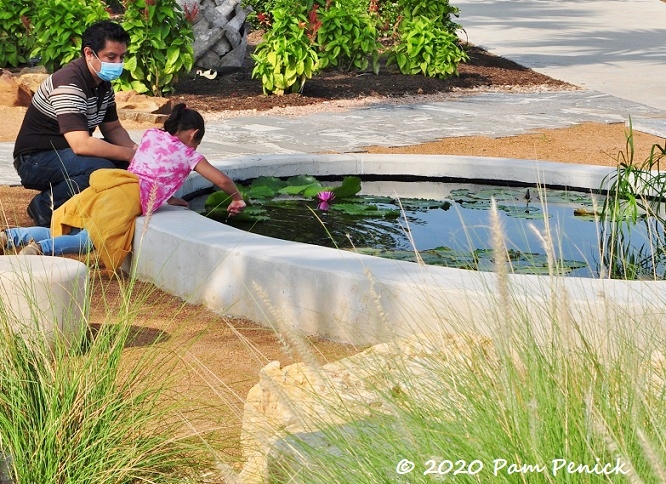 Water is a magnet in a garden.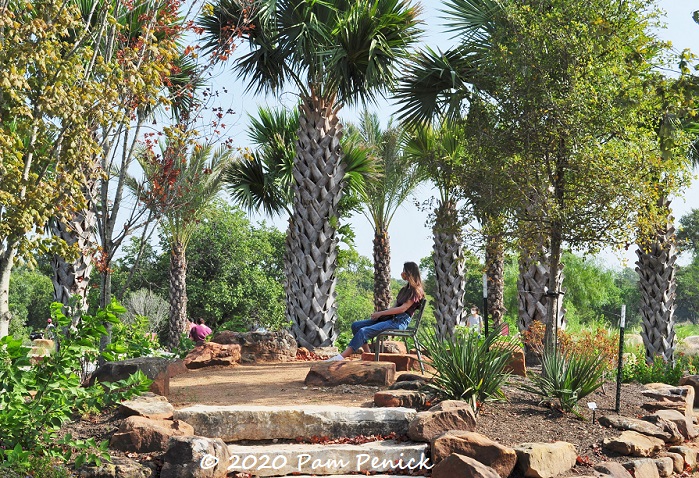 A couple of chairs in a gravel patio atop a low hill offer a perfect spot to sit like Simba and survey the Pride Lands.
Pollinator Garden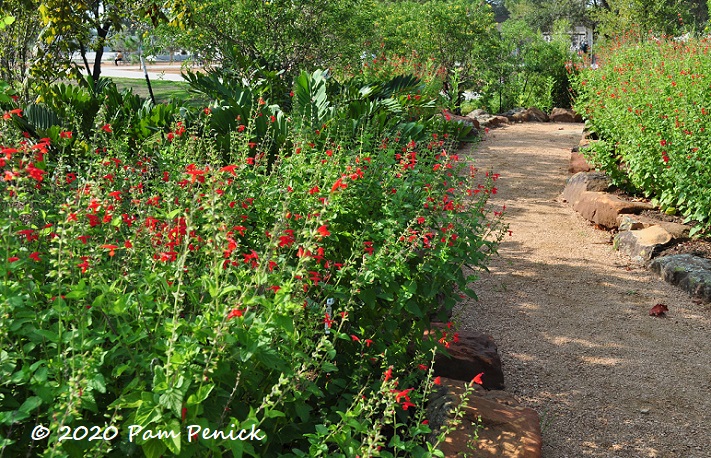 Heading back we came across the Pollinator Garden, where red salvias and other flowering plants tempt hummingbirds, bees, and butterflies.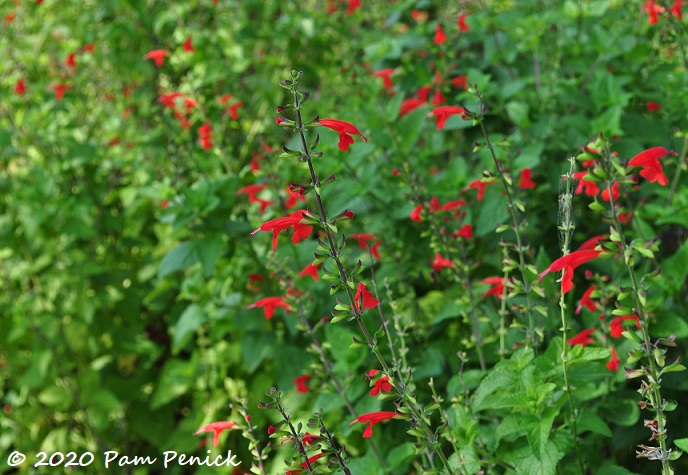 Bright red flowers are hummingbird bait.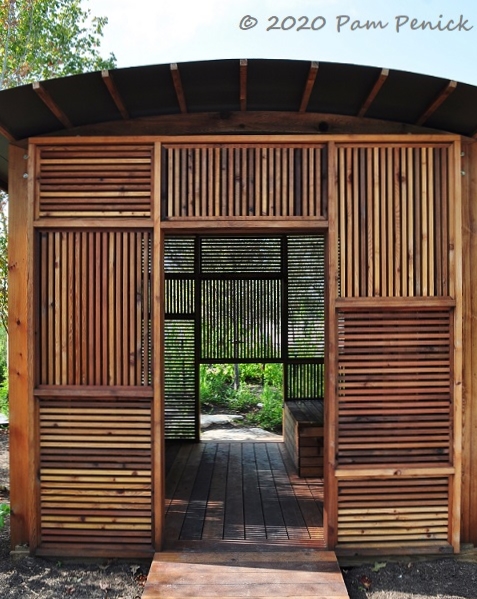 Here's another curiosity cabinet, like the one I showed in Part 1, only this one has a path leading out from the kid-sized door in back. Eventually these open-air buildings will contain items meant to be touched and explored. But perhaps that must wait until after covid-times.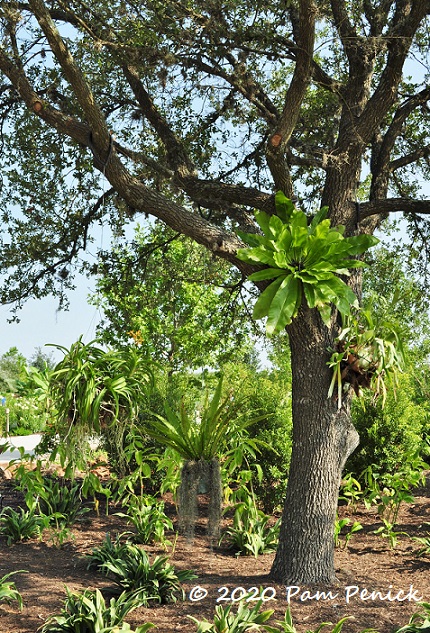 Tucked in the fork of a tree trunk and suspended from branches, epiphytic plants look like tree jewelry.
Culinary Garden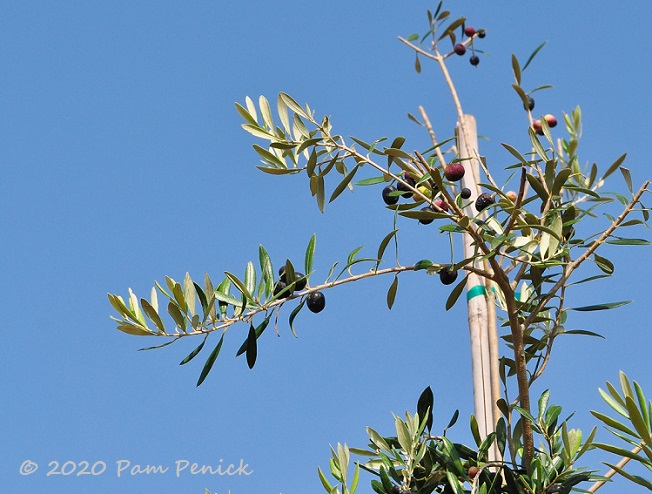 Back at the entrance we investigated the Culinary Garden's edibles, including olive trees producing fruit.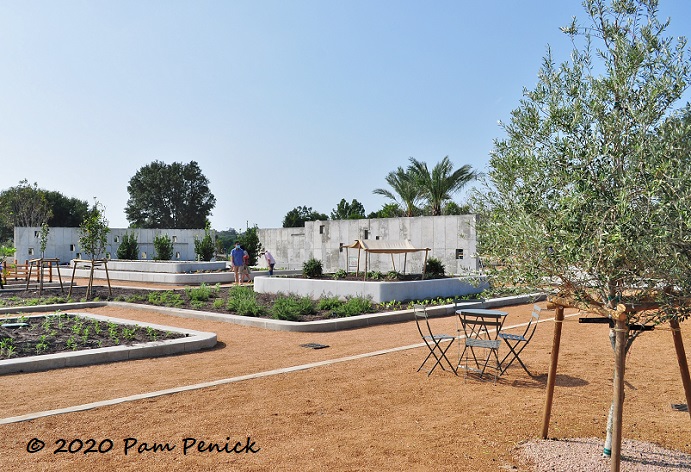 Rectangular beds feature "edible and medicinal plants — many of which visitors could grow in their own yards — that have served as a basis for economic and cultural exchange across the history of the world." Beyond, a "water wall," slated to open in December, is under construction. This and other garden spaces still to come are reason enough to return soon for another visit. Lucky Houstonians to have this in their backyard!
I hope you've enjoyed the opening-weekend tour. For a look back at Part 1 of my visit to Houston Botanic Garden, click here.
I welcome your comments; please scroll to the end of this post to leave one. If you're reading this in a subscription email, click here to visit Digging and find the comment box at the end of each post.
_______________________
Digging Deeper: News and Upcoming Events
Join the mailing list for Garden Spark! Hungry to learn about garden design from the experts? I'm hosting a series of talks by inspiring garden designers, landscape architects, and authors a few times a year. Held in Austin, the talks are limited-attendance events that sell out quickly, so join the Garden Spark email list to be notified in advance. Simply click this link and ask to be added.
All material © 2020 by Pam Penick for Digging. Unauthorized reproduction prohibited.
[ad_2]

Source link