[ad_1]

November 21, 2020
Bring your child — or just your inner child — and explore the collection of architectural play forts at Fortlandia. This hands-on exhibit at the Lady Bird Johnson Wildflower Center occurs every fall through winter, with local architects, designers, and artists creating one-of-a-kind forts that are spaced out along the Arboretum trail.
My kids were already grown when Fortlandia started a few years ago, but I go every year anyway. Who doesn't love a good fort? And you're never too big to play, as my daughter and our Italian exchange student proved last year.
This year, because of Covid, hand sanitizer stations are located near each fort, and you must have a reservation for a particular day and time, which allows the center to keep a handle on how many people are in the garden at any one time.
Here's a look at all 9 forts plus a few other spots along the trail.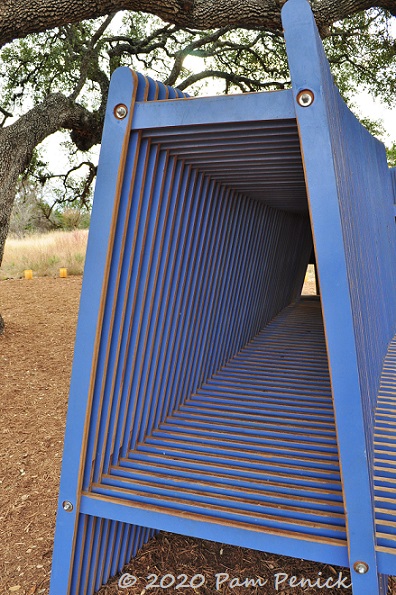 A-Frame creates a dizzying, pop-art effect, depending on your viewing angle. Brown slats faced with blue paint…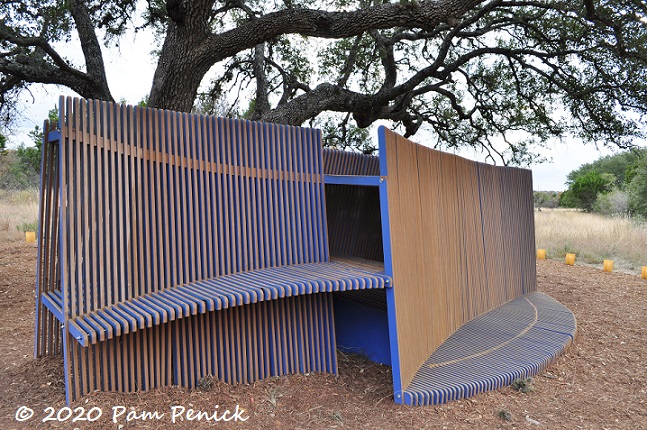 …make the fort appear to change color as you move around it.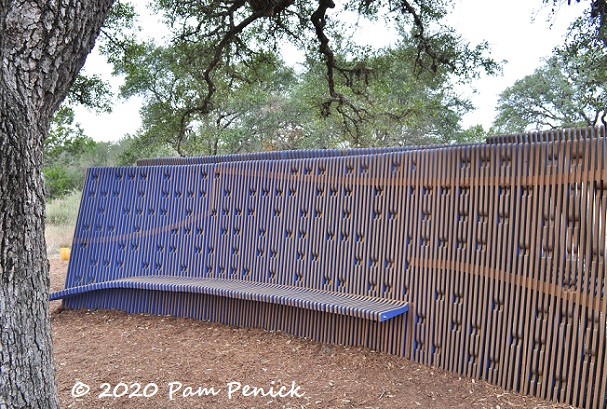 Zing!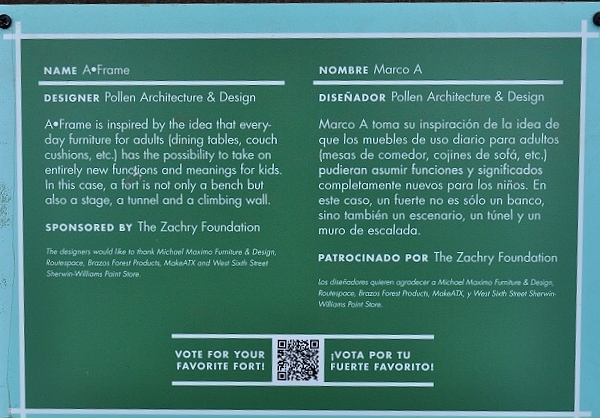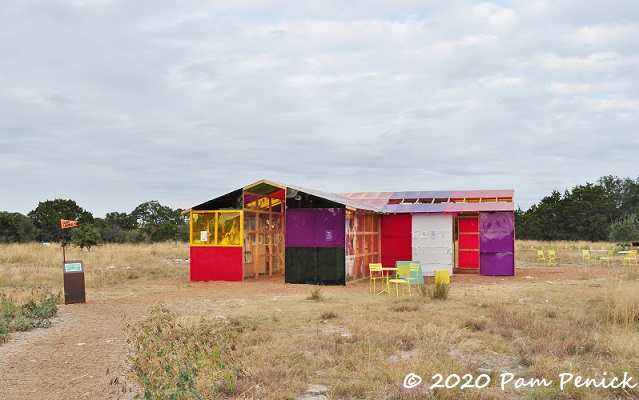 Like a Lite-Brite image of a house, Community Garden glows with colored light, even on a cloudy day, thanks to jewel-tone plexiglass walls and roofing.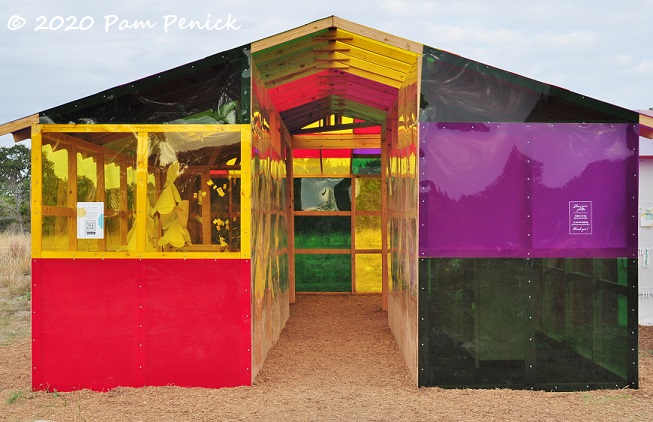 This one is an Instagrammer's favorite, I bet.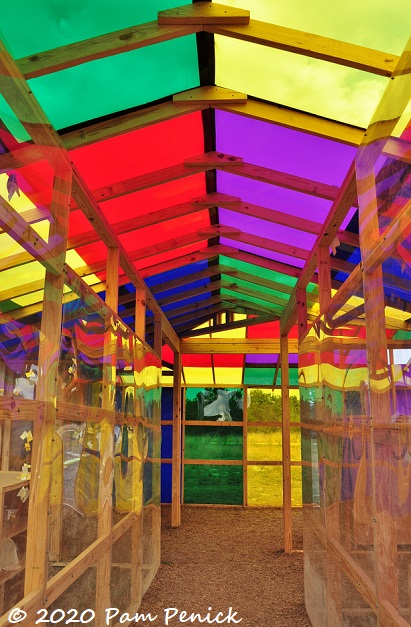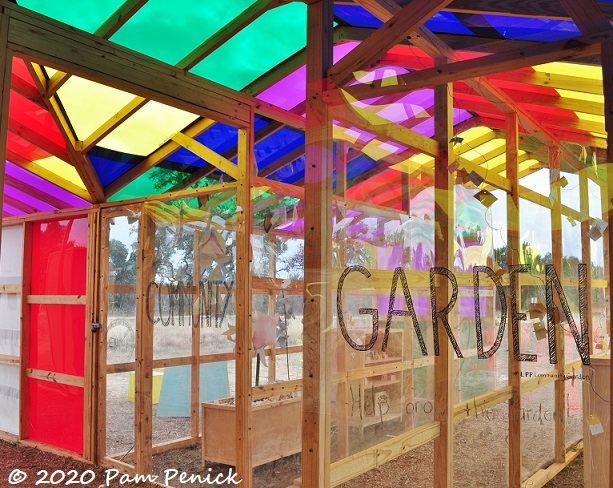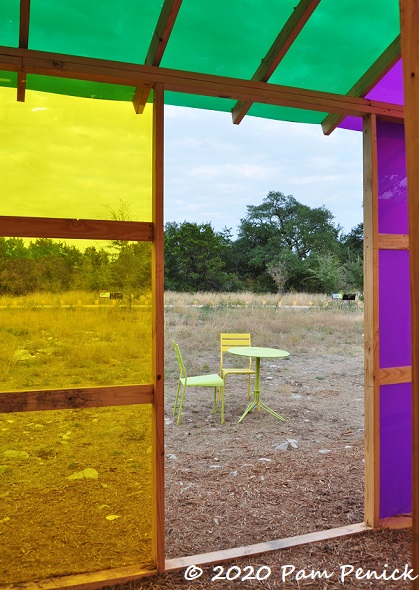 As if Donald Judd swallowed a rainbow?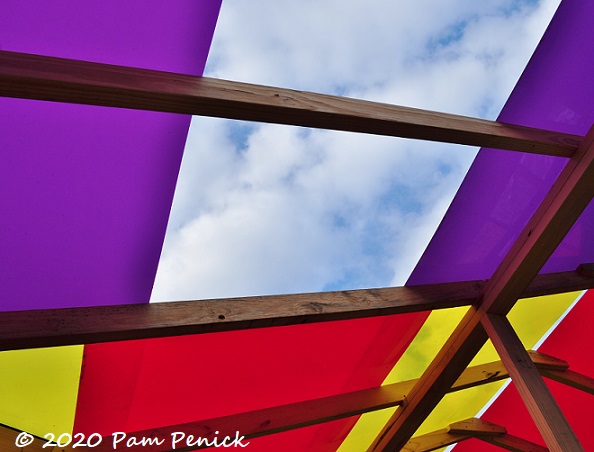 Or maybe it evokes James Turrell and his Skyspaces?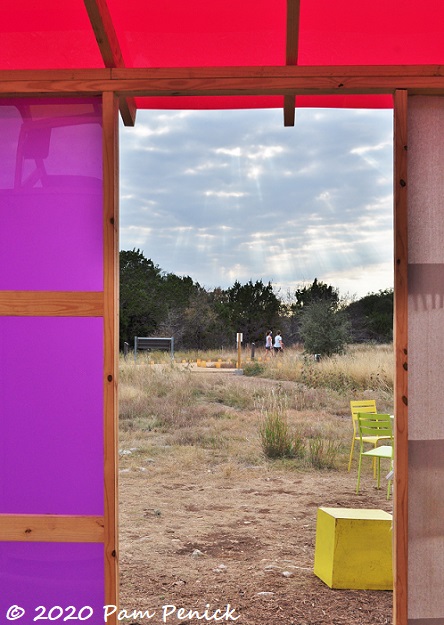 Cool light inside and out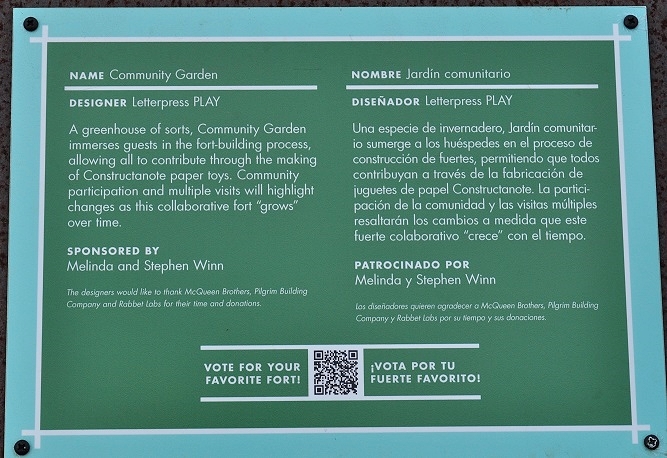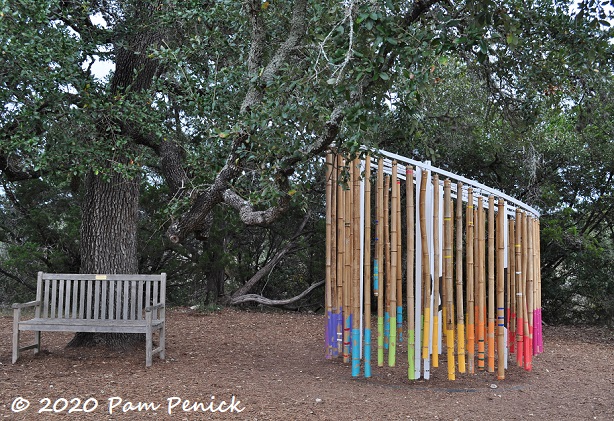 Long bamboo poles dipped in ROY G BIV paint dangle from a circular support, allowing visitors to knock them together like a giant bamboo windchime.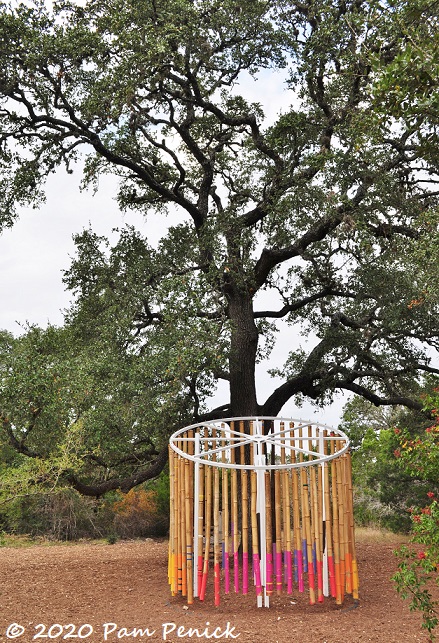 Or step inside as through a beaded curtain.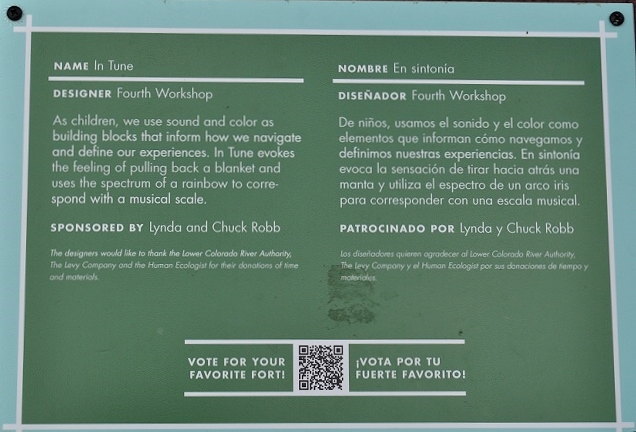 Horizontal tree (not a fort)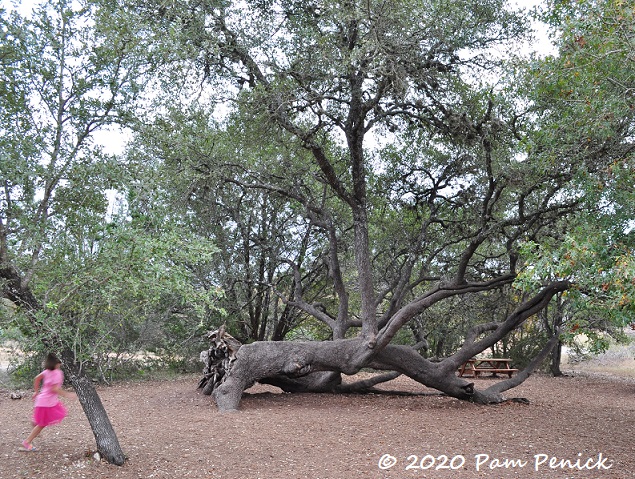 This downed-but-still-growing horizontal tree — one of my favorites in the arboretum — was encircled by a fort last year. This year it was skipped, but it still attracts kids eager to climb it.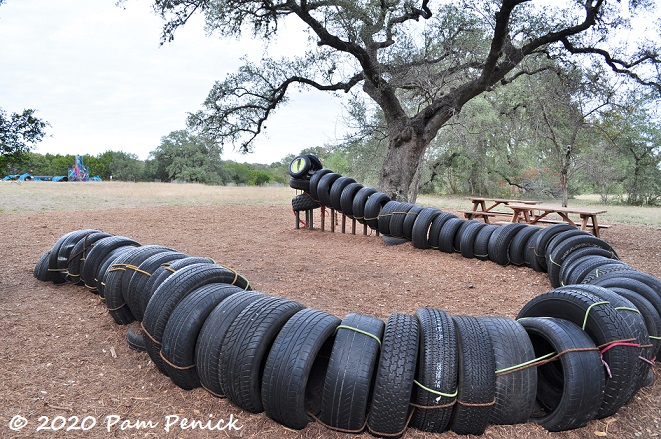 A rattlesnake fort built out of recycled tires made me smile. This is Snake, Rattle & Roll! Good pun, by the way.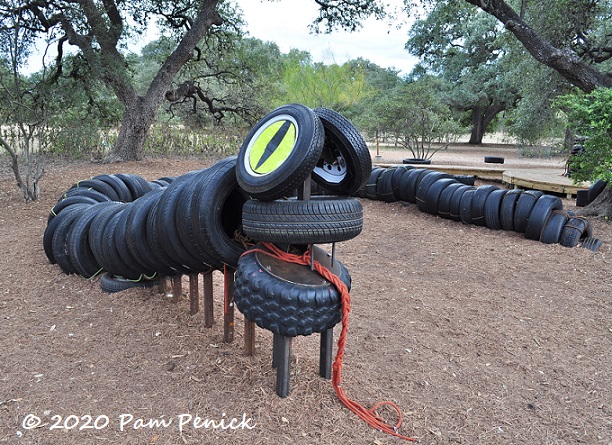 It even has fangs and a forked rope tongue.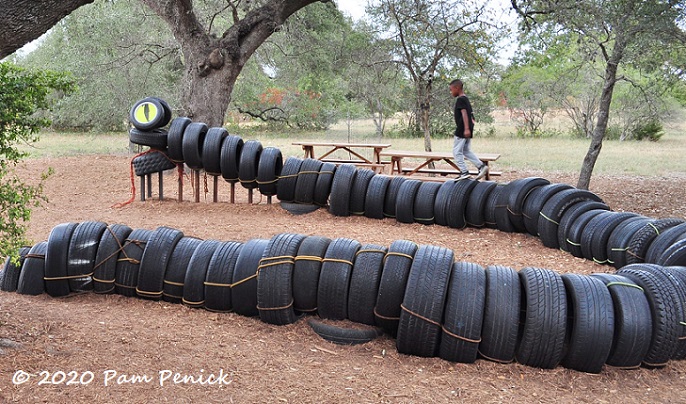 It makes a challenging balance beam. Sssssslippery.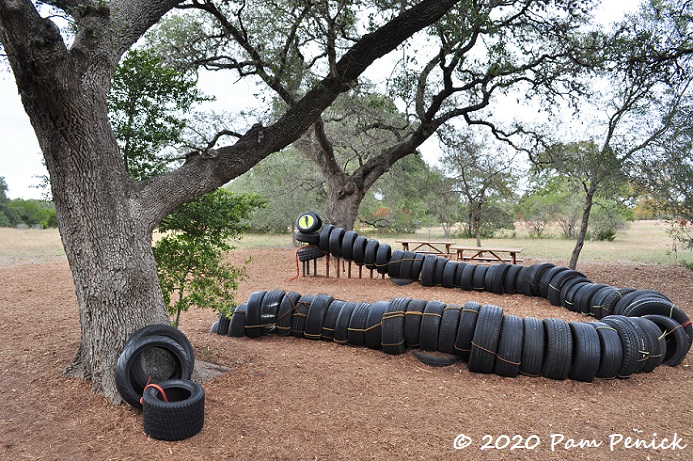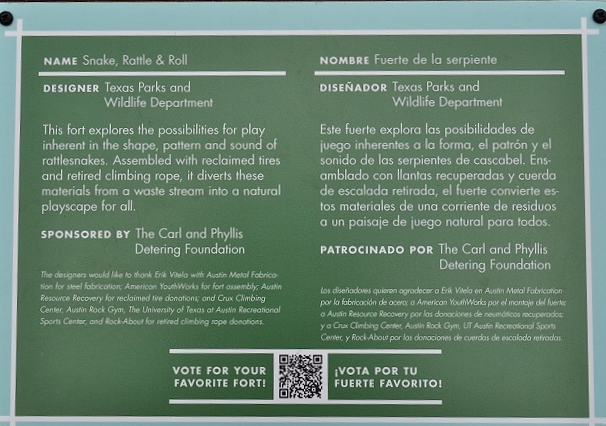 Fort Build by you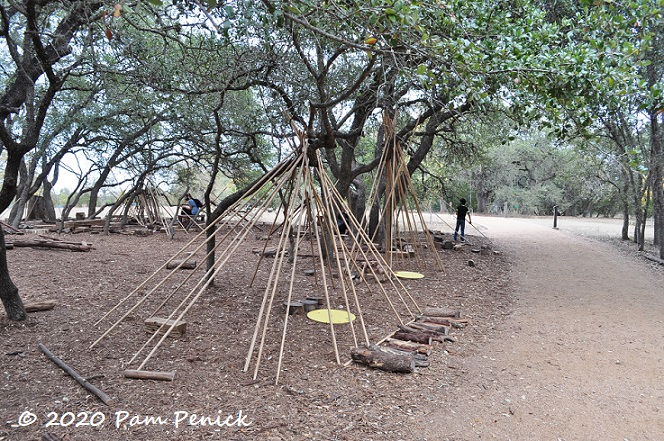 You can always build a fort in the Wildflower Center's Family Garden, where natural materials are provided in a woodsy area. But during Fortlandia you can really let your fort-building dreams take shape under a grove of live oaks, where a stash of bamboo poles, logs, wooden blocks, and colorful disks await your imaginative assembly.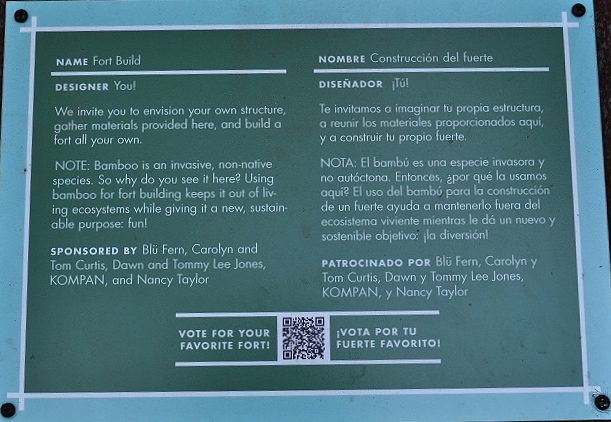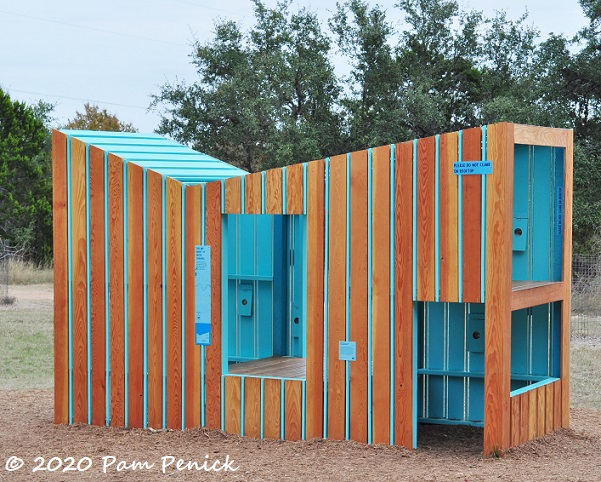 THALWEG gives me P. Terry's vibes with that turquoise and the V-shaped roof.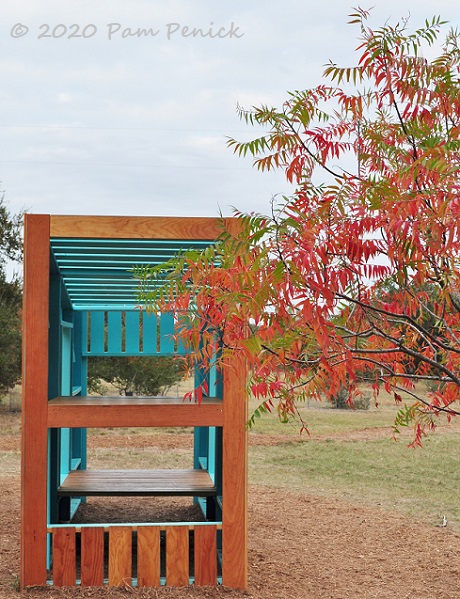 Its design was inspired by the passage of water through caves, underground rivers, and aquifers in central Texas.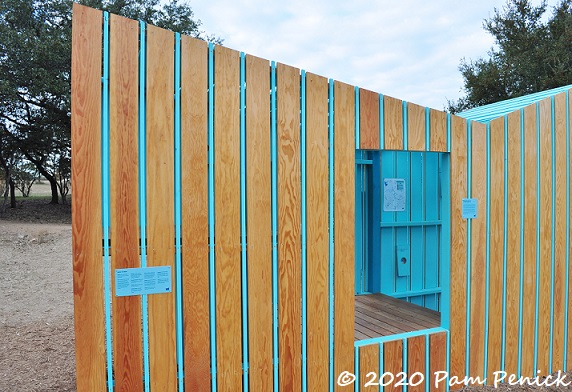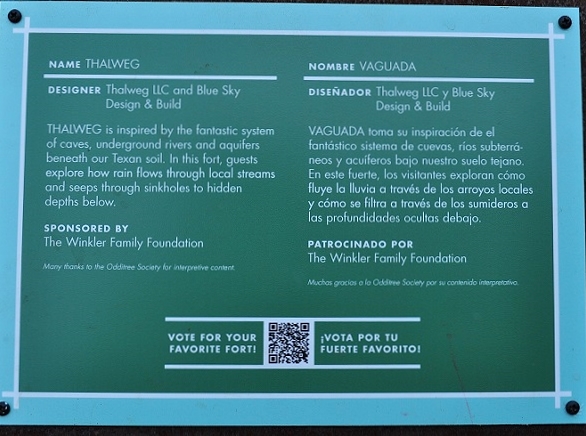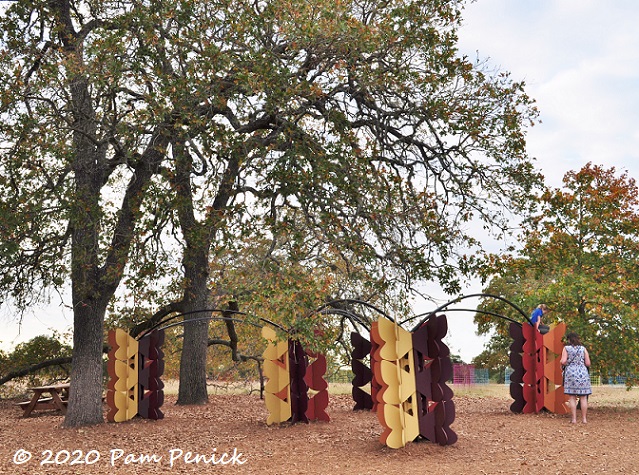 A roost of butterflies in autumnal hues evokes monarchs overwintering on tree trunks in Mexico.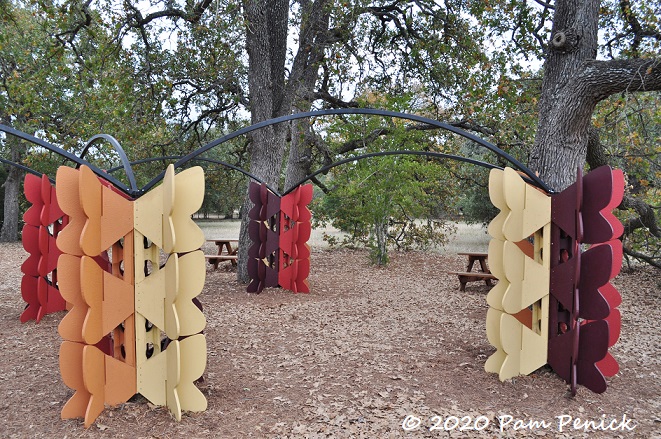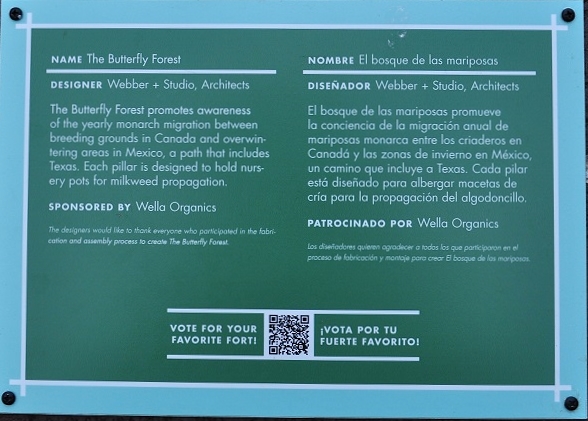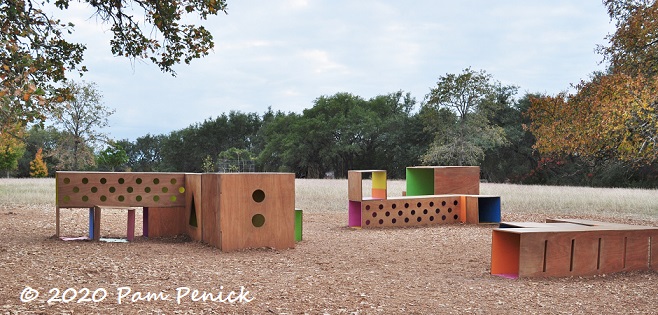 Kids can turn a simple cardboard box into a secret hideout they'll play in for days. FORT BLOX captures that spirit with an assemblage of plywood boxes…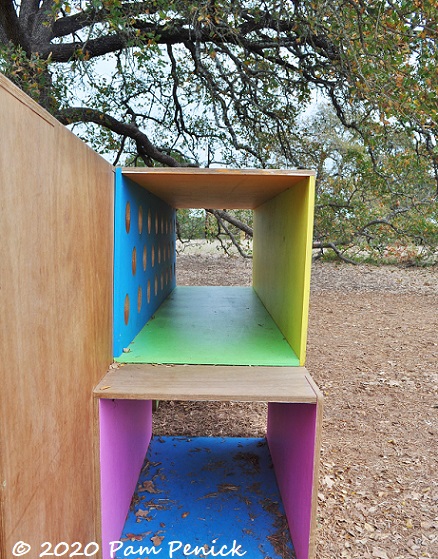 …brightly colored on the inside, where the magic happens.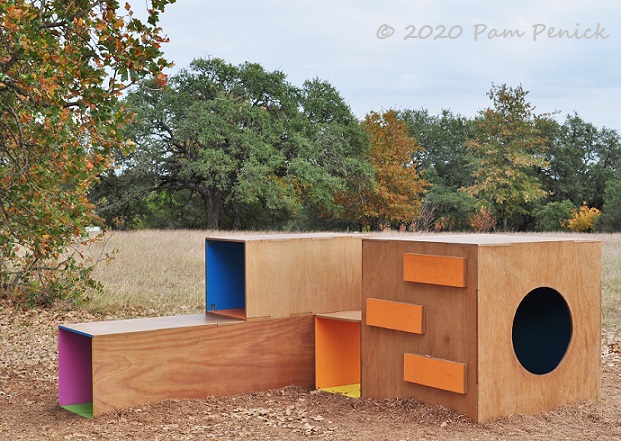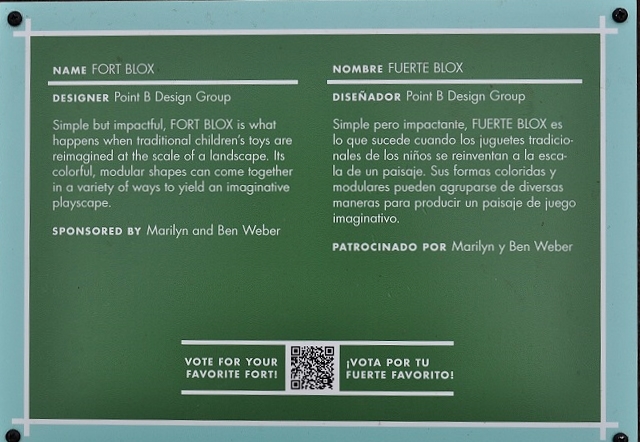 Big old post oak (not a fort)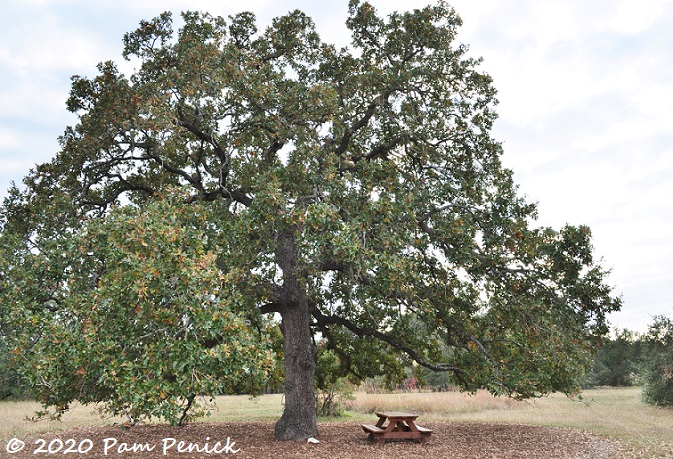 On my way to the next fort I stopped to admire this majestic post oak, a real beauty.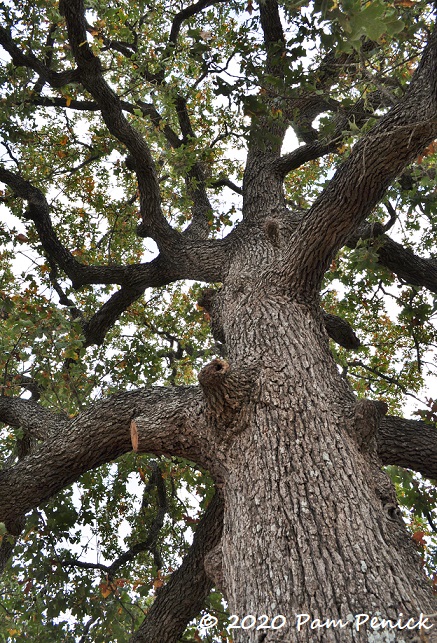 Isn't it grand?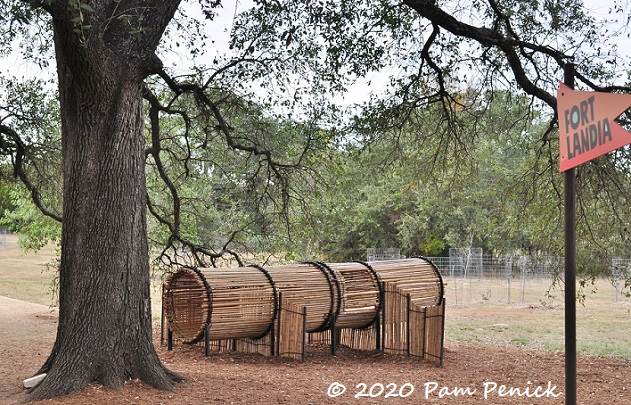 Bamboo poles lashed into tubes and fencing make up Tubes 'n' Tunnels.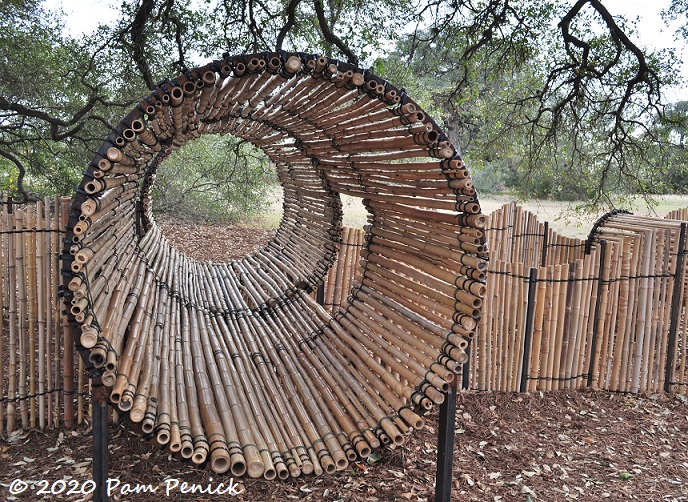 I see another Instagram moment here, as the bamboo zooms your eye into the tube.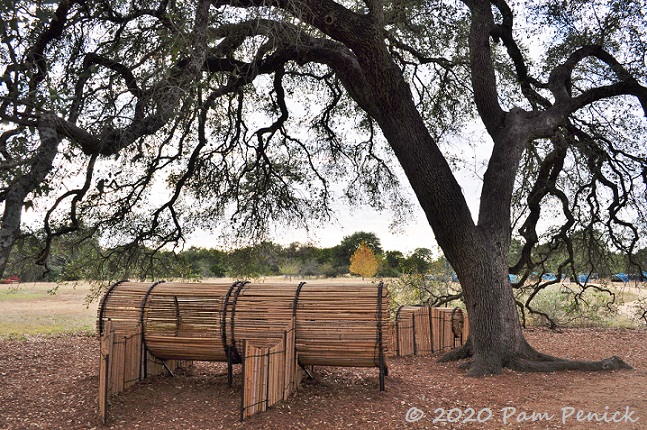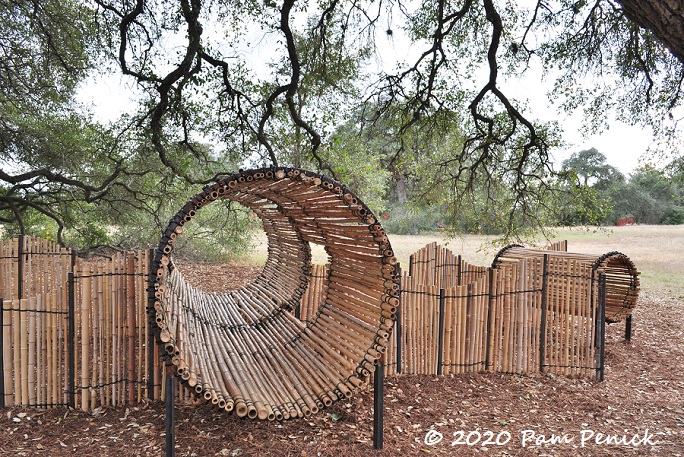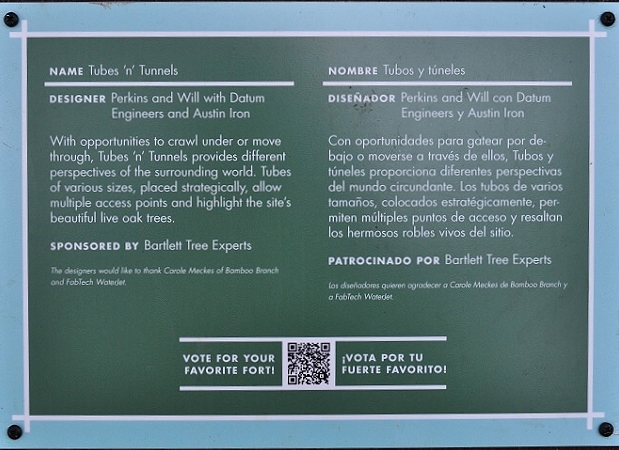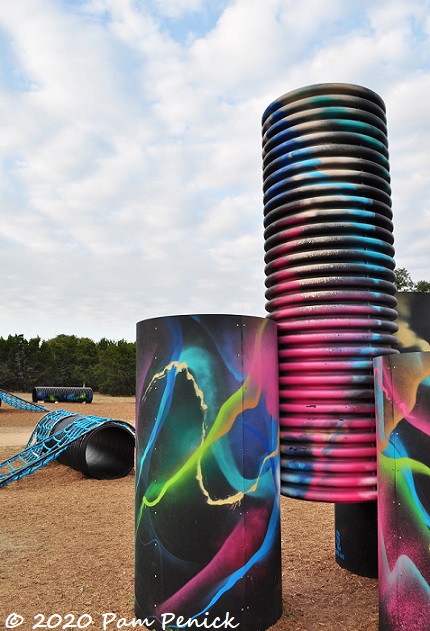 More tubes appear in territories., some of which are arranged in a rocket-ship-esque formation brightened with graffiti-style spray paint.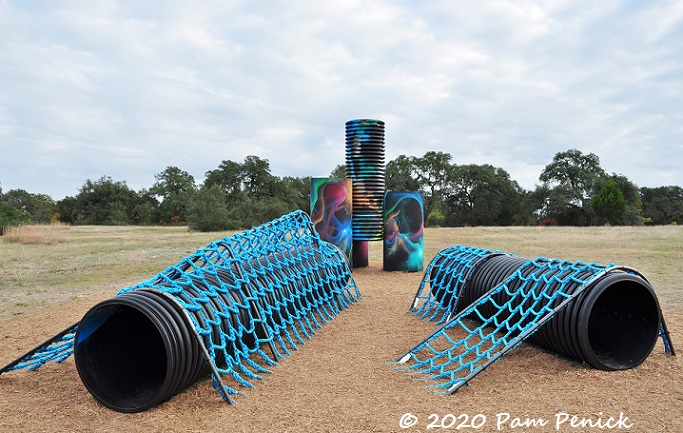 Several horizontal pipes are pinned by rope webbing. These remind me of a funnel web spider's lair. Sorry for that image, my fellow arachnophobes.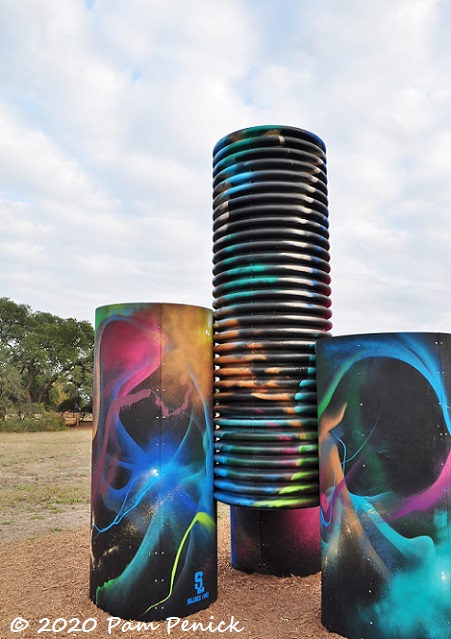 Give me the rocket ship instead please.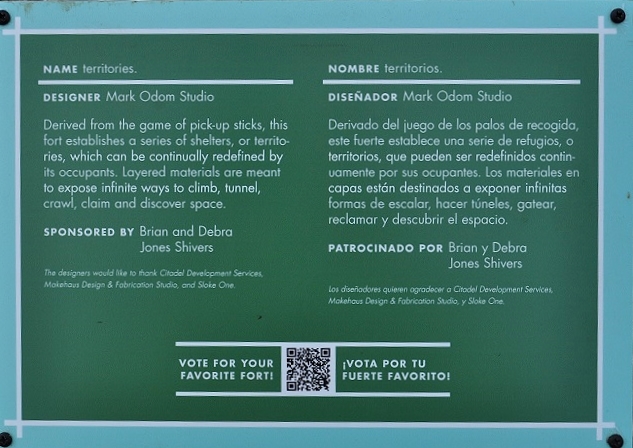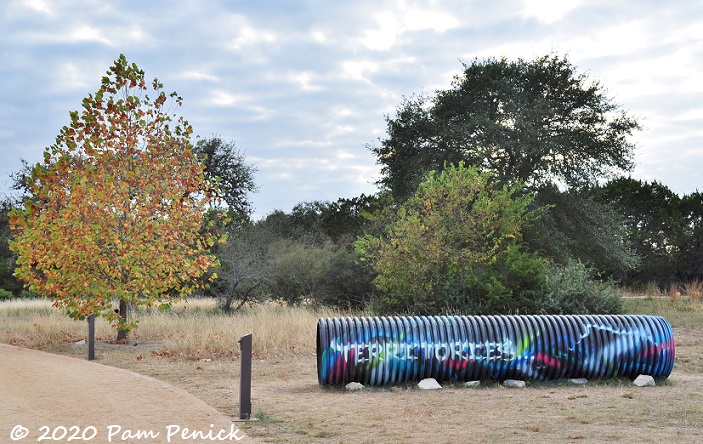 Whether or not you have a kid to entertain, Fortlandia is fun to explore, and it gives you an excuse to walk the lovely one-mile Arboretum trail. You have until January 31 to see it, and entry is included with your admission ticket to the Wildflower Center.
For a look back at my tour of the Wildflower Center gardens in all their fall color, click here.
I welcome your comments; please scroll to the end of this post to leave one. If you're reading this in a subscription email, click here to visit Digging and find the comment box at the end of each post.
_______________________
Digging Deeper: News and Upcoming Events
Join the mailing list for Garden Spark! Hungry to learn about garden design from the experts? I'm hosting a series of talks by inspiring garden designers, landscape architects, and authors a few times a year. Held in Austin, the talks are limited-attendance events that sell out quickly, so join the Garden Spark email list to be notified in advance. Simply click this link and ask to be added.
All material © 2020 by Pam Penick for Digging. Unauthorized reproduction prohibited.
[ad_2]

Source link