[ad_1]

January 31, 2021
At the end of a dog walk a few days ago, I ran my eyes along the streetside edge of my island bed, automatically checking for fallen branches, weeds, armadillo holes — as one does. Suddenly my perspective shifted, and I saw the plantings anew, as if through a stranger's eyes, which is always a gift. And I liked what I saw: varied textures and hues of greenery, all necessarily deer proof and shade tolerant, thriving beneath the live oaks.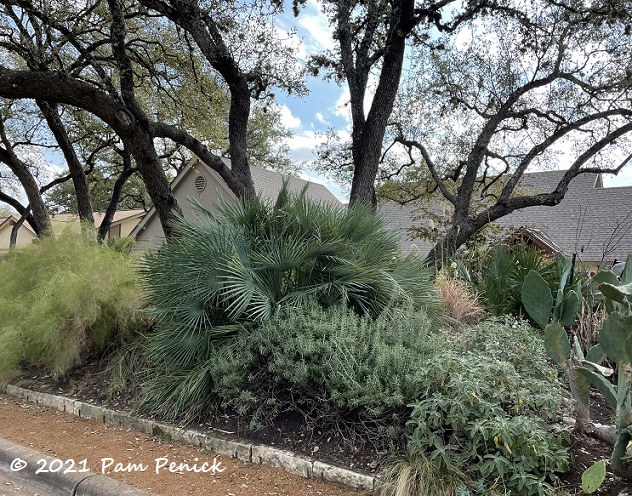 Nah, it's not perfect. There are gaps and less foliage color contrast than I'd like. But considering how hard these plants have had to work to thrive here — clawing a foothold amid masses of tree roots, herds of deer, dry soil, extreme heat, and, yes, dog marking (RIP, 'Micron' holly) — they're looking good, providing privacy and obscuring views of parked cars, offering habitat for wildlife, and looking pretty year-round.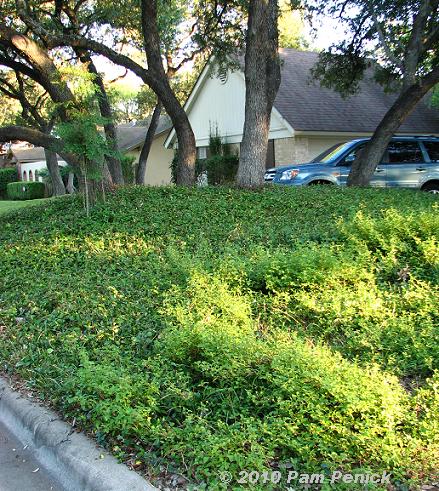 Consider, for contrast: this is how it looked when we moved in, back in 2008. A mass of star jasmine, Asian jasmine, spindly invasive nandina, and purple lantana provided greenery but lacked contrast, height, and interest. I ripped everything out and replanted in 2010.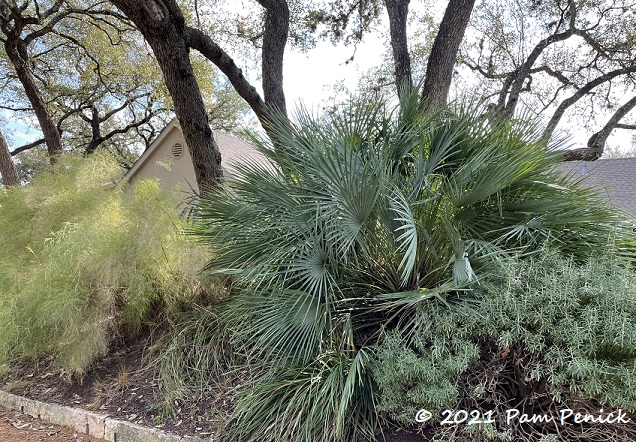 A patient 11 years later (ha!), mature swaths of bamboo muhly (Muhlenbergia dumosa), Lindheimer nolina (Nolina lindheimeri), rosemary (Rosmarinus officinalis), and Jerusalem sage (Phlomis fruticosa, not pictured) wrap around a focal-point silver Mediterranean fan palm (Chamaerops humilis var. argentea) and sprawling prickly pear (Opuntia gomei 'Old Mexico', also not pictured).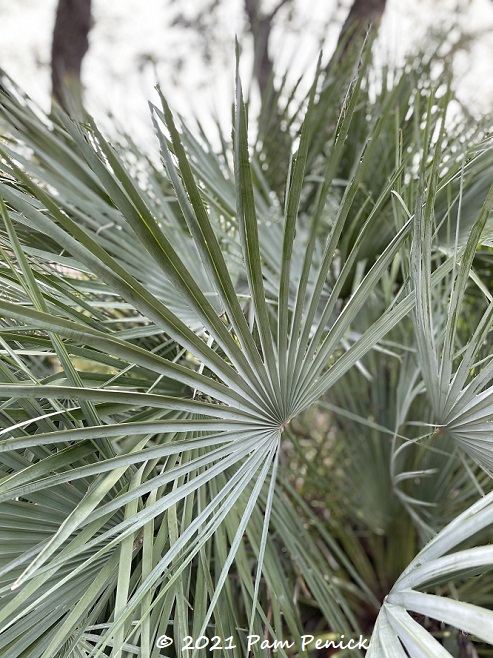 With glaucous leaves that brighten dappled shade, silver Mediterranean fan palm is an absolute beauty. It grows MUCH slower than the standard Mediterranean fan palm, however. Just so you know.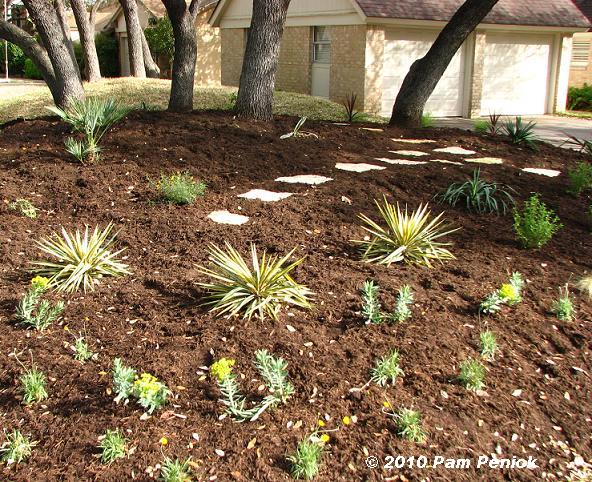 Look at how tiny that fan palm was (upper-left corner) back in 2010! Also, I'd forgotten that our house was ever painted that ivory-beige color. At least we had gotten rid of the brown shutters by this point. Progress is slow, y'all, but steady.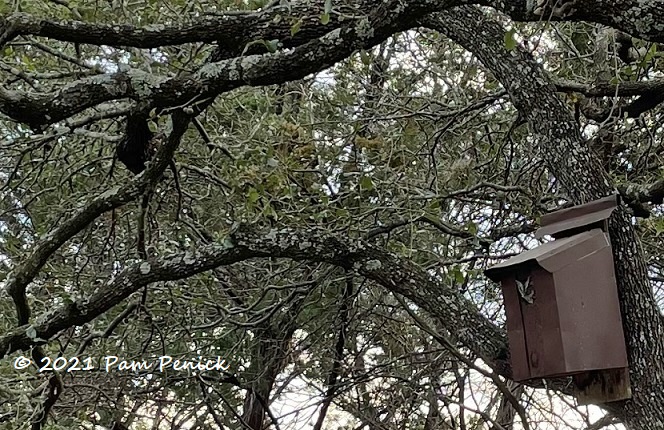 Before you go, here's a quick peek at our newest garden resident, a male screech owl (I think) who's been wooing females from the owl box hole every night. I'm hoping a lovely lady owl decides to take up residence in the next month or so, laying eggs and raising a family of owlets in the box.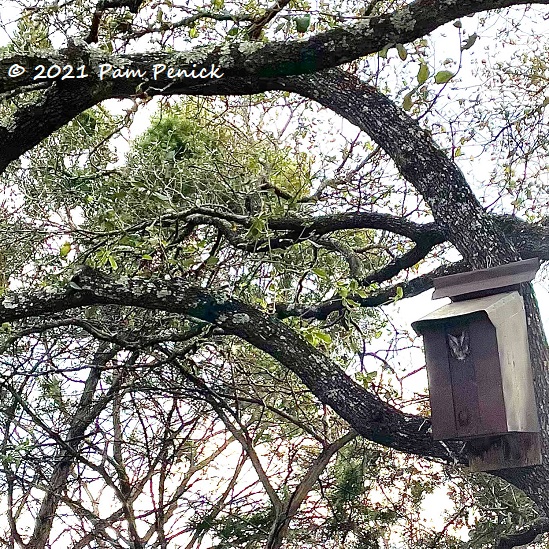 I'm once again a screech owl innkeeper, and I couldn't be happier.
I welcome your comments; please scroll to the end of this post to leave one. If you're reading this in a subscription email, click here to visit Digging and find the comment box at the end of each post.
_______________________
Digging Deeper: News and Upcoming Events
Join the mailing list for Garden Spark! Hungry to learn about garden design from the experts? I'm hosting a series of talks by inspiring garden designers, landscape architects, and authors a few times a year in Austin. (While in-person talks are currently on hiatus due to the pandemic, I plan to resume again as soon as possible.) Talks are limited-attendance events that sell out quickly, so join the Garden Spark email list to be notified in advance. Simply click this link and ask to be added.
All material © 2021 by Pam Penick for Digging. Unauthorized reproduction prohibited.
[ad_2]

Source link