[ad_1]

March 13, 2020
Who poured out a gallon of grape Kool-Aid around here? Central Texans recognize that sweet grape scent as the smell of springtime. It came a few weeks early this year, as the Texas mountain laurels (Sophora secundiflora) took advantage of a mild winter to explode into wisteria-like bloom in late February.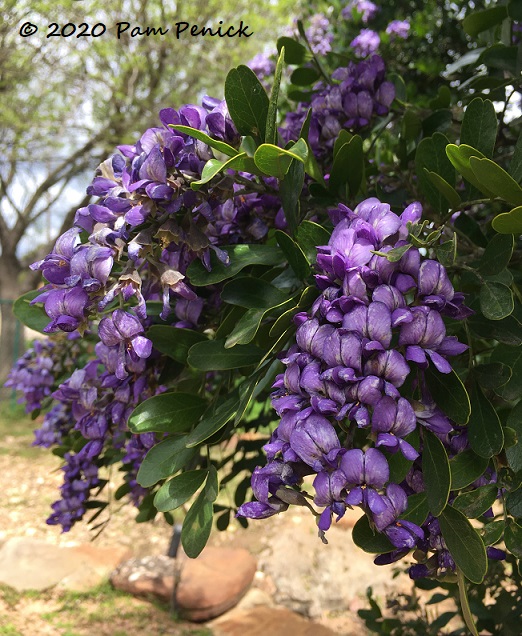 Plenty are still in bloom, like this beauty at Hill Country Water Gardens & Nursery, although those in full sun are past peak and fading fast. In my own shady garden, the blossoms, while fewer, are just beginning.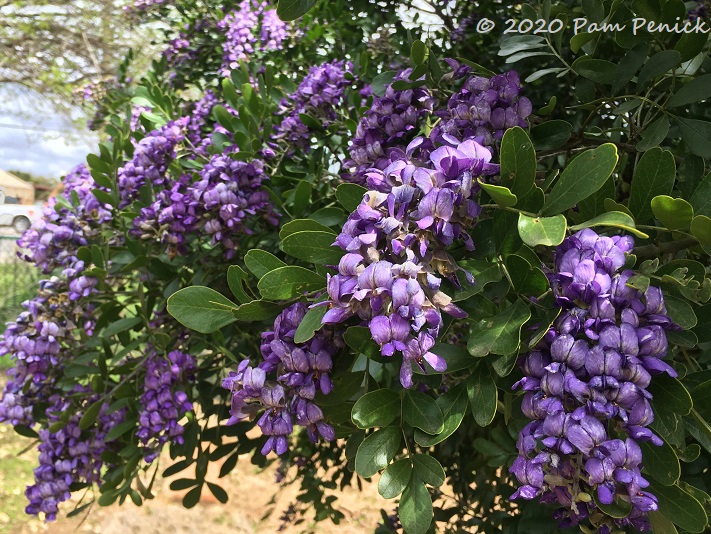 I can't pass one of these native Texas trees in bloom without leaning in for a deep sniff. Ahh, the smell of spring!
I welcome your comments; please scroll to the end of this post to leave one. If you're reading this in a subscription email, click here to visit Digging and find the comment box at the end of each post.
_______________________
Digging Deeper: News and Upcoming Events
I'm giving a keynote talk at the Texas Master Gardener Conference in Waco, Texas, on May 13 from 10:45 a.m. to 12 noon: "Sod Busting: 8 Great Ideas for Your Yard After Digging Up the Lawn." If you're a Texas master gardener who's registered for the conference, I hope to see you there!
Mark your calendar for the May 16th Inside Austin Gardens Tour hosted by the Travis County Master Gardeners. Six private gardens in and around Austin will offer opportunities to learn about drought/deluge-tolerant, Earth-Kind® landscaping and butterfly, herb, vegetable, and succulent gardening.
Join the mailing list for Garden Spark! Hungry to learn about garden design from the experts? I'm hosting a series of talks by inspiring garden designers, landscape architects, and authors a few times a year. Held in Austin, the talks are limited-attendance events that sell out quickly, so join the Garden Spark email list to be notified in advance. Simply click this link and ask to be added.
All material © 2020 by Pam Penick for Digging. Unauthorized reproduction prohibited.
[ad_2]

Source link