[ad_1]

January 16, 2021
On twilight walks around the neighborhood I love coming to this house, the home of neighbor friends who deck out their front-yard garden with hanging globes of blue and white for Christmas every year. I'm in no hurry for them to take them down. The lights add such a magical glow that they could be used year-round.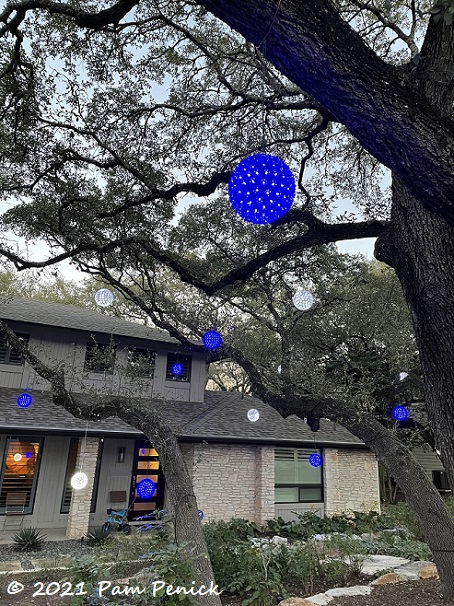 One Instagram commenter said they evoke a midsummer night's dream quality. Yes — or as it happens, a midwinter night's dream! Others admired the live oaks, the arching-trunked native Texas trees that stretch out dark limbs like octopus tentacles. They are so ubiquitous — my own 1/3-acre yard contains about 20 — that I sometimes take them for granted.
Oh deer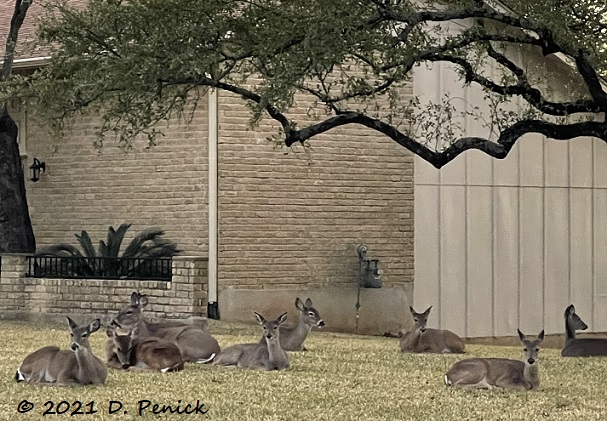 What else is ubiquitous in my northwest Austin neighborhood? Herds of deer — including many melanistic deer, which are a rarity elsewhere — roam our neighborhood streets at dusk and dawn and often bed down on lawns or beds of sedge (in my yard). This relaxed herd was lounging across the street from the garden pictured above — another reason besides drought/flood cycles and extreme heat that gardening here is so challenging. But we LIKE a challenge, don't we, Texas gardeners?
Glowing plants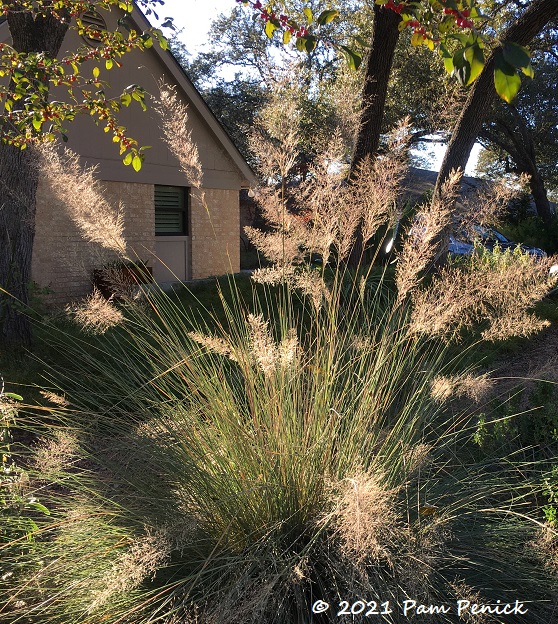 Back in my own garden, I've enjoyed the fall-winter glow of 'Pink Flamingos' muhly, which catches the light so beautifully.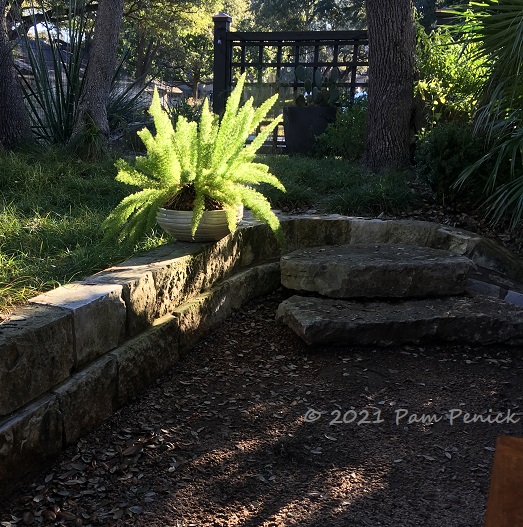 And foxtail fern, although you can see the deer have sampled it on the left side. Grrrr.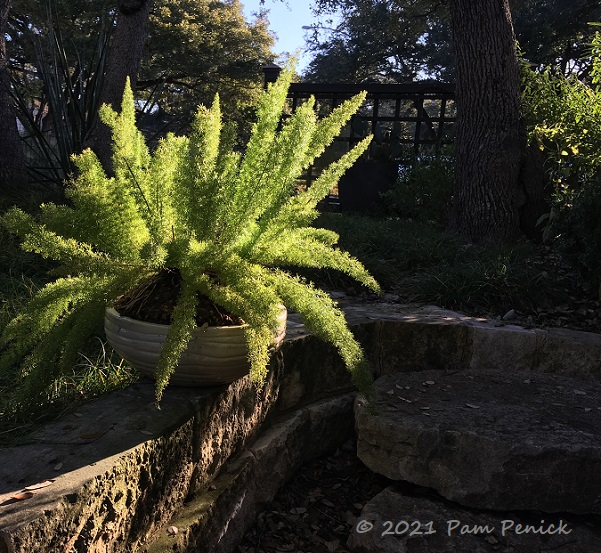 They don't like the taste, and I'll find the spat-out fronds on the path, but they'll occasionally try it again anyway, just to make sure.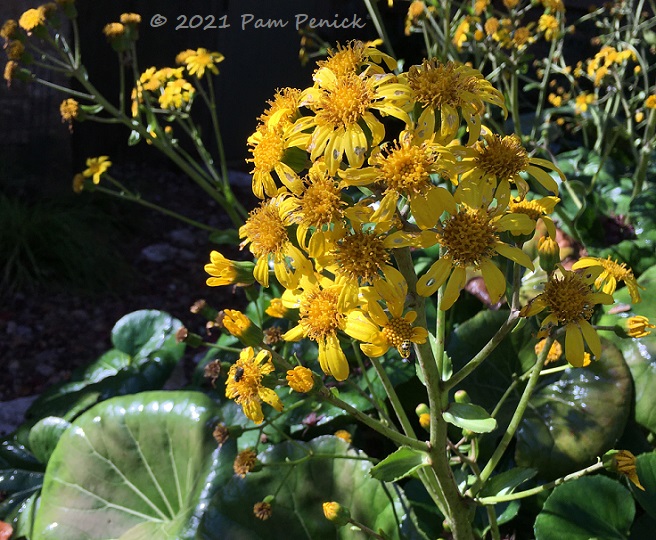 Giant leopard plant, aka tractor-seat ligularia (Farfugium japonicum 'Gigantea'), also has been glowing for a few months with yellow, bee-buzzing flowers held high on sturdy stems. I always get asked, so I'll say it pre-emptively: yes, this is a thirsty plant. Buyer beware.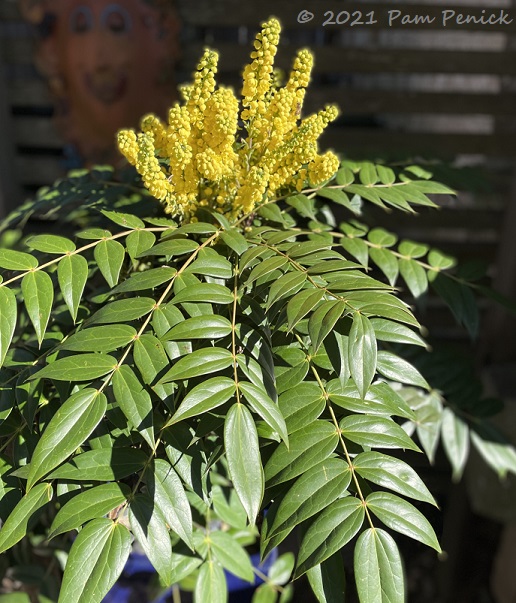 In a backyard pot, 'Marvel' mahonia, a trial plant sent to me by Southern Living Plant Collection, has just started flowering, and it's pretty marvelous. The bees like it too.
Fearless Gardening book giveaway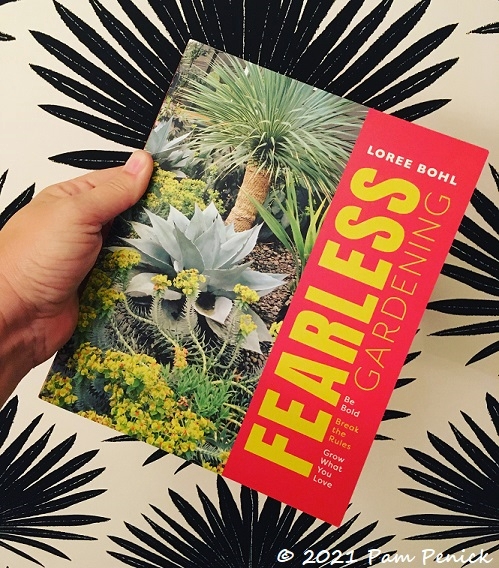 But I'm sure those of you who entered my giveaway of Loree Bohl's new book, Fearless Gardening, plus bonus book The Bold Dry Garden, are eager to know who won. I used a random number generator to pick a comment number, and #19 came up. That's Anne, who shared a gardening fear she'd like to overcome: "I struggle with thinking that I'm planting more than I can take care of as I grow older. (I'm 72). But I hate to miss out on all the wonderful and exciting new plants that come along every year!"
Well, Anne, you won't be missing out on some excellent gardening books! I'll email you to get your address (please check your spam folder if you don't receive it by end of today), and we'll get those books mailed out to you. Thank you to everyone who took the time to enter my giveaway!
I welcome your comments; please scroll to the end of this post to leave one. If you're reading this in a subscription email, click here to visit Digging and find the comment box at the end of each post.
_______________________
Digging Deeper: News and Upcoming Events
Join the mailing list for Garden Spark! Hungry to learn about garden design from the experts? I'm hosting a series of talks by inspiring garden designers, landscape architects, and authors a few times a year. Held in Austin, the talks are limited-attendance events that sell out quickly, so join the Garden Spark email list to be notified in advance. Simply click this link and ask to be added.
All material © 2021 by Pam Penick for Digging. Unauthorized reproduction prohibited.


[ad_2]

Source link