July 31, 2020
It's a happy day when a new nursery opens north of the river, especially if within a quick 10- or 15-minute drive from my house. So my head snapped up with interest when I heard about a new nursery opening — during a pandemic, no less — in the Brentwood-Crestview area just off North Lamar Blvd.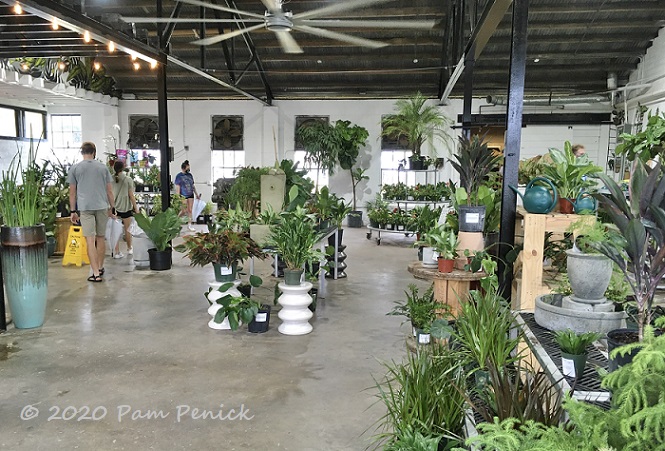 I popped over on a drizzly afternoon last weekend to check out Garden Seventeen, which sports a brightened-up industrial vibe thanks to the old manufacturing building that's been converted into a garden shop. There's a nice collection of houseplants in the airy main building, which is cooled by a Big Ass fan (beloved by Austinites).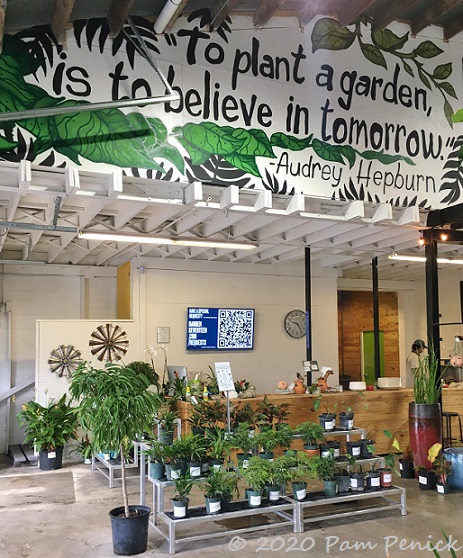 Leafy murals add color around the room. You may be wondering, as I did, what "Seventeen" references. A salesperson I spoke with told me jokingly that Garden Seventeen was the 17th name they'd come up with. More seriously he added, "Seventeen is a special number for Rodney."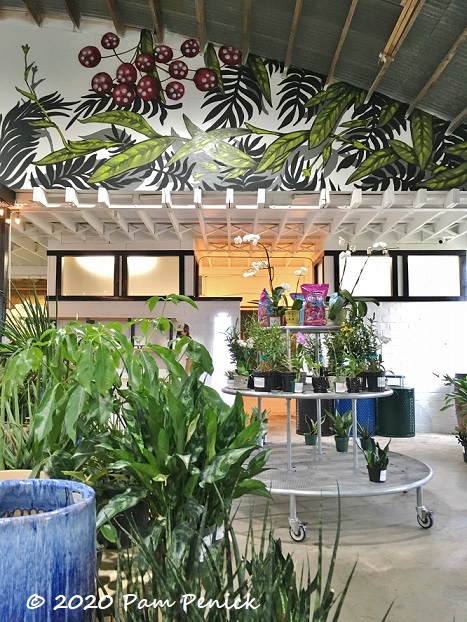 Owner Rodney Stoutenger is also the founder and lead designer of Native Edge Landscape, a full-service design business that he started in 2008. Check out Native Edge's blog, by the way, where you'll find monthly posts about their design work with great info.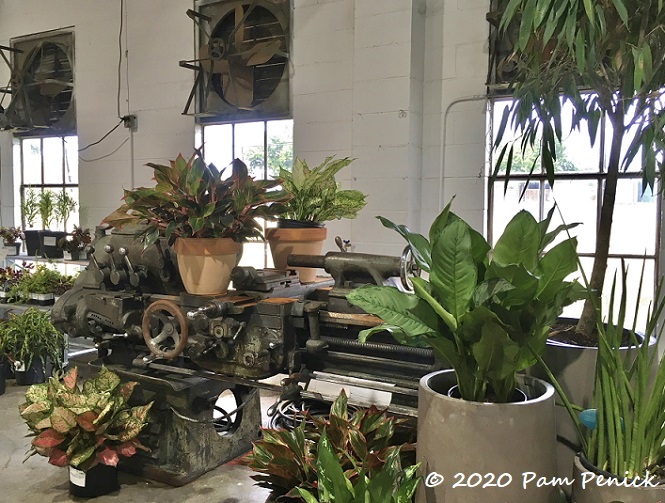 An enormous piece of machinery — inherited with the building, I assume — makes a unique plant display stand.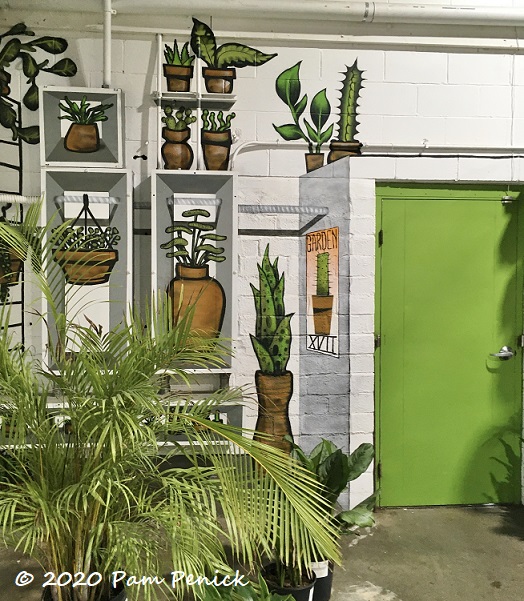 Another fun mural turns a blank wall into a vertical garden.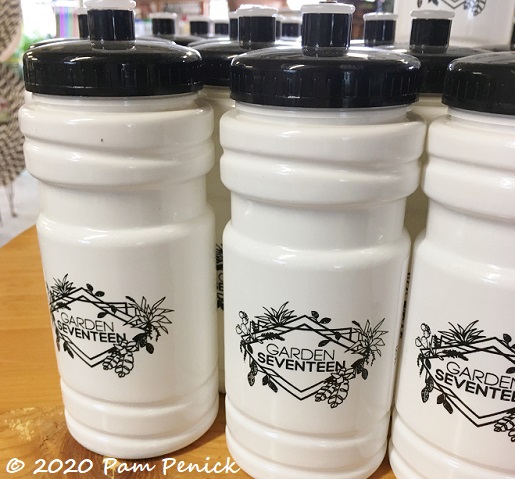 They even have branded merch.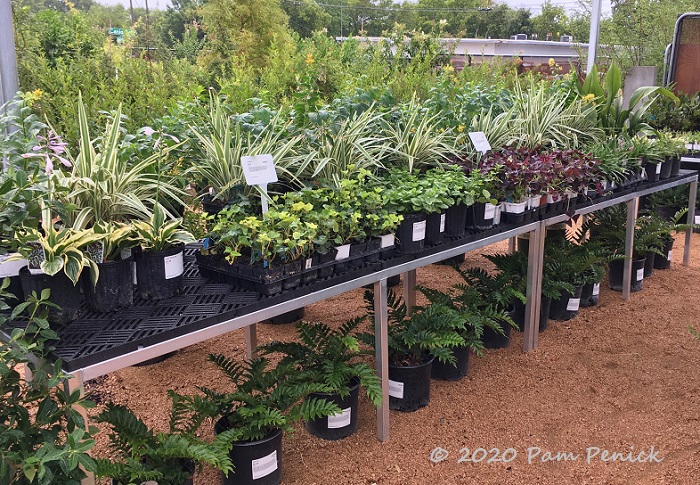 But let's brave the drizzle and check out the nursery plants in the outdoor yard. While their space isn't huge, they have a nice selection of plants for shade and sun, and reasonably priced.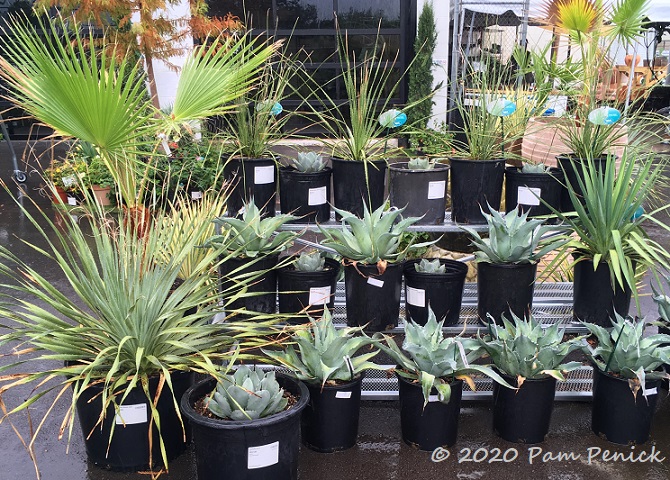 I always gravitate to the spiky plants.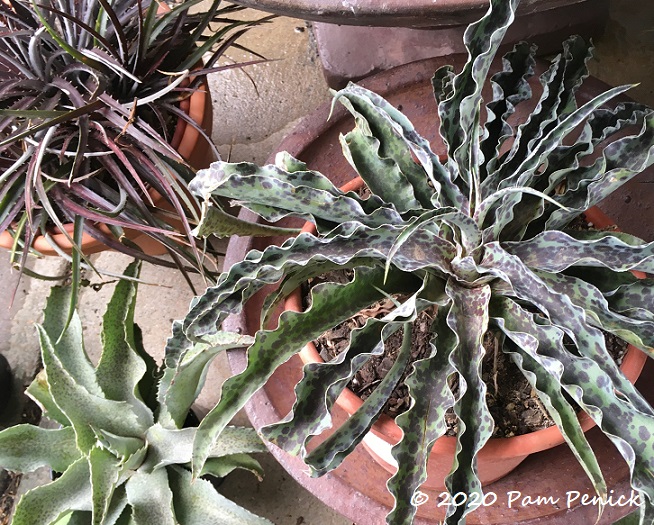 Yum! Check out this extra-ripply 'Mint Chocolate Chip' manfreda. Priced at $34.99, it didn't jump into my cart, tempting as it was. But I don't believe I've ever seen this manfreda offered in Austin, and it's a beauty, so I'm not saying the price isn't fair. And look how fab it looks next to the burgundy dyckia on the left.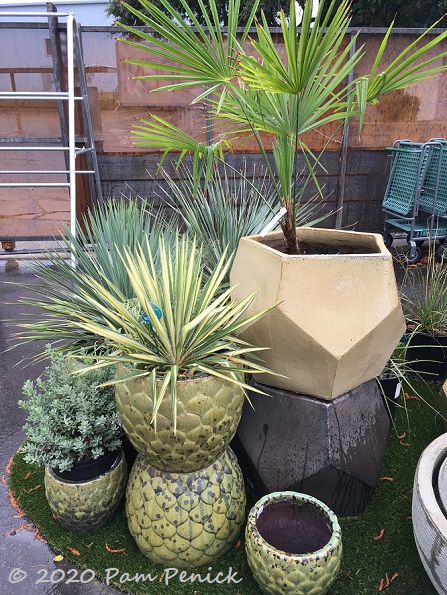 There are lots of cool containers on display, like these butterscotch and charcoal hexagonal pots. I like the yellow-green fish-scale pots too.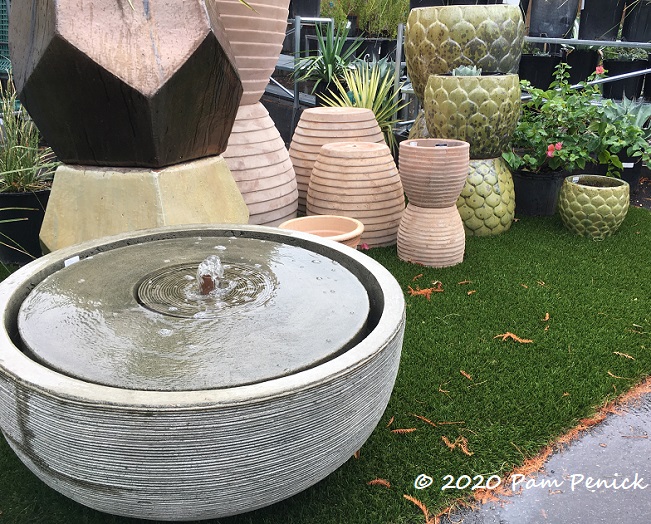 And a few contemporary fountains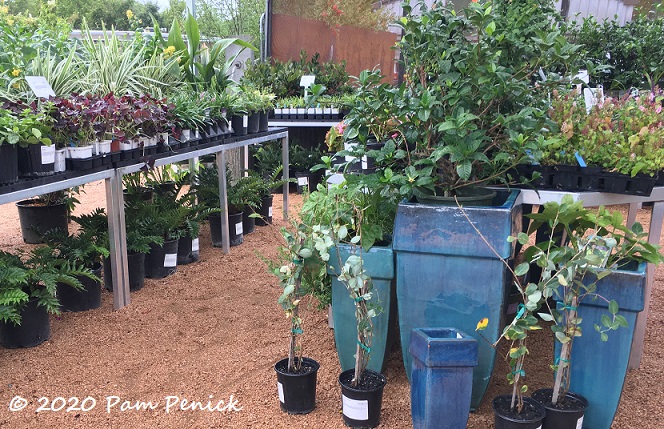 Narrow blue pots, perfect for tight spaces or vertical interest.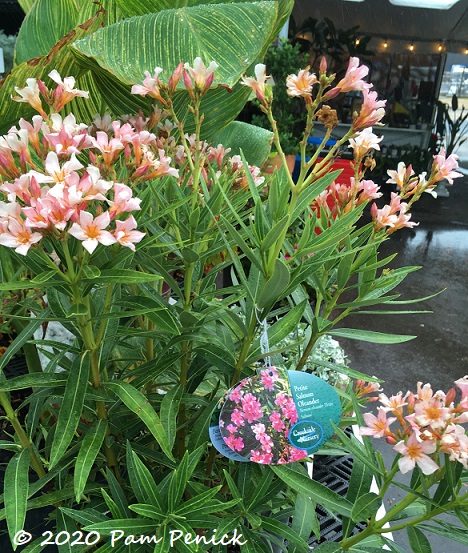 I was just asking my blogger friends about the dwarf peach oleanders alongside cafe seating on W. 35th Street, and here they are, labeled 'Petite Salmon' oleander. I love them but, alas, lack the sun/space for one.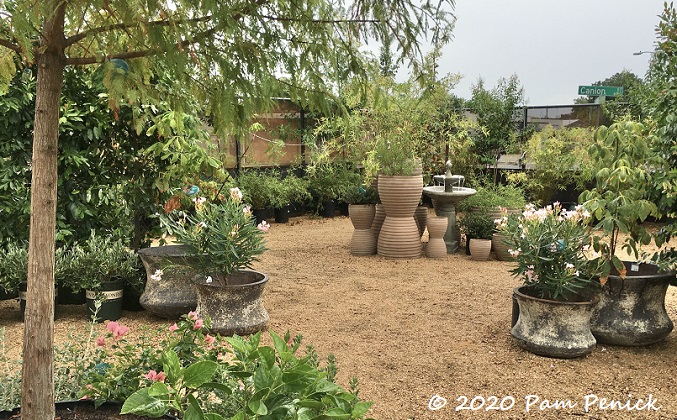 While I was walking around in the rain, an employee came over and kindly offered me an umbrella, the same type I'd seen other customers walking around with. How nice is that — keeping a stash of umbrellas for your customers to use?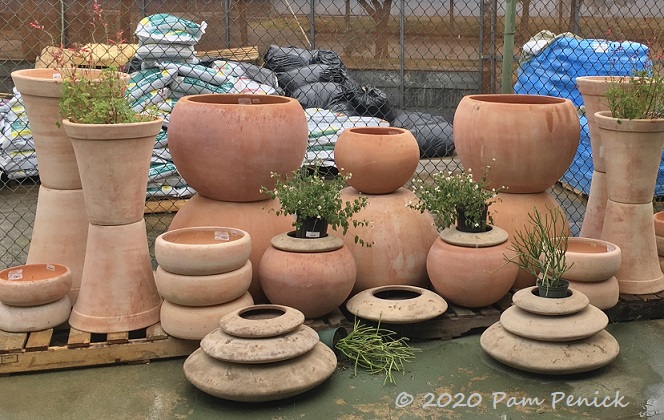 OK, I really like these round terracotta pots. And check out those unusual flying saucer-style pots.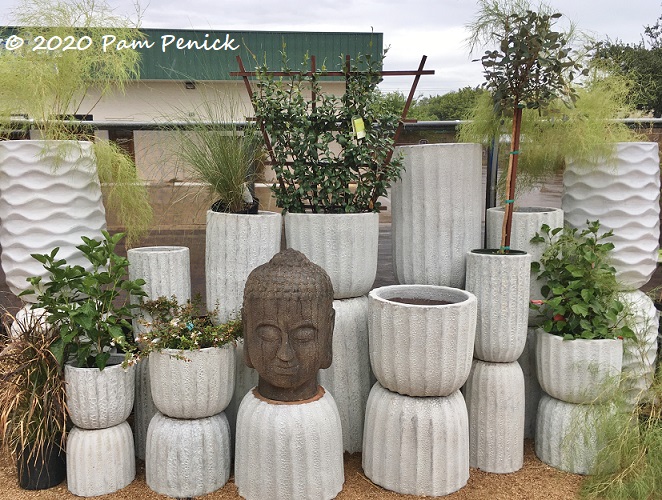 I went home with a couple of small plants, and I look forward to visiting again soon, especially as we move into Austin's second spring, aka autumn. Welcome to north-central Austin, Garden Seventeen!
I welcome your comments; please scroll to the end of this post to leave one. If you're reading this in a subscription email, click here to visit Digging and find the comment box at the end of each post.
_______________________
Digging Deeper: News and Upcoming Events
Join the mailing list for Garden Spark! Hungry to learn about garden design from the experts? I'm hosting a series of talks by inspiring garden designers, landscape architects, and authors a few times a year. Held in Austin, the talks are limited-attendance events that sell out quickly, so join the Garden Spark email list to be notified in advance. Simply click this link and ask to be added.
All material © 2020 by Pam Penick for Digging. Unauthorized reproduction prohibited.