November 11, 2020
Ah fall, how I love you. Even though our fall weather is comparable to summer in northerly regions (low to mid-80s F), and colorful foliage rarely occurs, it's still my favorite season. After all, autumn is our second spring here in Texas, and fall perennials like Philippine violet (Barleria cristata) are putting on a show.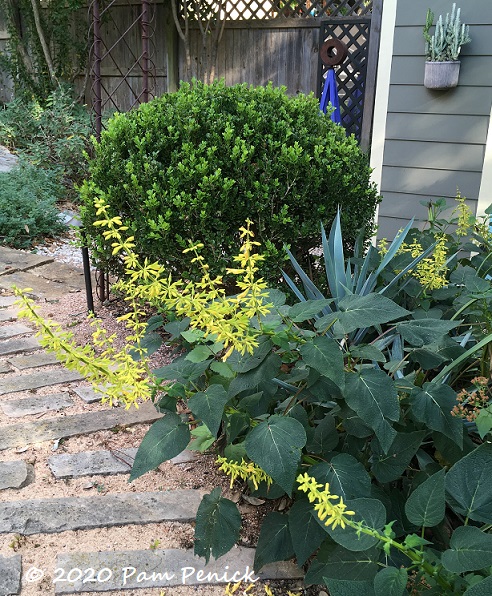 Forsythia sage (Salvia madrensis) is too, with its buttery spires and cat's-tongue leaves.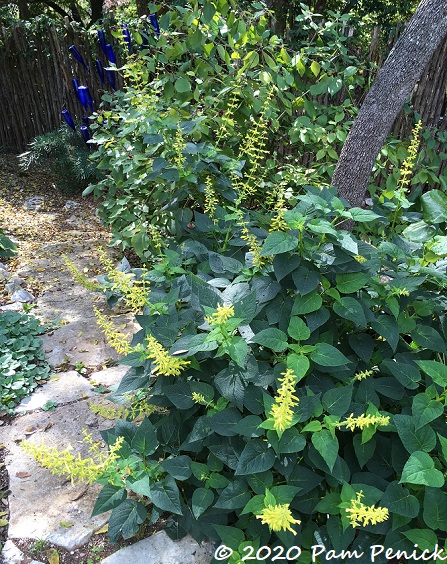 It just keeps going!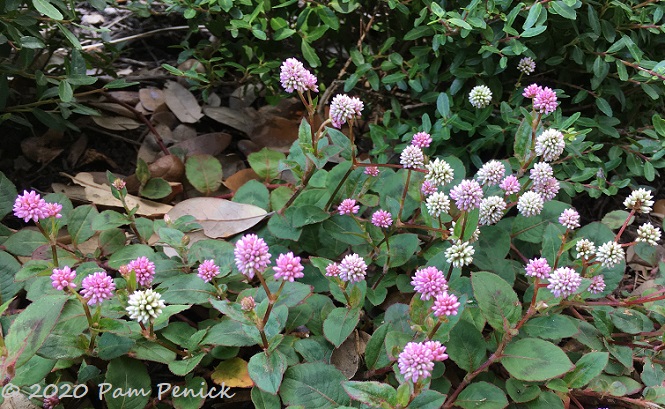 'Magic Carpet' knotweed (Polygonum capitatum 'Magic Carpet') has also burst into bloom with pink and ivory flowers like mouse-sized pom-poms. Some of its chevron-adorned leaves have even turned bright red, although I didn't manage to capture any in this photo.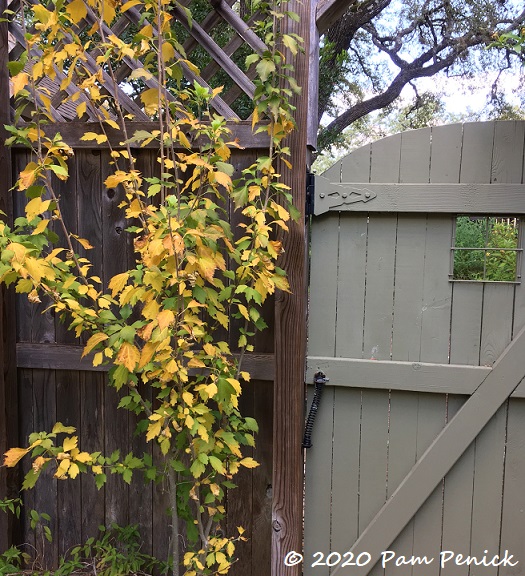 And hey, look! A surprising amount of fall color has appeared on the 'Purple Pillar' rose of Sharon (Hibiscus syriacus 'Purple Pillar').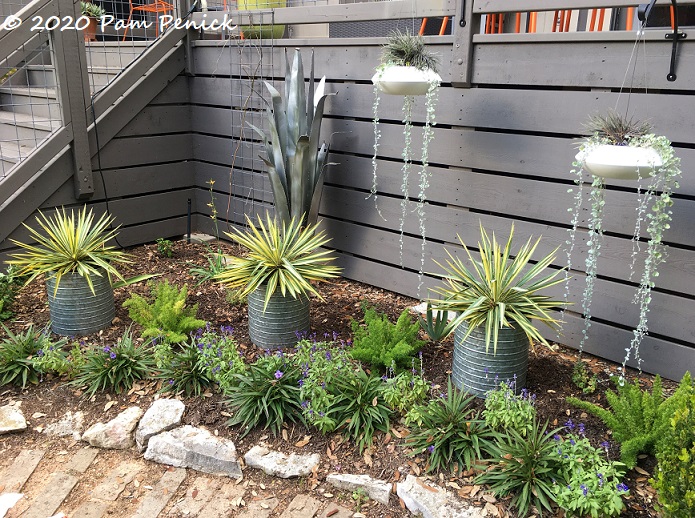 Fall is also prime time for redesigning and moving plants around. Like I need an excuse! I've been tinkering with this space at the foot of the deck since July, when I pulled out overgrown bamboo muhly grasses that had smothered everything else.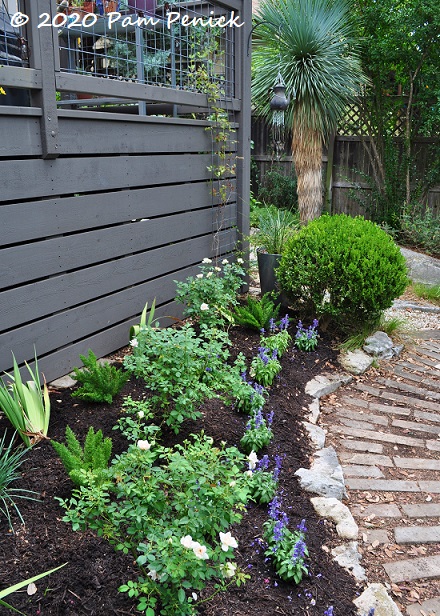 First I planted a trio of 'Icecap' roses (a nod to my former sunny garden), going for a cool white-and-purple color scheme. But I soon hated the Icecaps, whose white flowers faded to tan. Who has time to deadhead faded roses all summer?! So I ripped those out and replaced them with…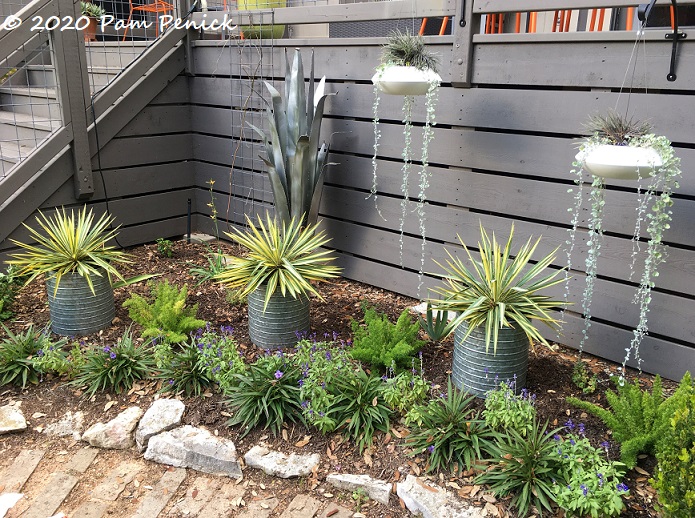 …a trio of striped 'Color Guard' yuccas in ribbed galvanized pots that echo the culvert-pipe planters on the opposite side of the Circle Garden. The border of 'Southern Star Blue' dwarf ruellia (Ruellia brittoniana) and 'Midnight Candle' mealy sage (Salvia farinacea 'Midnight Candle') will hopefully cover my poor rock edging by next summer.
Behind those are feathery foxtail ferns, a half-dozen 'Cat's Pajamas' catmint I bought from Plant Delights, and lavender irises, plus Echeandia texensis, aka copper spiders, from Barton Springs Nursery. I've been wanting to try this South Texas native for years and finally bought one last week. Check out Tina's post about it at My Gardener Says… for more info.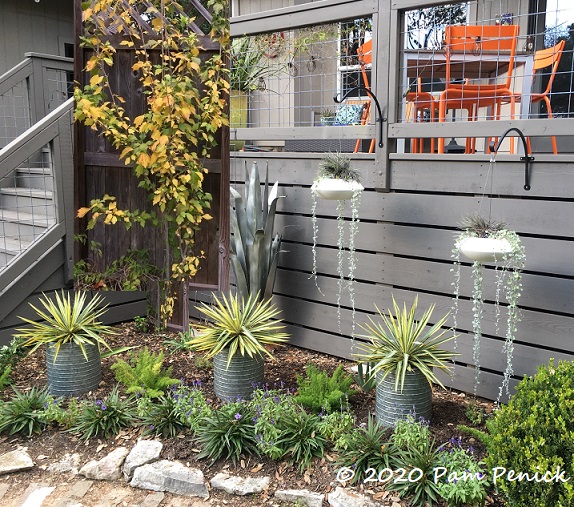 I took out the golden thryallis that was in the corner (I have plenty elsewhere) and replaced it with a teeny-tiny 'Purple Pillar' rose of Sharon I ordered from Proven Winners. Really, it's miniscule — about 3 inches tall right now. But I've used my amazing computer skills to mock up this image to show how it will look in a few years (glancing at my watch).
The hanging Orbit planters from Potted are there for levity — and levitation. And the silver agave/phormium is for additional vertical interest. Hmm, I may have to dub this the Silver and Gold Garden.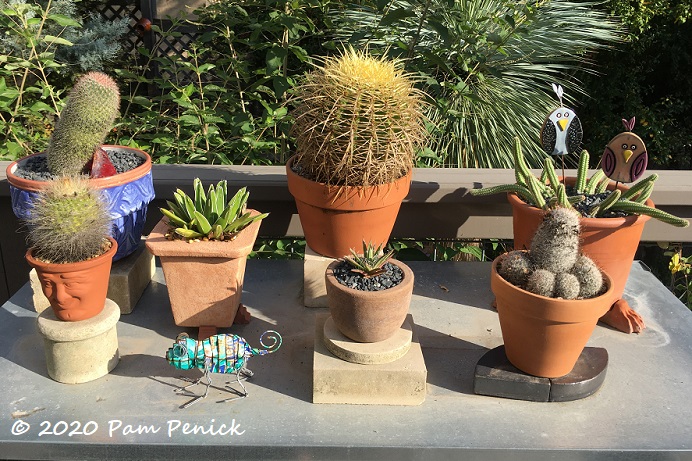 Up on the hot and sunny deck, my potted cactus collection (with a couple small agaves) is looking much better since I cleaned the stained pots and stone blocks with a little diluted bleach.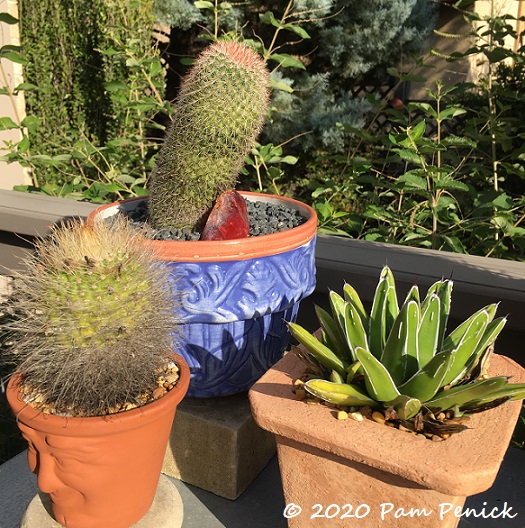 So touchable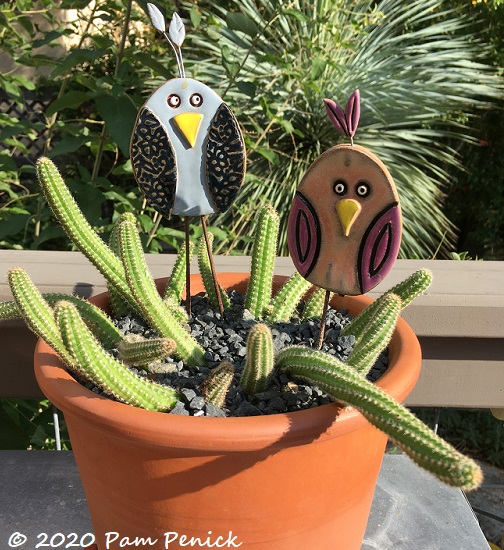 My new peanut cactus (Echinopsis chamaecereus) courtesy of Ragna in San Antonio. I can't wait to see it bloom next summer.
Agave x leopoldii is displayed on geometric limestone pieces I bought from Jackson Broussard. The Italian pot is from his collection too. He sold a bunch of pieces (and not just to me) at his Garden Spark talk last year. I miss Garden Spark! I hope to host more talks when covid-times are over.
With the advent of cooler weather, I've noticed my 'Espresso' mangave is coloring up nicely, with more purple showing amid the moonshine-yellow and sage-green stripes.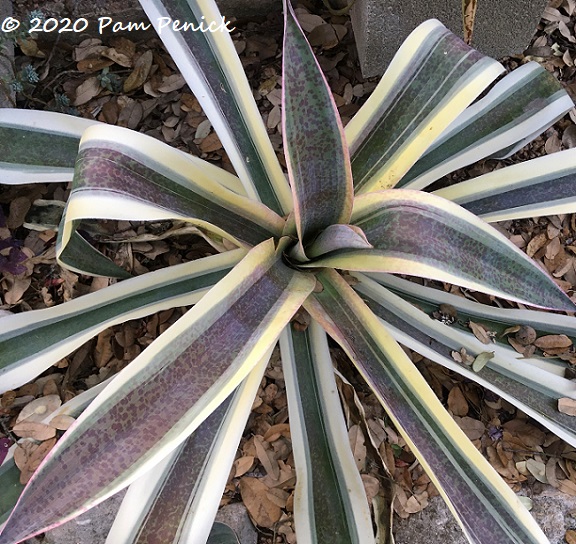 'Espresso', a variegated variety of Austin favorite 'Macho Mocha' mangave, was given to me by designer Scott Ogden, and it's become one of my favorite mangaves.
That's all for today. But I'll have some real fall color pics for you soon from the Wildflower Center, which I visited on Tuesday.
I welcome your comments; please scroll to the end of this post to leave one. If you're reading this in a subscription email, click here to visit Digging and find the comment box at the end of each post.
_______________________
Digging Deeper: News and Upcoming Events
Join the mailing list for Garden Spark! Hungry to learn about garden design from the experts? I'm hosting a series of talks by inspiring garden designers, landscape architects, and authors a few times a year. Held in Austin, the talks are limited-attendance events that sell out quickly, so join the Garden Spark email list to be notified in advance. Simply click this link and ask to be added.
All material © 2020 by Pam Penick for Digging. Unauthorized reproduction prohibited.