June 10, 2020
While photographing the owls and beating away mosquitoes a few evenings ago, I pointed my lens at the Circle Garden for the umpteenth time. This view makes me so happy!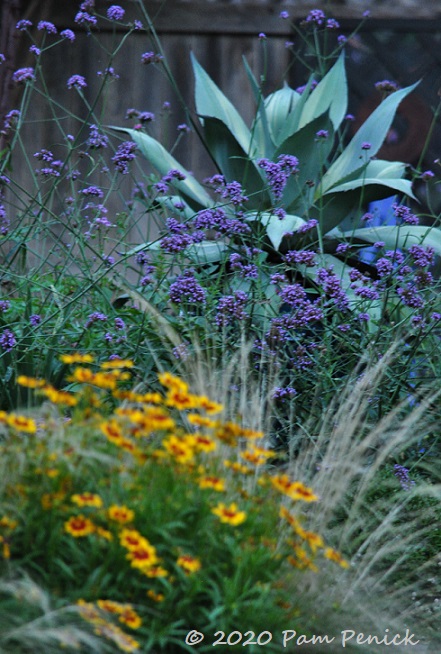 'Sterntaler' coreopsis (foreground) is beginning to flag in the near-100-degree heat we've had all week. Who can blame it? But there are still plenty of gold-and-oxblood flowers mingling with the Mexican feathergrass. Beyond, Verbena bonariensis continues to put on a beautiful show, dancing like ladies-in-waiting around the queenly variegated whale's tongue agave elevated in a pot.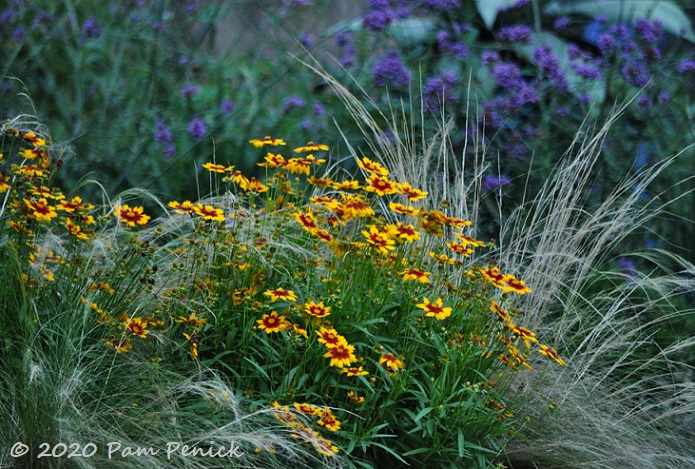 'Sterntaler' coreopsis and Mexican feathergrass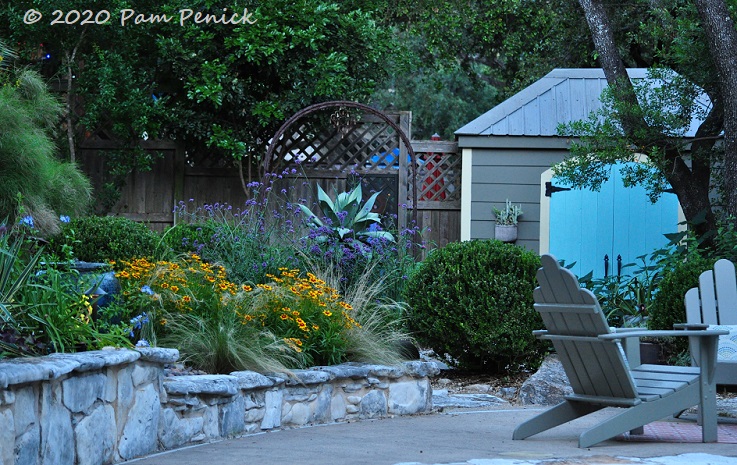 A wider view reveals structural elements like 'Winter Gem' boxwood balls, stone wall, and pool-pump shed. My neighbors' colorful umbrellas, visible through the lattice of the fence, always grab my eye, but I can't begrudge anyone their shade from the Death Star.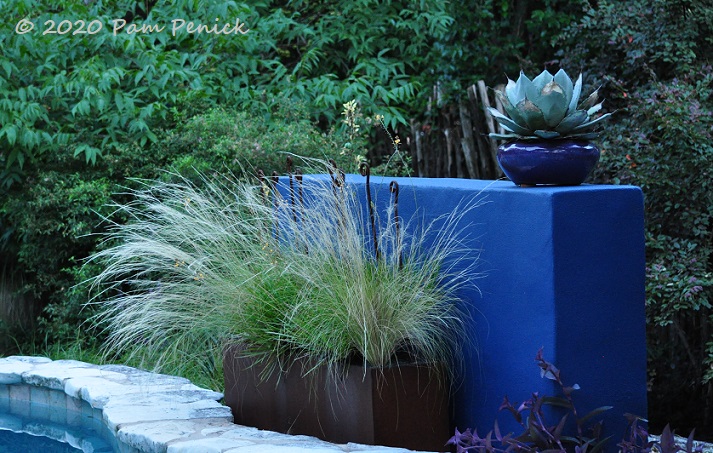 Blue wall, more feathergrass in a steel planter, a still-recovering artichoke agave that accidentally got solarized last fall during our pool refinishing, and purple heart (Tradescantia pallida) surfing up alongside that cobalt wall, echoing the purple of the agave pot — a happy accident!
True confession: it took me 5 years to get the monolith wall looking the way I wanted. I tried planting directly in front of it, hanging my Austin sign in front, and just leaving it blank (pitiful). Finally — how did it take me so long?! — I hit on the idea of adding a custom steel planter box in front, planted simply with bulbine and feathergrass, and that did the trick. Now I'm completely happy with it. A little Luis Barragán and Steve Martino in my garden!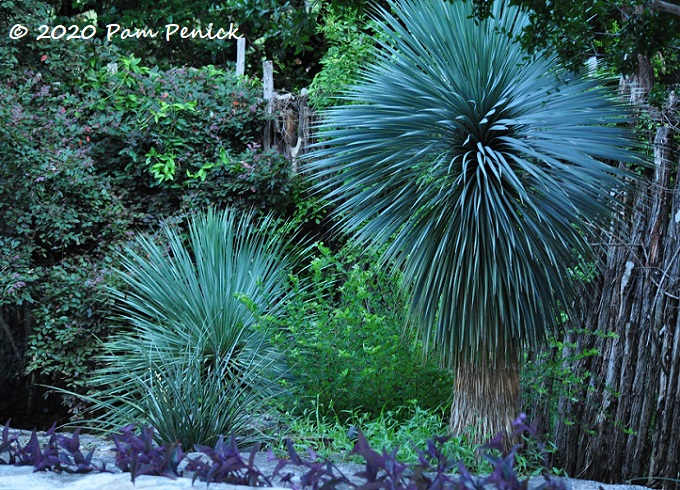 Behind the wall, big sister and little sister Yucca rostrata seem to shine even as dusk fades into twilight. Man, have these two grown quickly over the past few years.
I welcome your comments; please scroll to the end of this post to leave one. If you're reading this in a subscription email, click here to visit Digging and find the comment box at the end of each post.
_______________________
Digging Deeper: News and Upcoming Events
Donate to the Tom Spencer Million Trees for Austin Fund, established by TreeFolks in March 2020 to honor Tom Spencer, a tireless environmental advocate and longtime host of Central Texas Gardener. Tom's bold vision of planting another million trees in the Austin community inspired TreeFolks to pursue this goal, and they invite others to join the campaign. In Tom's own words, "Plant trees, plant hope."  For information about making an annual gift, stock donation, or charter contribution, please call Andrew W. Smiley, TreeFolks Executive Director at 512-413-7774, or visit their website for additional information.
Join the mailing list for Garden Spark! Hungry to learn about garden design from the experts? I'm hosting a series of talks by inspiring garden designers, landscape architects, and authors a few times a year. Held in Austin, the talks are limited-attendance events that sell out quickly, so join the Garden Spark email list to be notified in advance. Simply click this link and ask to be added.
All material © 2020 by Pam Penick for Digging. Unauthorized reproduction prohibited.