[ad_1]

August 13, 2020
Forgetting about the closure of city parks in Austin due to Covid-19, my daughter and I tried to visit Mayfield Park in west Austin a couple of weeks ago. Finding the gates locked, we decided to make the best of it and drove around tony Tarrytown neighborhood to admire pretty front-yard gardens. We found some cool ones!
Silver Fox
I call this one Silver Fox for its massive, silver-blue whale's tongue agaves (A. ovatifolia) and shimmery groundcover of silver ponyfoot (Dichondra argentea).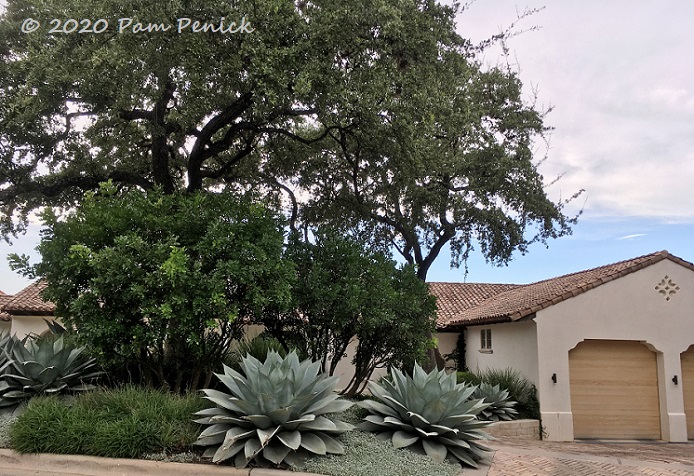 Evergreen Texas mountain laurels screen the house from the road. I bet this scene is stunning in early spring when the trees drip with purple flowers. The grassy groundcover at left looks like bulbine, which can get tired in our hot summers and stop blooming. Same.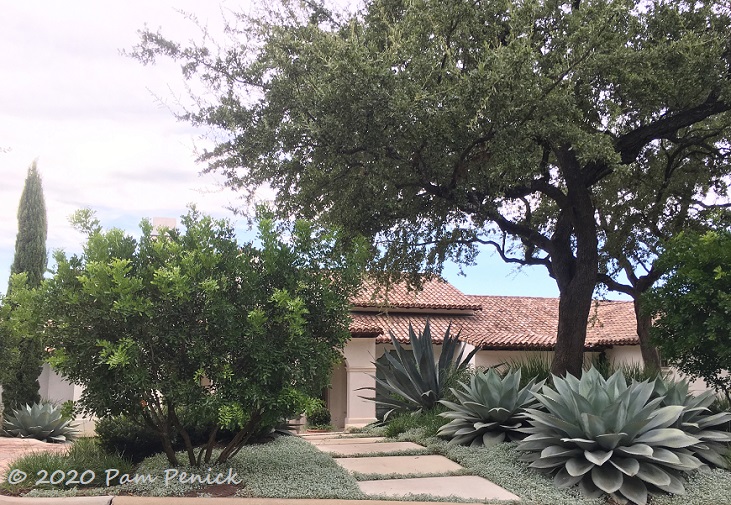 The agaves were planted well back from the path — and I mean well back — and now you see why. These babies get big! That's another kind of agave in back, probably Agave americana. Only a few species are planted in this front garden, but they really make an impact.
Corten Dreams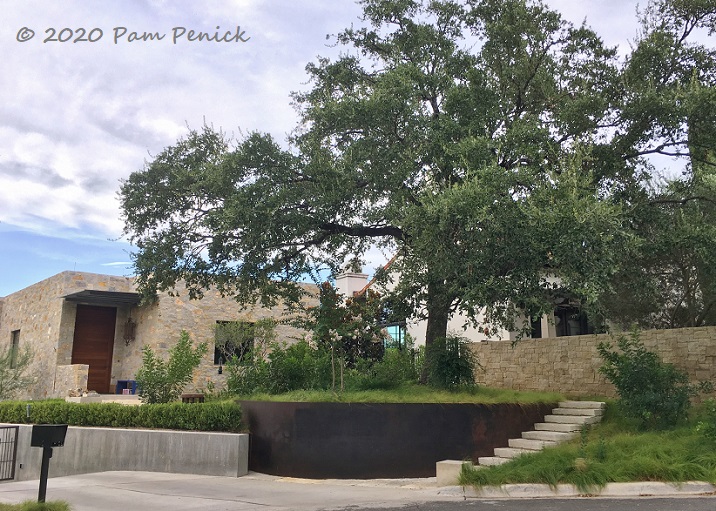 This rectilinear contemporary home is set off by a curved retaining wall of corten steel embracing a large live oak. Shazam! I can't imagine what it cost, but that rusty wall sure is beautiful contrasting with the rectangular lines and lighter surfaces of limestone and concrete. Sedge, not lawn, gives a soft, meadowy texture to the different elevations.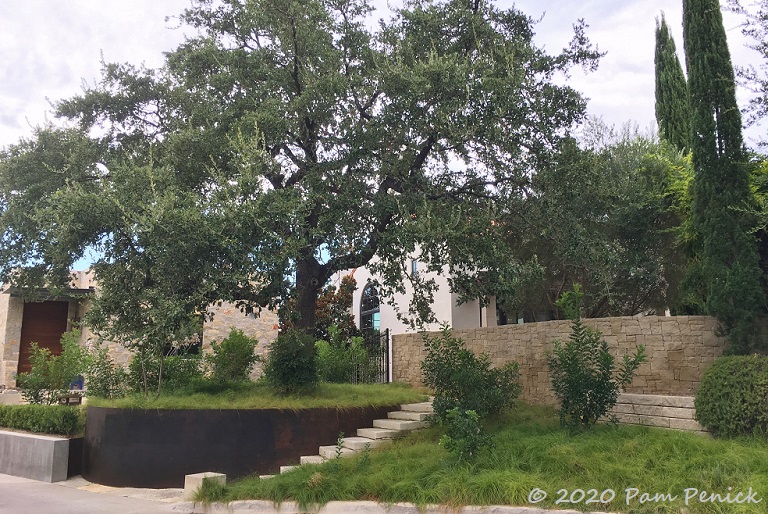 I believe the stairs are urbanite, aka recycled concrete. Eco-friendly, low-water plants, no lawn, and a beautifully composed mix of corten, concrete, limestone, and urbanite — this is the aspirational look of contemporary landscaping in Austin nowadays.
Shades of Green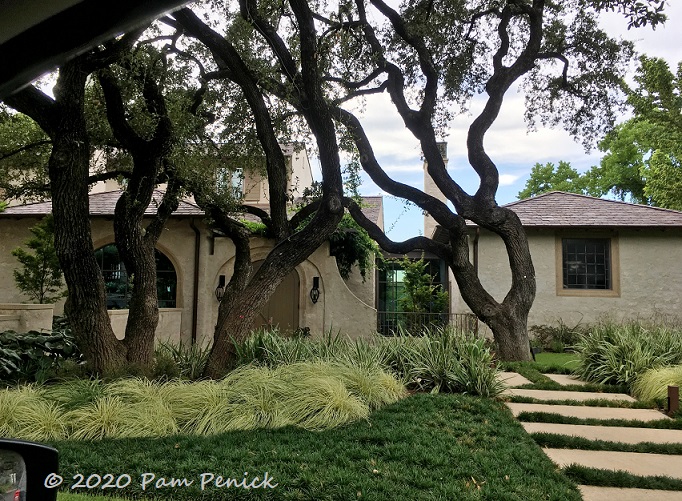 I got a lemon-lime vibe from this house's grassy shades of green. The composition looks like dwarf mondo grass, some type of Japanese sedge, and variegated flax lily in back. Very pretty.
Spiky Fringe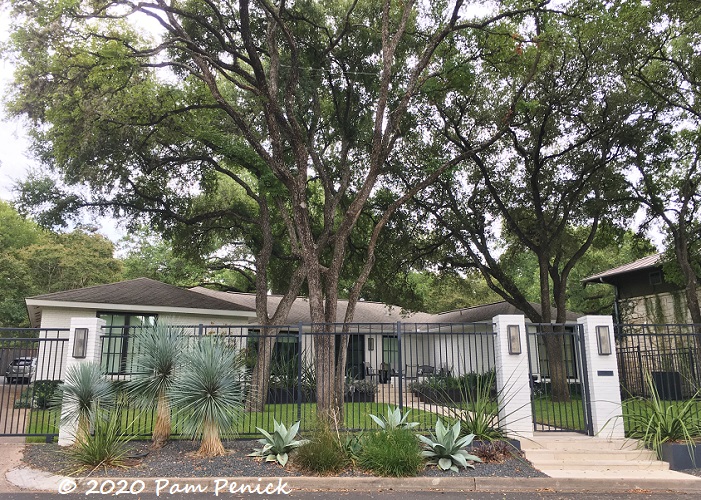 With its tall fence and hellstrip of spiky plants — Yucca rostrata, whale's tongue agave, dyckia, and giant hesperaloe — you could be forgiven for thinking this home has posted a virtual do-not-disturb sign. But it actually looks too good to be that forbidding. Maybe they have little kids or pets, or maybe it's deer fencing. At any rate, you can see through the fence to an inviting front-yard terrace — a perfect spot to watch the world go by.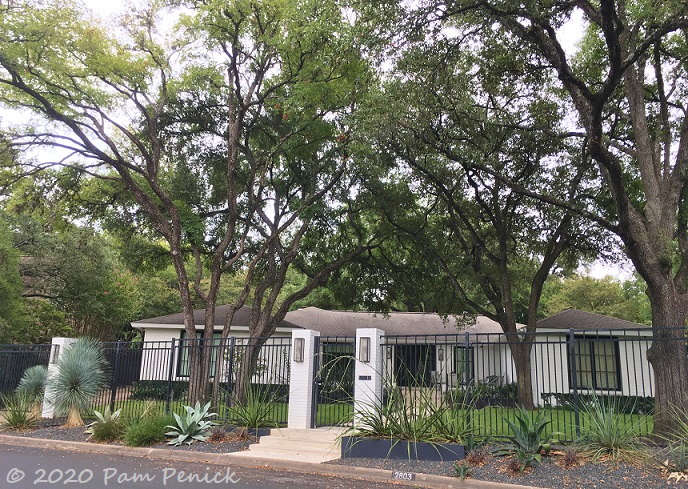 I like it.
Mondrian Front Yard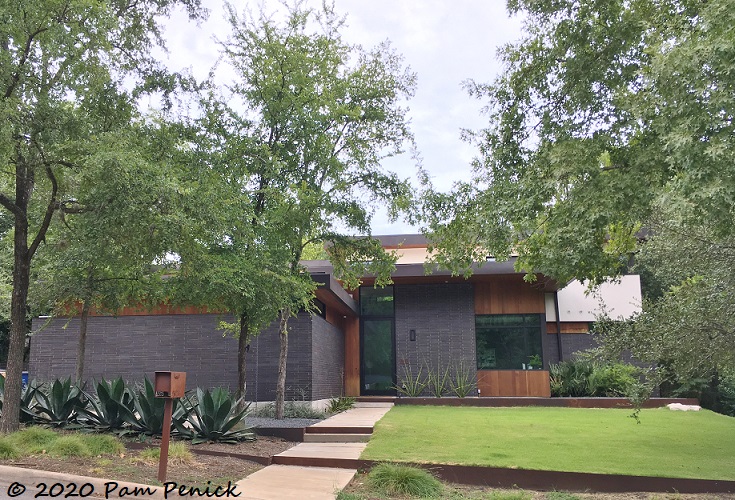 Like a color-blocked Mondrian painting, this yard uses corten steel to terrace and segment the front lawn and planting beds. A line of 'Green Goblet' agaves at left and a trio of giant hesperaloes by the front door emphasize the horizontal plane. Whatever used to occupy the strip along the street — sedges by the look of it — has mostly gone to plant heaven. But it's an interesting design that plays well with the architecture of the contemporary house.
Palm Lover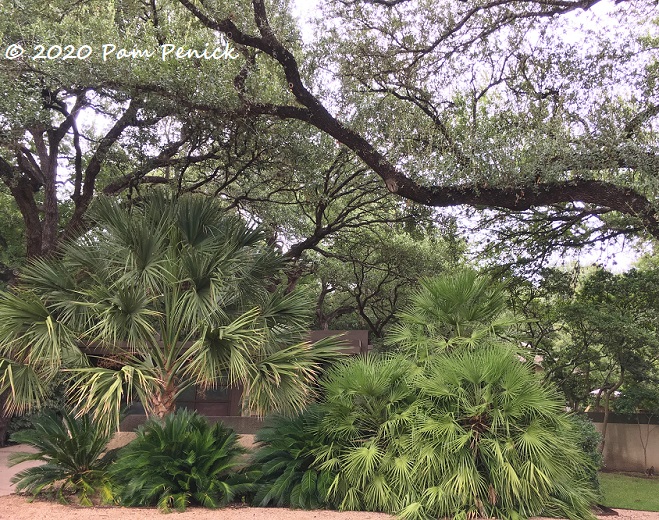 Someone loves bold, tropicalesque foliage! I couldn't see the house, tucked away behind a wall and masses of palms and sago palms. But the streetside planting sets a mood. I wonder if the rest of the garden follows suit.
Grassy Contemporary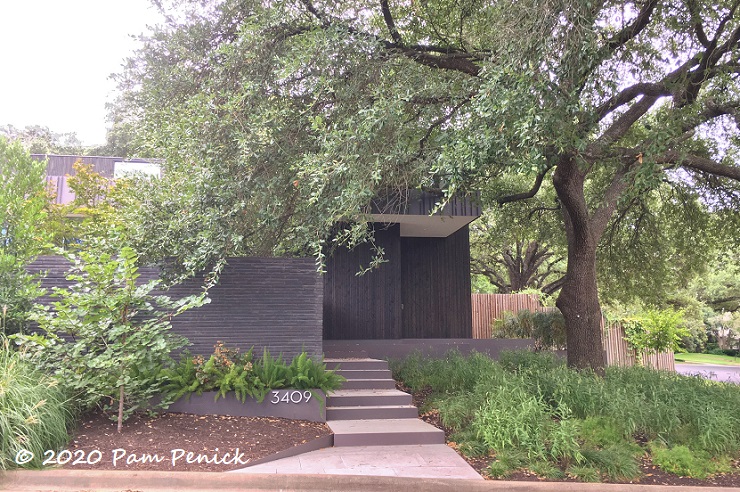 This straight-edged contemporary home recedes into the landscaping thanks to dark-gray paint, a sheltering tree, and a naturalistic garden of massed grasses. Inland sea oats (Chasmanthium latifolium) thrive in the shade of the tree.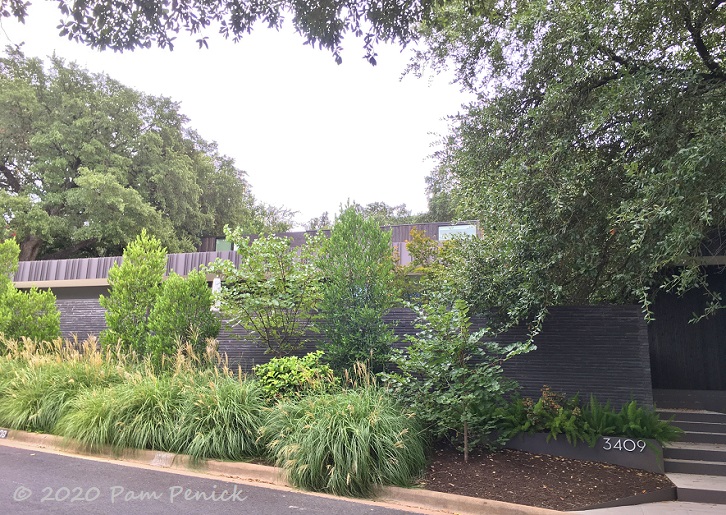 On the sunny side, spherical tuffets of miscanthus grass are starting to flower. Ornamental trees add green screening along the wall.
Silver Cascade
Hillsides are nearly impossible to mow and keep watered, so it makes sense to get rid of the grass. This homeowner opted for a cascade of silver ponyfoot studded by whale's tongue agave and what looks like 'Green Goblet' agave. Red roses pop against the cool silvers. I think it would be prettier and more updated to paint the stucco wall and brick columns a unifying charcoal color, which would make the wall less in-your-face as you look up the hill to admire the plants.
Funny Farm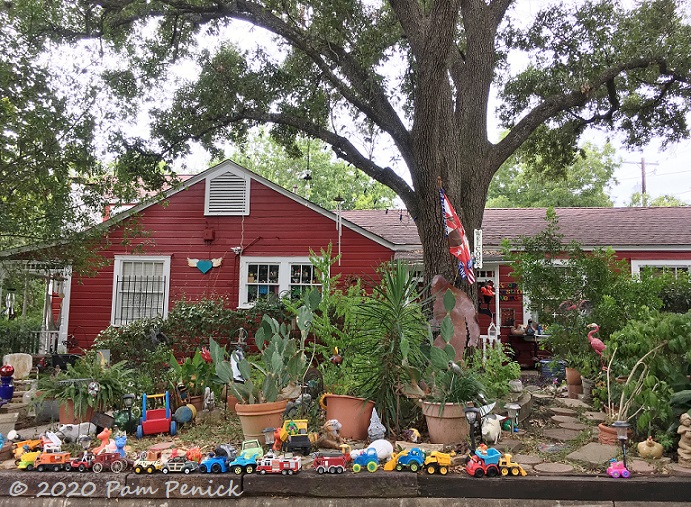 Amid all the contemporary tear-down/rebuilds, this original ranch stands out with brick-red siding and a South Austin-style display of plastic toy trucks, animal figurines, Star Wars toys, wind chimes, and eclectic potted plants. A small sign in the garden proclaims, "Welcome to the funny farm." And why not? They're having fun with their yard and reminding us all not to take ourselves too seriously.
Work of Art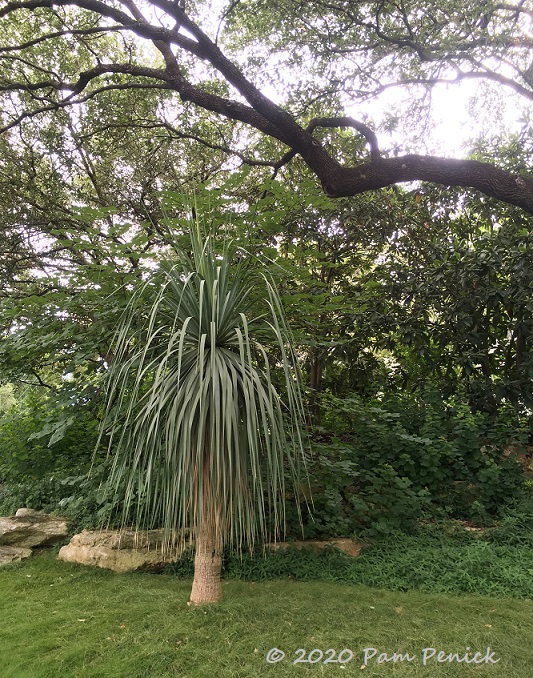 Still, I can't help but admire the elegant restraint of this painterly vignette: a tall, trunking blue nolina (I think), framed by a dark tree branch, with a green mat of shaggy zoysia or maybe Habiturf. Sometimes less is more.
I welcome your comments; please scroll to the end of this post to leave one. If you're reading this in a subscription email, click here to visit Digging and find the comment box at the end of each post.
_______________________
Digging Deeper: News and Upcoming Events
Garden Bloggers Fling, the online community and annual meet-up for garden bloggers since 2008, has expanded to include garden vloggers, podcasters, and Instagrammers. Check out their announcement AND their newly revitalized Instagram page, which is sharing pics from past Fling tours as well as community member profiles.
Join the mailing list for Garden Spark! Hungry to learn about garden design from the experts? I'm hosting a series of talks by inspiring garden designers, landscape architects, and authors a few times a year. Held in Austin, the talks are limited-attendance events that sell out quickly, so join the Garden Spark email list to be notified in advance. Simply click this link and ask to be added.
All material © 2020 by Pam Penick for Digging. Unauthorized reproduction prohibited.


[ad_2]

Source link