[ad_1]

June 26, 2020
Getting into my car last week, I was surprised to see a doe walking steadily toward me, ambling down the driveway like she owned the place. Did she have a fawn stashed nearby, I wondered? (I saw twin fawns in the garden soon after, so maybe.)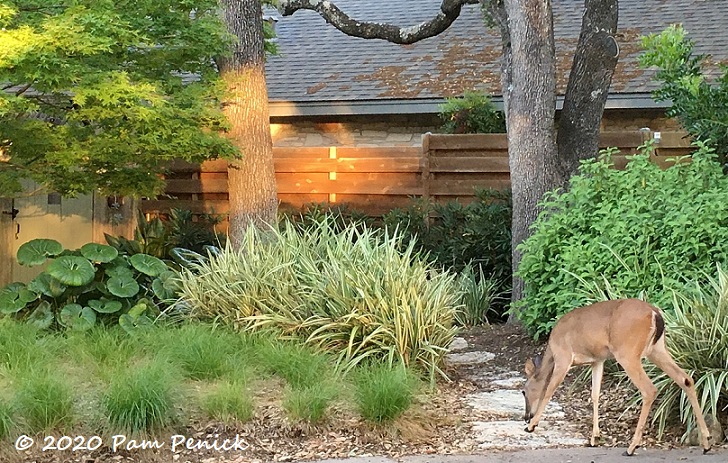 I gave her space and watched quietly, and she moseyed onto the path toward the back gate.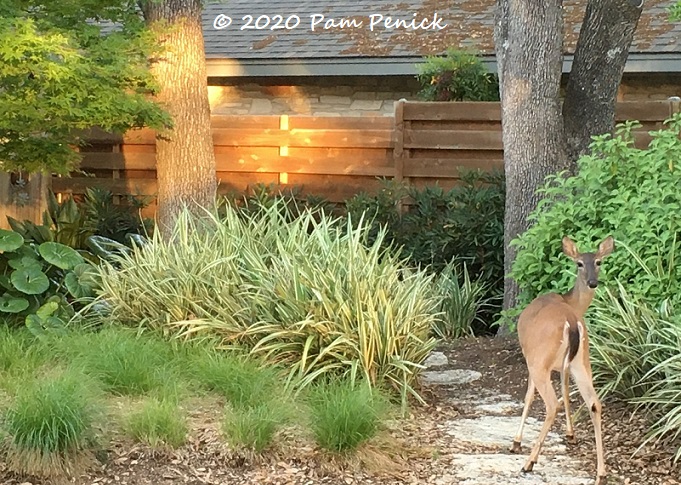 She checked to make sure I was watching…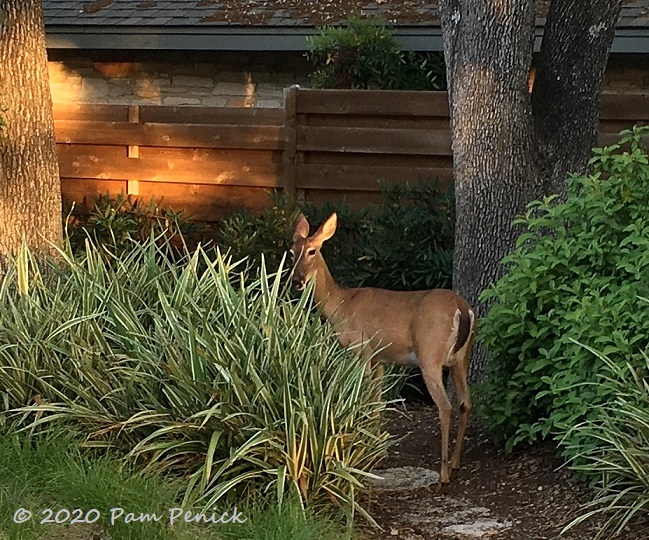 …and then started munching my variegated flax lily (Dianella tasmanica 'Variegata'). The nerve! I'd noticed that my dianella were getting browsed over the past months, but seeing it happen was a bridge too far. So I stepped out from the car and clapped my hands at her. "Hey," I yelled.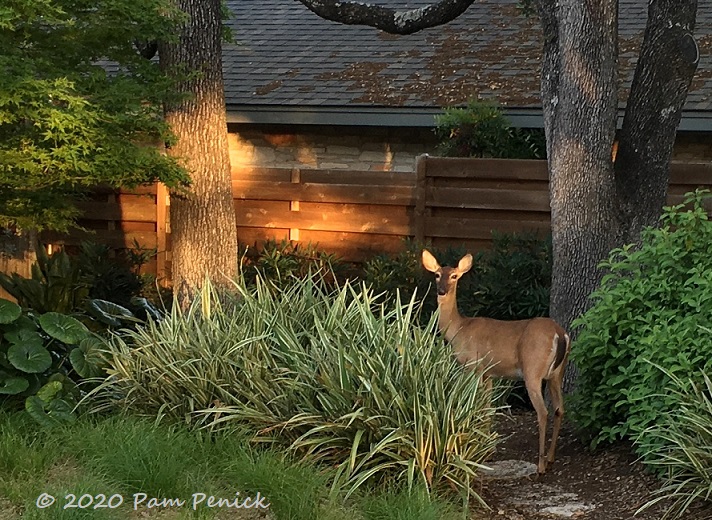 She just gave me a look that plainly said, "This is my garden. What's your deal, lady?"
So I left her to it. I guess there's plenty of dianella to go around. For now. She or her buddies already polished off the native river fern that used to grow over here.
I welcome your comments; please scroll to the end of this post to leave one. If you're reading this in a subscription email, click here to visit Digging and find the comment box at the end of each post.
_______________________
Digging Deeper: News and Upcoming Events
Donate to the Tom Spencer Million Trees for Austin Fund, established by TreeFolks in March 2020 to honor Tom Spencer, a tireless environmental advocate and longtime host of Central Texas Gardener. Tom's bold vision of planting another million trees in the Austin community inspired TreeFolks to pursue this goal, and they invite others to join the campaign. In Tom's own words, "Plant trees, plant hope."  For information about making an annual gift, stock donation, or charter contribution, please call Andrew W. Smiley, TreeFolks Executive Director at 512-413-7774, or visit their website for additional information.
Join the mailing list for Garden Spark! Hungry to learn about garden design from the experts? I'm hosting a series of talks by inspiring garden designers, landscape architects, and authors a few times a year. Held in Austin, the talks are limited-attendance events that sell out quickly, so join the Garden Spark email list to be notified in advance. Simply click this link and ask to be added.
All material © 2020 by Pam Penick for Digging. Unauthorized reproduction prohibited.
[ad_2]

Source link