[ad_1]

November 19, 2020
Did a few bigtooth maples from Lost Maples Park lose their way and end up at the Lady Bird Johnson Wildflower Center? It sure looked that way last week, when I spotted pumpkin-spice trees in the Family Garden. This is part 2 of my tour.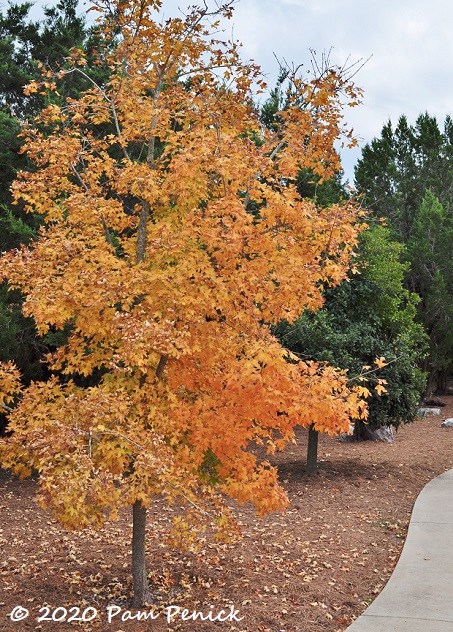 Big, colorful maples are rare in central Texas, disliking our dry alkaline soil. We can grow Japanese maples with enough shade and water, but they tend to be small and uncommon except in well-tended gardens.
However, there is one large maple tree that thrives in central Texas: bigtooth maple (Acer grandidentatum), native to cool, sheltered, alkaline canyons west of Austin. These "lost maples" were left behind when the last Ice Age ended and maples retreated north. Today leaf-peepers flock to see them at Lost Maples State Natural Area in Vanderpool.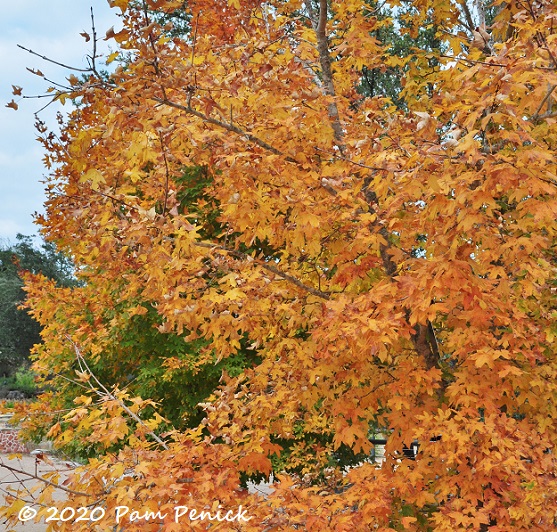 Growers began selling bigtooth maple about 15 years ago, and now you can find it in local nurseries. If I had a sunny open spot I'd try one.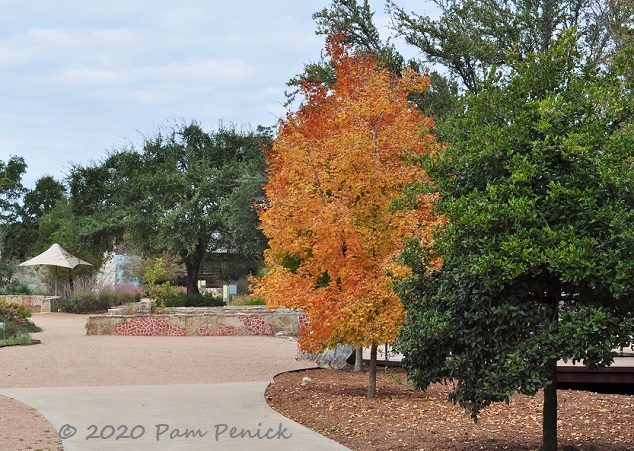 The bigtooth maples at the Wildflower Center were putting on a fiery show last week. This one looks like a candle's flame against a backdrop of green trees.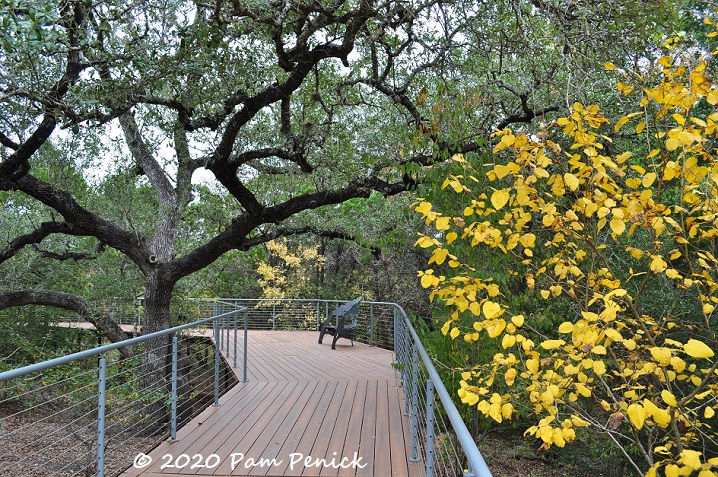 Other colors brightened the understory, like this golden-yellow tree.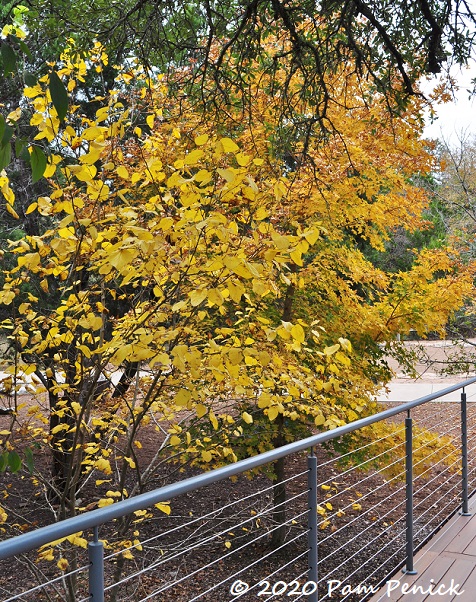 It's glow time.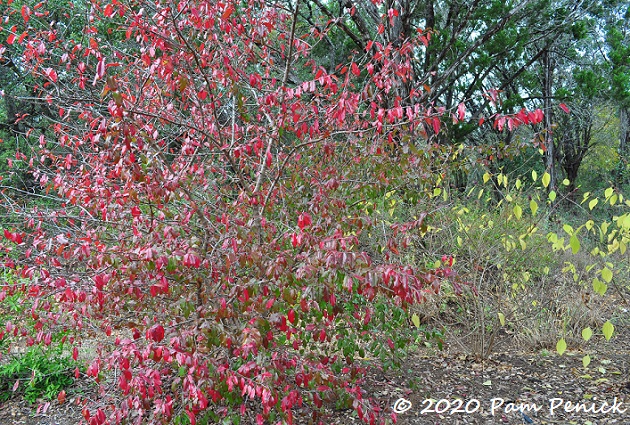 Valentine-red leaves dangle from rusty blackhaw viburnum (Viburnum rufidulum), a shrubby, woodland-edge plant I keep meaning to find a place for in my own garden.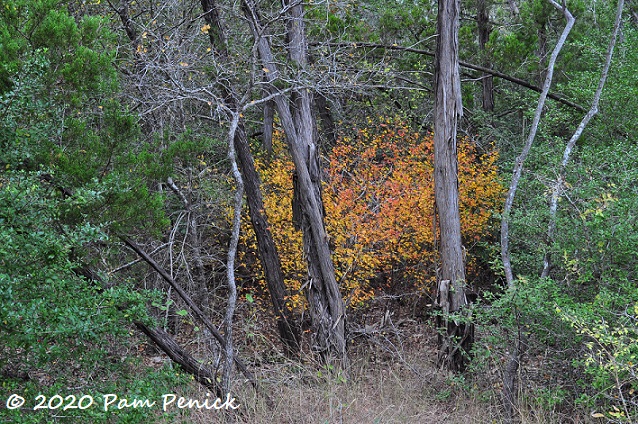 This orange-leaved shrub blazed away in the seclusion of the woods.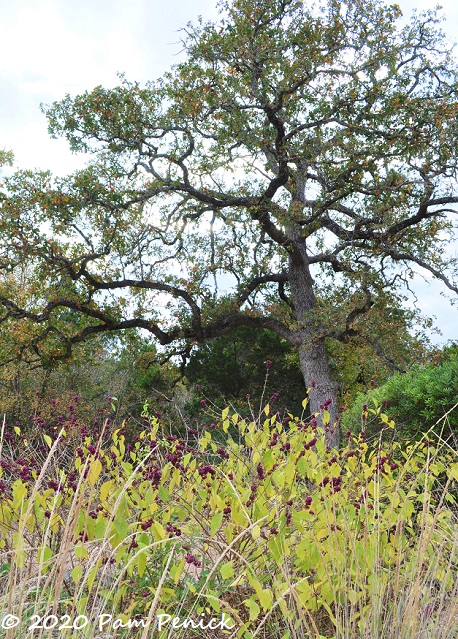 Even American beautyberry gets in on the act, with floppy leaves turning yellow-green, complementing clusters of magenta berries.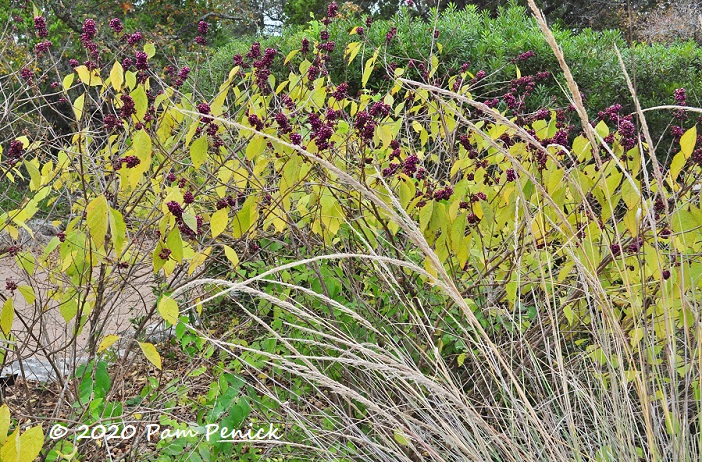 It looks especially pretty against an emerald hedge of Southern wax myrtle.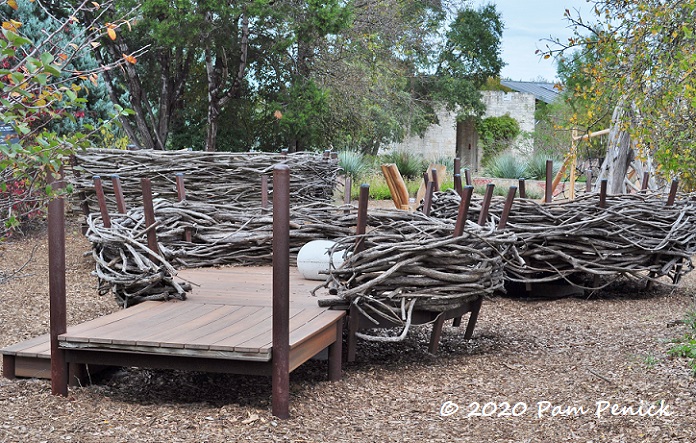 All the kids were exploring the play forts in the Fortlandia exhibit (I'll have pics from Fortlandia in my next post), leaving the Family Garden a ghost town of empty nests and quiet play spaces.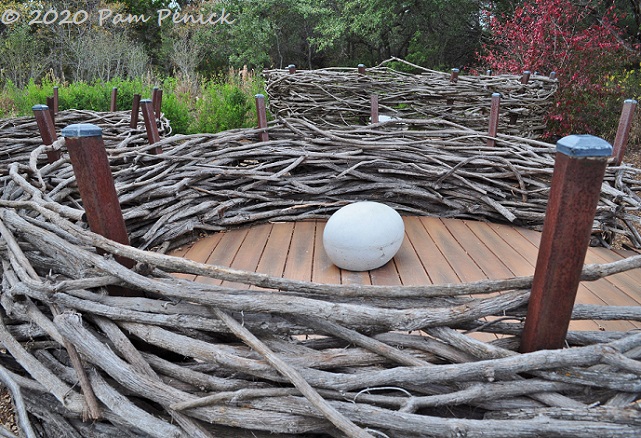 The original round, wooden eggs that could be rolled around have been replaced with stationary white ones — a stool of sorts.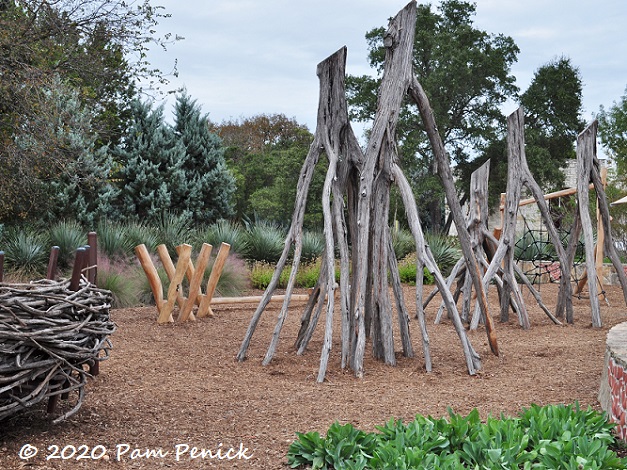 The stumpery has undergone some changes too. The sinuous logs that once lay across the ground had begun to rot, and I wasn't surprised to see they'd been removed. A new V-shaped arrangement of logs has been installed, but the tall "walking stumps" of old juniper trees still dominate the space.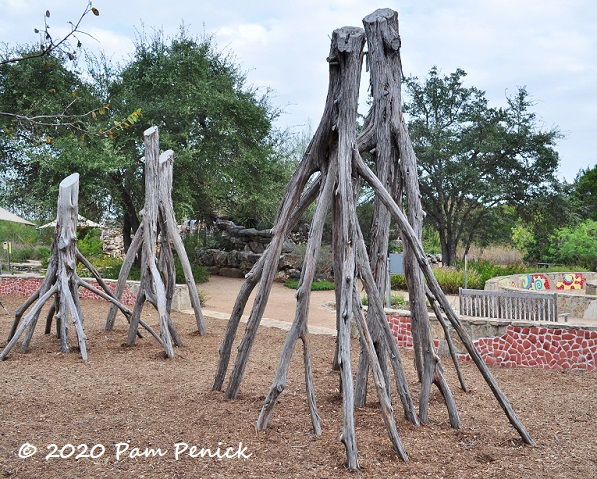 They remind me of the aliens in Arrival.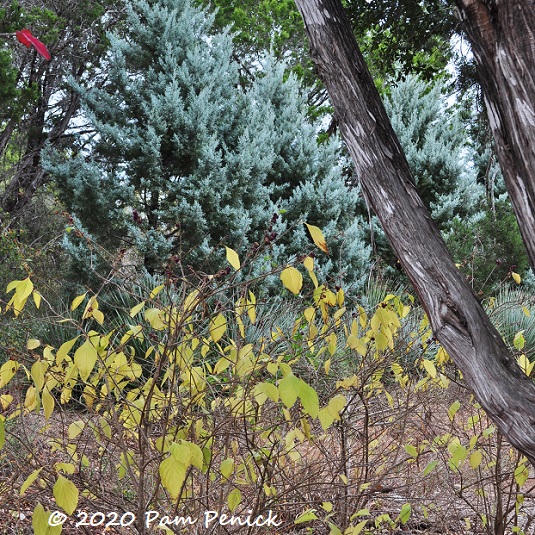 More pale-gold American beautyberries are set off by frosty blue Arizona cypress.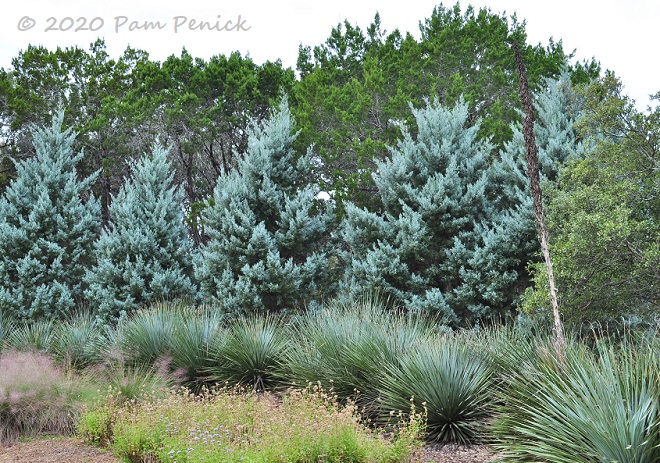 I'd almost call this a turquoise garden with those 'Blue Ice' Arizona cypresses and wheeler's sotols.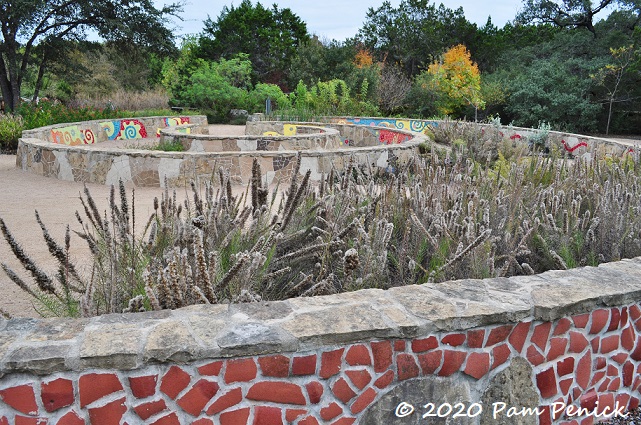 The Fibonacci spiral wall holds back a crowd of fuzzy liatris seedheads.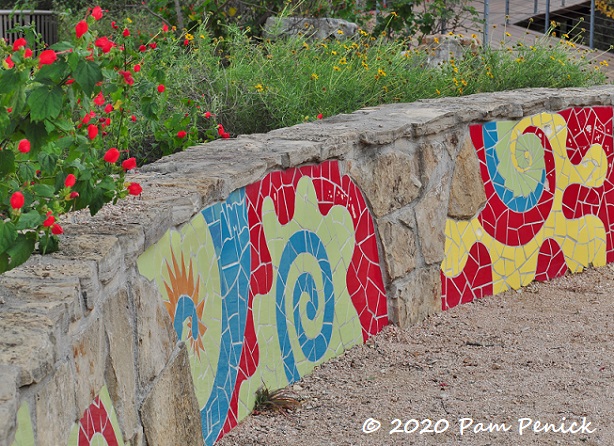 Turk's cap echoes the red tiles of the wall mosaic.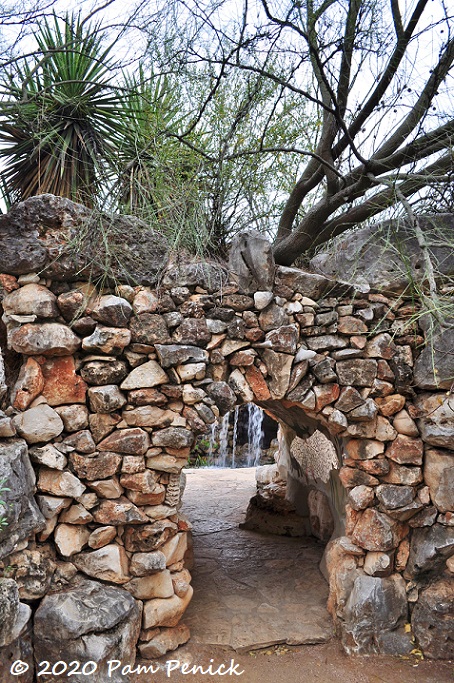 Taking a peek inside the kid-sized tunnel…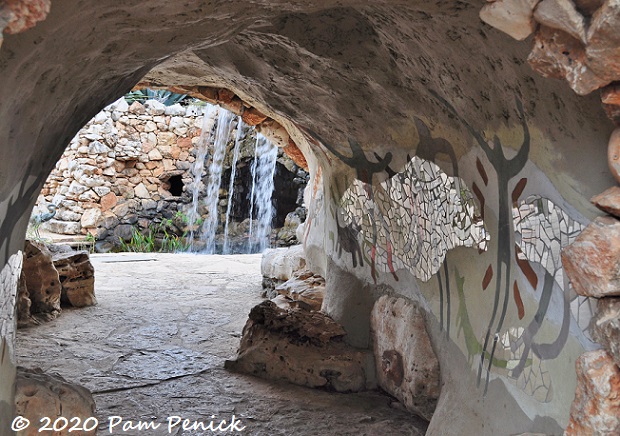 …to appreciate the Keith Haring-style cave mosaics.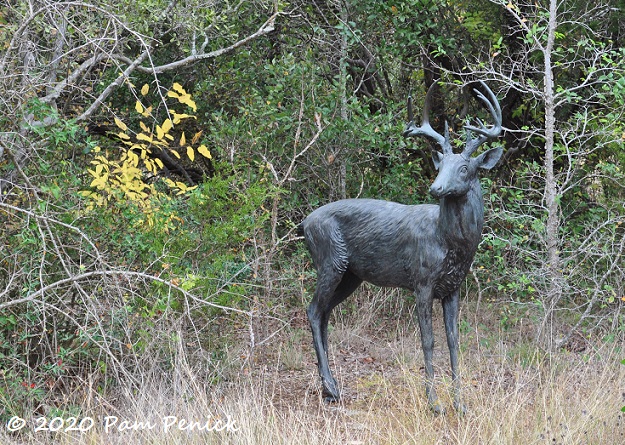 A bronze deer (by artist David C. Iles) pauses at the edge of a clearing.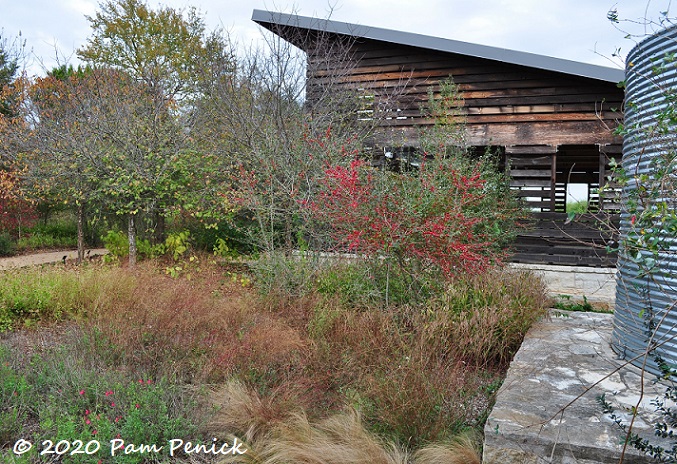 Behind the big shade pavilion, tawny grasses and red berries provide more autumnal beauty.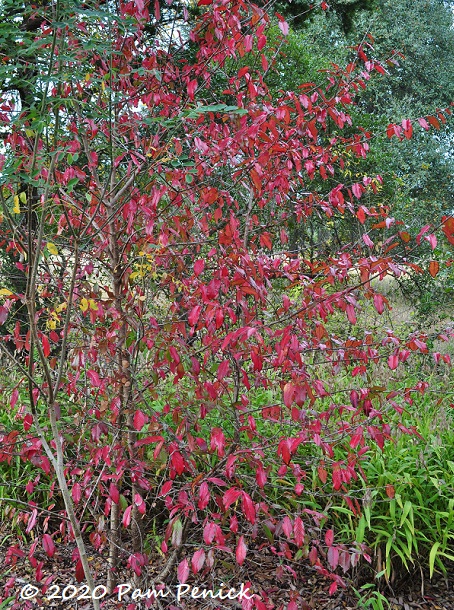 Another blazing rusty blackhaw viburnum stopped me in my tracks.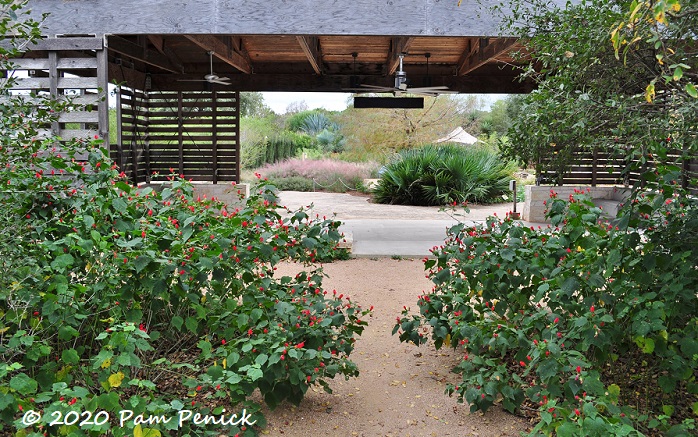 Turk's cap frames the back entrance to the pavilion.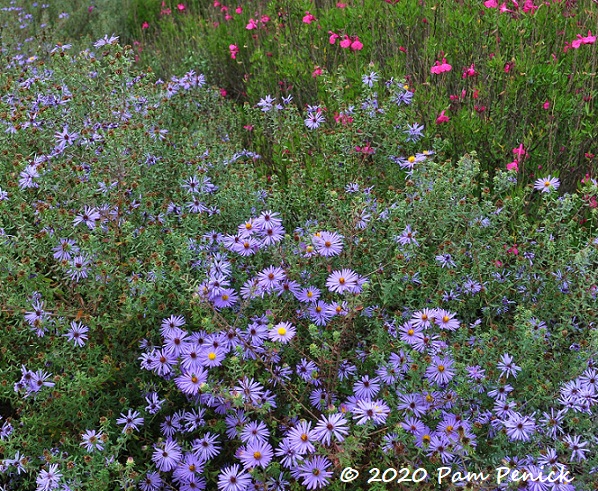 Out front, purple fall aster and hot-pink autumn sage make a pretty pair.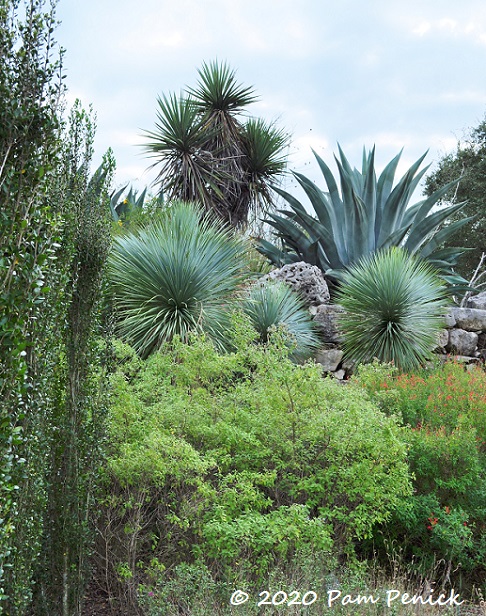 Atop a rocky wall, heat lovers like yucca and agave thrust their spiky leaves toward the sky.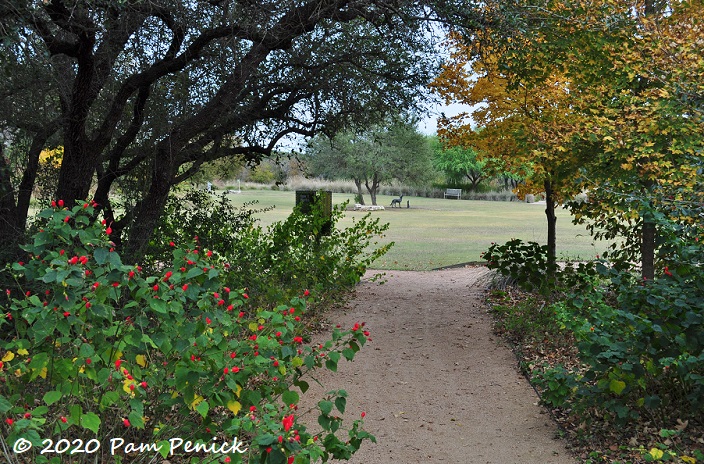 More Turk's cap and a few more bigtooth maples line the path to the play lawn.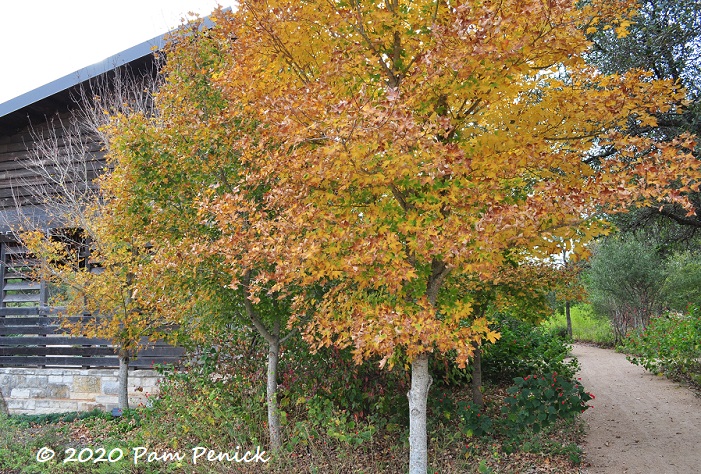 Bigtooth maple in fall glory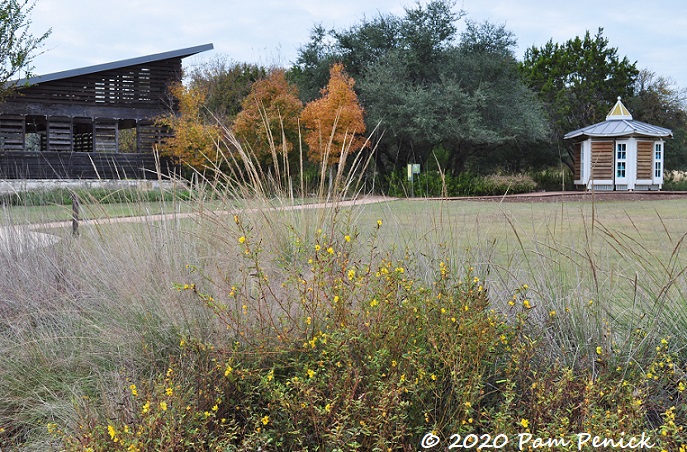 A shrubby plant with yellow flowers caught my eye: partidge pea (Chamaecrista fasciculata).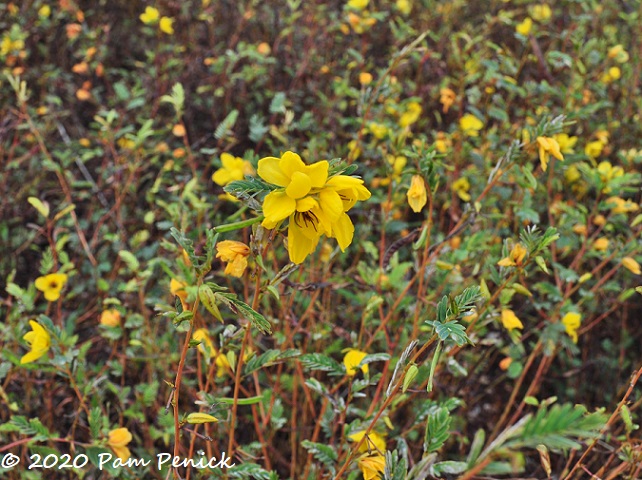 Charming flowers nod atop orange stems.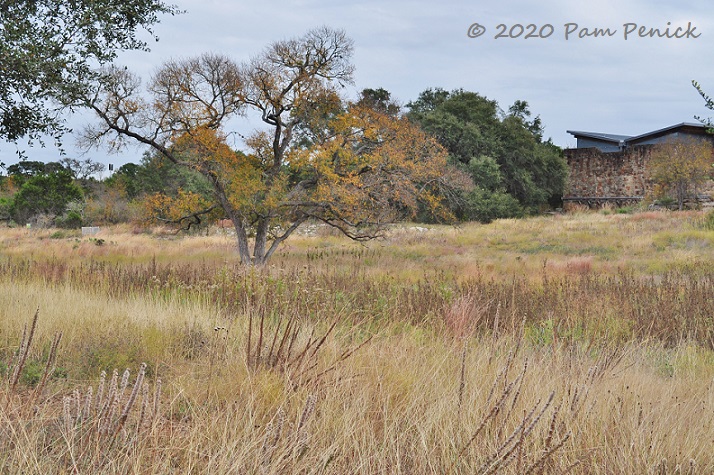 Heading back to the main gardens, I passed the large meadow, which sparkles with wildflowers in spring and early summer but now is a painterly swath of tan, brown, and russet grasses. Ah, fall.
Up next: The imaginative play forts of Fortlandia! For a look back at more fall foliage in part 1 of my Wildflower Center visit, click here.
I welcome your comments; please scroll to the end of this post to leave one. If you're reading this in a subscription email, click here to visit Digging and find the comment box at the end of each post.
_______________________
Digging Deeper: News and Upcoming Events
Join the mailing list for Garden Spark! Hungry to learn about garden design from the experts? I'm hosting a series of talks by inspiring garden designers, landscape architects, and authors a few times a year. Held in Austin, the talks are limited-attendance events that sell out quickly, so join the Garden Spark email list to be notified in advance. Simply click this link and ask to be added.
All material © 2020 by Pam Penick for Digging. Unauthorized reproduction prohibited.
[ad_2]

Source link