[ad_1]

June 22, 2020
Aw, how fast they grow up! Agaves, that is. And then they start nipping at your shins every time you walk past.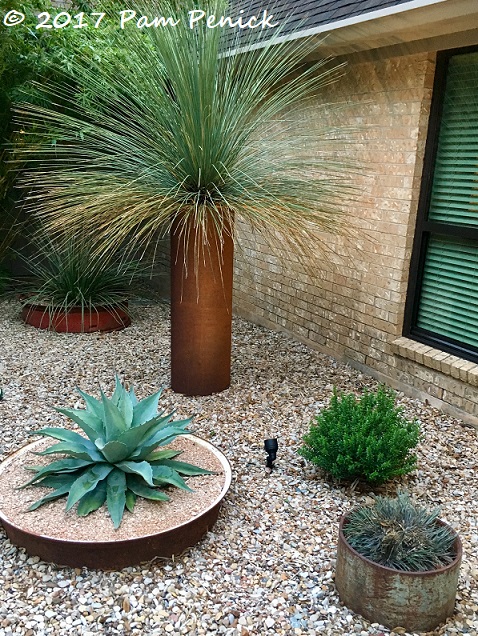 …was only this big 3 years ago — the perfect size for this spot, but still with room to grow.
Recently we added to our front landscape lighting, and the technician asked me, as he delicately adjusted the light next to Vanzie, doging its terminal spikes, "How big are you going to let this get?" I raised an eyebrow and replied, "You don't really let an agave do anything." We both laughed, but it got me thinking.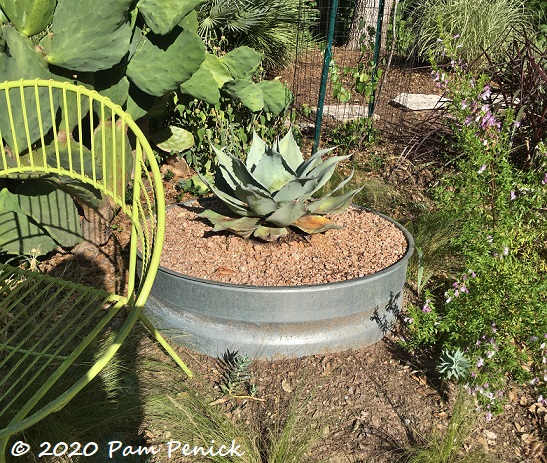 What it got me thinking was that I needed a bigger agave over here in this container (a galvanized fire ring from Tractor Supply) in the island bed. I planted this little whale's tongue last year to fill a gap where a trio of 'Color Guard' yuccas once grew. The yuccas had declined and I took them out, leaving a focal-point hole. An elevated agave seemed just the ticket. But then it looked so small! It bugged me.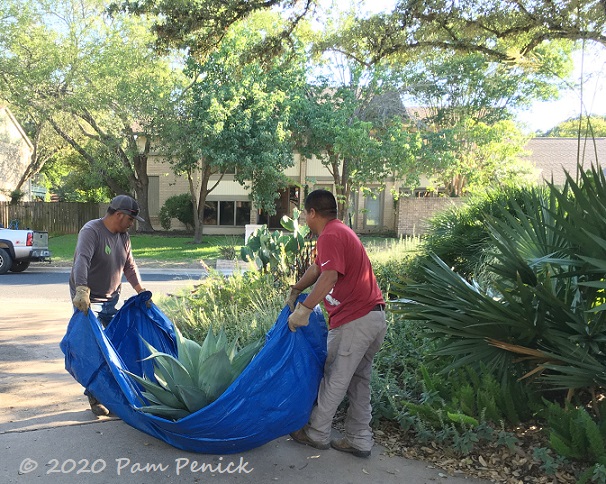 So last weekend I pulled a switcheroo. I dug up the little agave and set it aside and hired a couple of guys to come dig up Vanzie, the bigger agave. That took some doing, and some lower leaf removal, but they eventually got it out with a decent root system intact. A tarp stretcher successfully transplanted our patient over to its new home.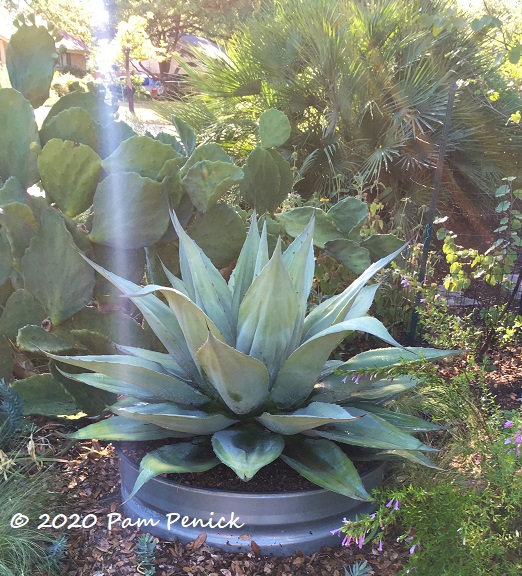 And it looks glorious!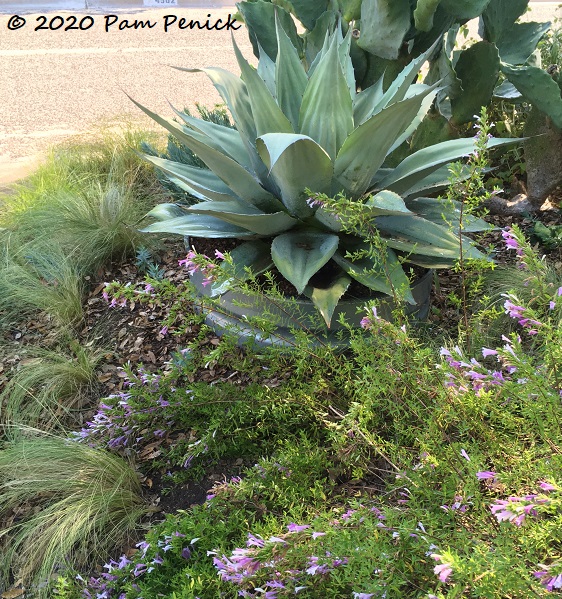 Now Vanzie has space to spread its flukes, and it makes a blue-green focal point amid 'Old Mexico' prickly pear, Mexican feathergrass, and Mexican oregano. I sense a Mexico theme here! Coincidentally, whale's tongue agave is native to northeastern Mexico.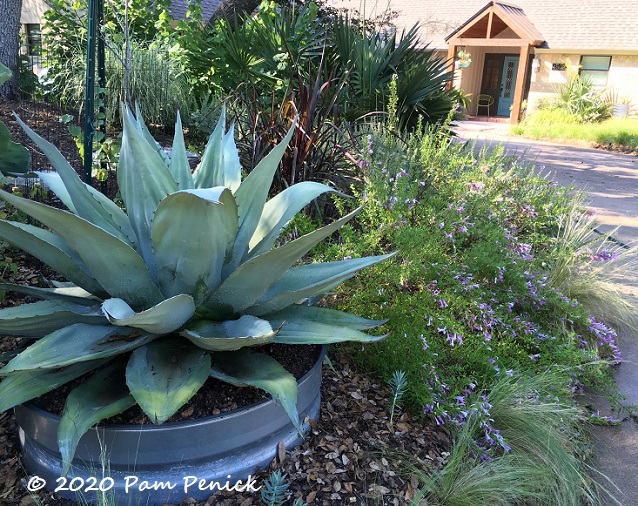 Looking regal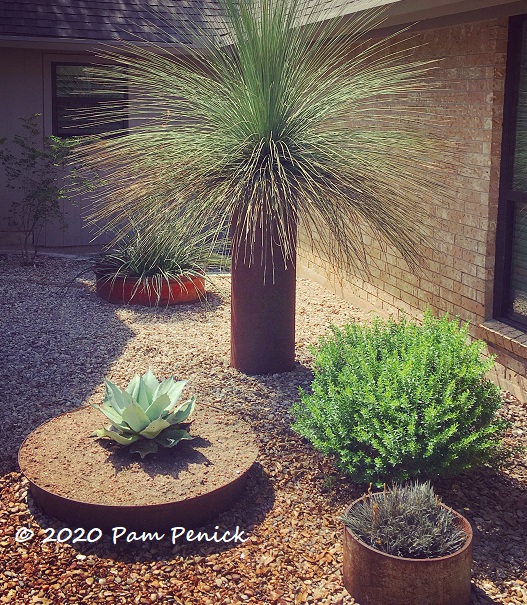 OK, the little whale's tongue agave, transplanted into the tractor tire rim in the gravel courtyard, still looks a little shrimpy. But I know how fast they grow up.
I welcome your comments; please scroll to the end of this post to leave one. If you're reading this in a subscription email, click here to visit Digging and find the comment box at the end of each post.
_______________________
Digging Deeper: News and Upcoming Events
Donate to the Tom Spencer Million Trees for Austin Fund, established by TreeFolks in March 2020 to honor Tom Spencer, a tireless environmental advocate and longtime host of Central Texas Gardener. Tom's bold vision of planting another million trees in the Austin community inspired TreeFolks to pursue this goal, and they invite others to join the campaign. In Tom's own words, "Plant trees, plant hope."  For information about making an annual gift, stock donation, or charter contribution, please call Andrew W. Smiley, TreeFolks Executive Director at 512-413-7774, or visit their website for additional information.
Join the mailing list for Garden Spark! Hungry to learn about garden design from the experts? I'm hosting a series of talks by inspiring garden designers, landscape architects, and authors a few times a year. Held in Austin, the talks are limited-attendance events that sell out quickly, so join the Garden Spark email list to be notified in advance. Simply click this link and ask to be added.
All material © 2020 by Pam Penick for Digging. Unauthorized reproduction prohibited.
[ad_2]

Source link