[ad_1]

July 27, 2020
This summer I'm living a Where's Waldo? book. Every time I step into the front yard I can count on a fawn and myself mutually scaring the bejeesus out of each other. I'll obliviously walk by or close a car door or pull out the hose, not even seeing it, and the fawn will flush from hiding, noisily kicking up leaves and startling me in turn.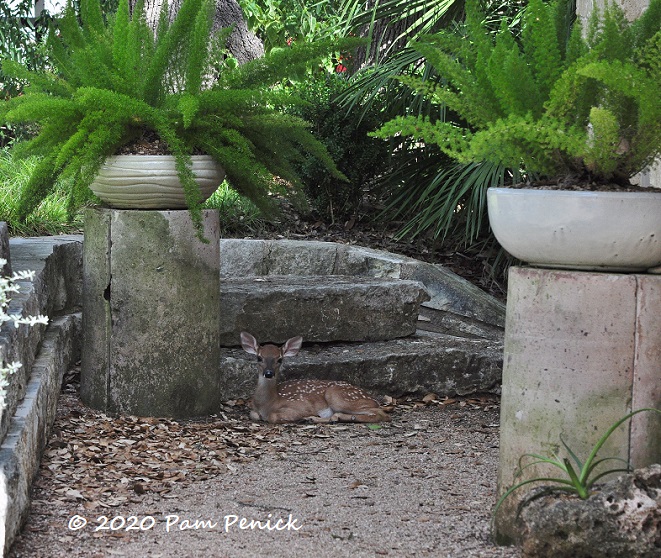 OK, this cutie stayed put this afternoon when I returned from the grocery store and started hauling bags out of the trunk. I happened to glance to my right, down the path to the stone steps — I probably felt eyes boring into my head — and hello!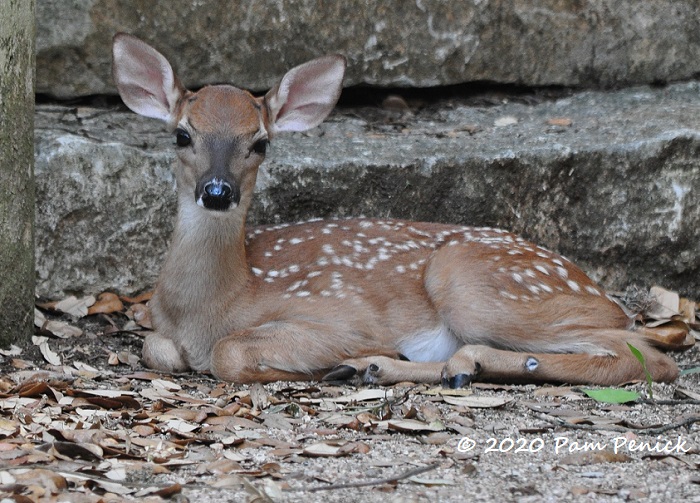 She lay calmly as I took her picture from the driveway, her front hooves neatly tucked under her body. Honestly, I don't recall seeing so many young fawns so late in July before, young enough that their mothers hide them while going off to browse.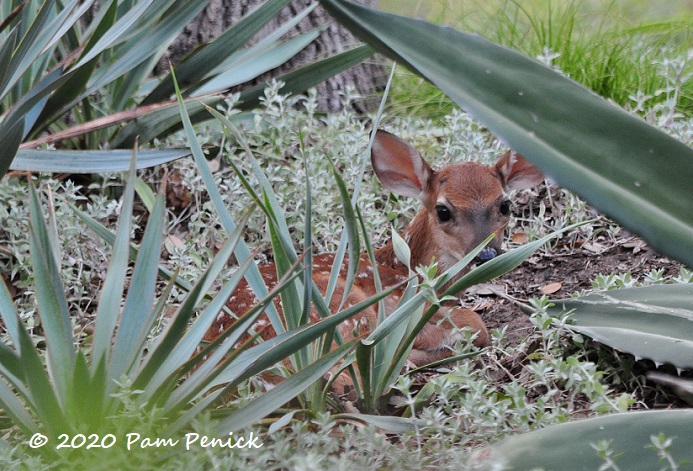 Yesterday she (if the same one) lay hidden behind the big 'Green Goblet' agave, in a bed of soft woolly stemodia, partly screened by paleleaf yucca.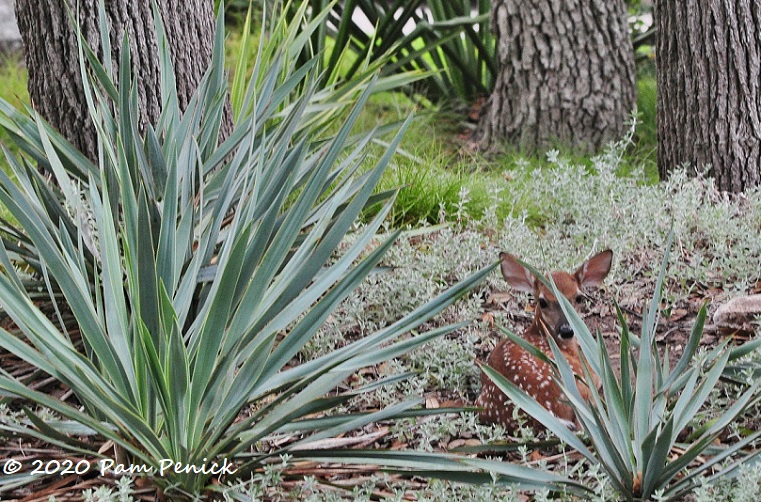 I happened to see her while getting the shovel out of the garage, and she held steady through my photo session from the island bed. But when I went to close the clanging garage door she'd had enough, leaping up and dashing across the sedge lawn, where she turned to see if I'd come after her.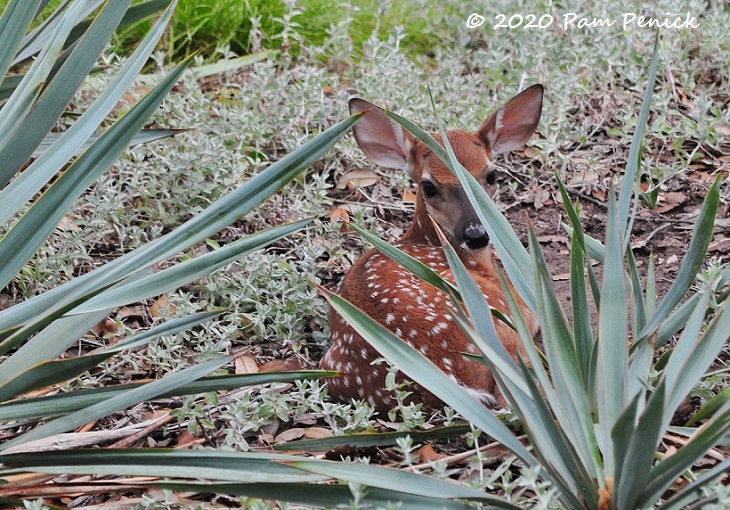 No chance of that, baby. You ought to know me better by now.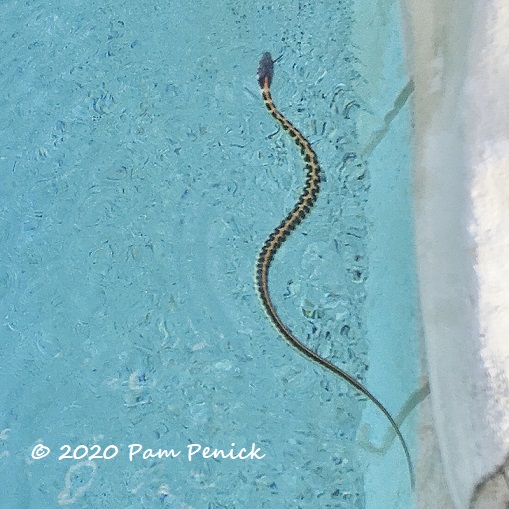 One day I spotted another visitor. Hey, I'm pretty sure you weren't invited for a swim! It's a harmless black-necked garter snake, and I netted it out of the pool and set it loose by the back fence.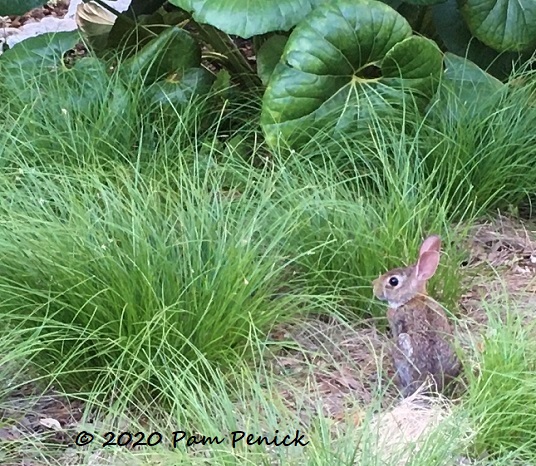 A rabbit has taken up residence under a mahonia shrub by the front door, and for a couple of weeks, every time I'd walk by, it would sprint out, making me jump. At first I thought it was cute, but then it showed up in the back garden and started nibbling all the fresh leaves off a newly planted 'Soft Caress' mahonia. That does it! I've been trying to block its entry points under the gates on both sides of the house, which I'd thought were critter-proof, but clearly not.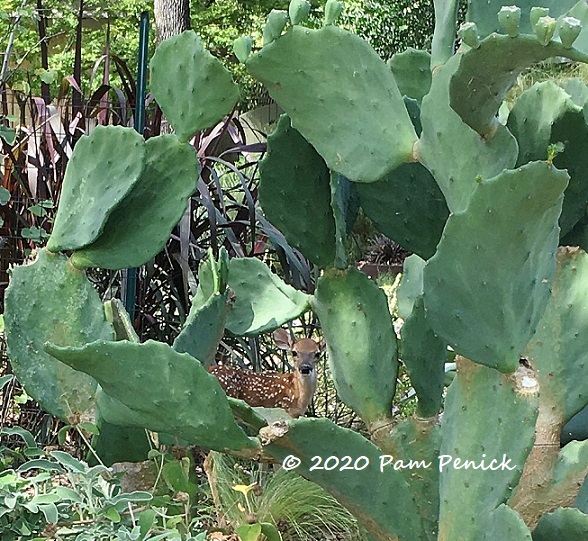 I'll leave you with one more Where's Waldo? Bambi. Do you see him?
I welcome your comments; please scroll to the end of this post to leave one. If you're reading this in a subscription email, click here to visit Digging and find the comment box at the end of each post.
_______________________
Digging Deeper: News and Upcoming Events
Join the mailing list for Garden Spark! Hungry to learn about garden design from the experts? I'm hosting a series of talks by inspiring garden designers, landscape architects, and authors a few times a year. Held in Austin, the talks are limited-attendance events that sell out quickly, so join the Garden Spark email list to be notified in advance. Simply click this link and ask to be added.
All material © 2020 by Pam Penick for Digging. Unauthorized reproduction prohibited.
[ad_2]

Source link